Description
A Paranormal Investigation of the Historic Burrowes Mansion
Saturday, November 2 6:30 pm to 1:00 am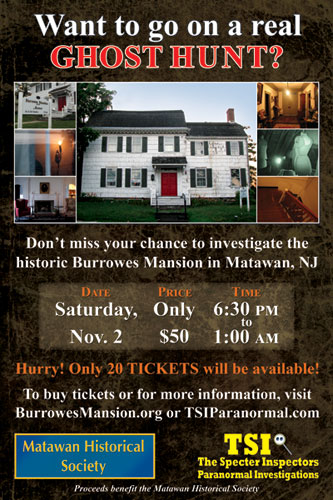 INFORMATION:
Once again, the historic Burrowes Mansion in Matawan, N.J., is opening its doors to the public for a guided paranormal investigation! Investigation of the mansion includes the attic, which is not accessible to the public during historic tours.
Ticket-holders will be admitted at 6:30. No one will be admitted after the event begins at 7:00.
Tickets will not be sold at the door. You must buy your ticket in advance online. Ticket sales end at 2:00 p.m. on November 2.
Ticket-holders must bring a current form of government-issued, photo I.D. (such as a driver's licence).
Beverages and snacks will be provided!
WHAT IS A GUIDED INVESTIGATION?
The investigation will be lead by members of TSI (The Specter Inspectors), a local paranormal investigation team. TSI has investigated many historic locations - including Burrowes Mansion - and will be on hand to assist in the investigation. Ticket-holders will be given access to all of the public rooms, as well as to the normally off-limits attic. Only 20 tickets will be sold and attendees will be divided into small groups and allowed to investigate the mansion alongside TSI on a rotating schedule so everyone has a chance to investigate every room. Members of the Matawan Historical Society will also be assisting in the investigation and will provide a presentation about the history of the mansion. TSI will be providing a short presentation about their investigations at the mansion and will share some of the evidence they collected there during previous investigations. It is the opinion of TSI that the Mansion is, indeed, haunted.
A (VERY) BRIEF HISTORY OF THE MANSION:
Built in 1723, this beautiful mansion was the home of "The Corn King," John Burrowes. The first company of New Jersey militia formed for the Revolutionary War was mustered by his son, Maj. John Burrowes, Jr. right in this home's garden. And on one fateful May night in 1776, the mansion was invaded by British loyalists intent on capturing Major Burrowes, who was known to be there at the time, but managed to escape through a back window. However, his young 19-year-old wife, who was living in the home with her in-laws while her husband was fighting in the war, was struck with the sword hilt of one of the invaders for refusing to aid a wounded British soldier. Although she survived the attack, Mrs. Burrowes died a few years later.
Visit the Burrowes Manions web site (http://www.burrowesmansion.org) to learn more about the remarkable history of this mansion. Also visit and "Like" them on Facebook: https://www.facebook.com/BurrowesMansion
Visit The Specter Inspectors' web site (http://www.the-specter-inspectors.com) if you want to learn more about TSI. Also visit and "Like" them on Facebook: https://www.facebook.com/TSIParanormal
AGE RESTRICTIONS:
No one under the age of 16 will be admitted. No exceptions.
SCHEDULE:
6:30pm Doors open
7pm-8pm Presentations by the Matawan Historical Society and TSI
8pm-12:30am Investigate the two main floors of the mansion as well as the attic
(there will be a 30-minute break at approximately 10:00)
12:30am-1am Investigation wrap-up and review
WHAT YOU SHOULD BRING:
• Your ticket & photo ID
• Flashlight
• Any hand-held investigating equipment, such as a digital voice recorder, digital camera, EMF meter, etc.
ADDITIONAL NOTES:
• It is highly recommended that you do not wear perfume, cologne, or other strong scents.
• Smoking is not permitted in the building or on the grounds of the Mansion.
• No alcoholic beverages allowd.
• It is recommended that you dress warmly and in layers. There will be no heat. It can get extremely cold in the attic.
• No guarantees of paranormal activity of any kind are given. For entertainment purposes only.
IMPORTANT TICKET INFORMATION:
After purchasing your ticket(s), you will print them out immediately afterward. No tickets will be mailed. You must bring your ticket to the event to be admitted.
DETAILS:
Where: 94 Main Street, Matawan, NJ
(Parking is on the street)
Date: Sat., Nov. 2
Time: 6:30pm until 1:00am
All ticket purchases are final. Transportation costs to the event are NOT included in the price of the event ticket and are the responsibility of the attendee.
TERMS & CONDITIONS
A. Registration Process and Payment Methods
1. Discount Codes are assigned by the Matawan Historical Society. Matawan Historical Society reserves the right to cancel any registrants using unauthorized discount codes.
2. Event registrations will not be confirmed until the completed form and the correct payment is received and processed.
3. Registrants should print out their registration tickets before committing to other travel arrangements.
4. Capacity is limited to 20 attendees. Registrations will be handled on a first-come, first-served basis.
B. Cancellation Policy
1. Registrations cancelled will not be entitled to a refund.
2. In the unlikely event of cancellation of the event in whole or in part, the maximum liability shall be limited to full refund of ticket fee paid at the time of booking, not including ticket fees, with no additional liability whatsoever to the event organizers and hosts, the Matawan Historical Society, The Specter Inspectors (TSI), or any individuals affiliated with the event in any capacity.
3.We have the right to accept or reject a registration application without giving reasons and our decision shall be final. We also reserve the right to reject a previously accepted application without giving reasons and our decision shall be final.
C. Participation and Behavior on investigation event Activities
1. Attendance and participation at the event presentations and investigation is limited to paid registrants only. Special requests are subject to approval by the event organizers.
2. Event attendees are expected to behave professionally. Excessive use of obscene language, abusive behavior, or threatening behavior directed to any other event attendee is not conducive to a learning environment.
D. Personal Information
1. Please note that participant contact details will be kept on the Matawan Historical Society and TSI databases, which will only be used by the Matawan Historical Society and TSI. Credit card information will NOT be stored in these databases.
2. The e-mail addresses may be used to circulate last minute details and announcements of future Matawan Historical Society or TSI events.
E. Personal Property
Matawan Historical Society and TSI accept no responsibility for loss or damage to personal property.
F. Health and Safety
Health and Safety aspects of the event must be followed to at all times. Matawan Historical Society and TSI will not be responsible for any physical, psychological and long term illness or injuries, or death as a result from attending any event. Paranormal Investigations can be hazardous and dangerous and all attendees participate solely at their own risk. Attendees must stay with their group at all times. Matawan Historical Society will have done a thorough Risk Assessment prior to the event; therefore, there may be certain areas which are blocked from access in consideration for the safety of the attendees. Any individual who does not follow these rules will be asked to leave, and no refund shall be granted.
G. Indemnification
1. Matawan Historical Society is a distinctly independent and separate entity, and appearances at any Matawan Historical Society event by any individual(s) from any third parties, including but not limited to The Specter Inspectors (TSI), its agents or officers, contractors, employees, appointed representatives, or partners shall be indemnified from any liability from any and all 3rd party claims arising from Purchasers participation in any Matawan Historical Society event.
2. Specifically, Purchaser shall indemnify Matawan Historical Society and any participating hosts, speakers, or any directly invited participant appearing at the event at the request of Matawan Historical Society , from and against all liability in respect of any costs, claims, damages, demands, penalties, actions, proceedings, suits, losses or expenses in respect of any and all claims, losses, costs, damages of any nature whatsoever, including but not limited to claims arising out of the injury to or the death of any person, or damage to any property arising from my participation in the activity.
3. The event organizers and hosts, Matawan Historical Society, or any individuals associated with the event or Matawan Historical Society make no representation or warranty of gain of business or profits as a result of use of services or information provided in connection with the event and shall not be liable for any direct or indirect damages, loss of business, employment, profits or anticipated savings resulting from the use of the services or information provided in connection with the conference, in any country or court of law.
H. General
In the event that any term of these Terms & Conditions are held to be invalid or unenforceable, the remainder of these Terms & Conditions shall remain valid and enforceable. Matawan Historical Society reserves the right to vary these Terms & Conditions from time to time. Terms & Conditions shall be governed by United States Law and the courts of the State of New Jersey shall have exclusive jurisdiction.