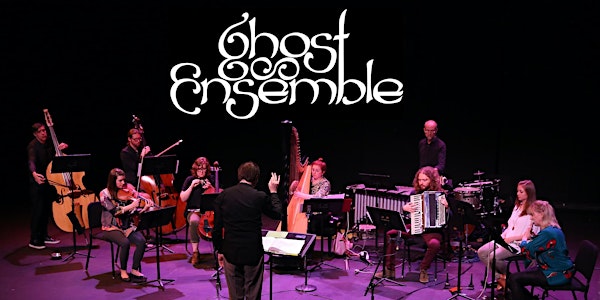 Ghost Ensemble
Please join us for a special performance by the musical group, Ghost Ensemble.
When and where
Location
Rokeby Farm - The Granary 8622 Mill Reef Road Upperville, VA 20184
Refund Policy
Contact the organizer to request a refund.
Eventbrite's fee is nonrefundable.
About this event
Please join us for a concert from Ghost Ensemble. The experimental chamber nonet will present new works by composers Sky Macklay, Miya Masaoka, and Ben Richter that explore kinetic sound sculpture, psychoacoustic phenomena, and the nonhuman temporal perspectives of quantum and geologic time.
This evening will feature:
Sky Macklay, Harmonifriends (2022)
Miya Masaoka , Spirals of Energy (2023) (world premiere)
Ben Richter, Rewild (2022)
About Ghost Ensemble
Ghost Ensemble fosters groundbreaking music that blurs borders of genre, style, and scene, expanding perceptual horizons through shared immersive experience. Collaboration with living composers is its primary focus. Since its 2012 inception, the ensemble has performed over 100 works and commissioned 34 new compositions by a diverse range of highly original composers who share a belief in music's potential for individual and community transformation. Rethinking the norms of composer/performer collaboration, Ghost Ensemble conducts innovative workshops to nurture adventurous new music over the course of multiple seasons. The resulting work often draws from contemporary classical, experimental chamber music, avant-garde jazz, environmental sound art, and territories in between.
Critics have praised Ghost Ensemble performances of music by Sky Macklay and Ben Richter as "prodigious … a thrilling listen … well-crafted and eloquent" (Christian Carey, Sequenza21), "wonderful work … a warped ride both exhilarating and a bit scary" (Peter Margasak, Bandcamp Daily), "beautifully performed and recorded … a body-felt sound mass … a multifaceted texture that evokes the primeval" (Meg Wilhoite, Sound Meets Sound), and "cloudy, mysterious, and dark … Beckettian in its slow spread … certainly a group to keep an eye on" (Brian Olewnick, Just Outside).
"Ghost Ensemble embodies the spirit of rugged independence … all these pieces use sound to seek an altered consciousness, from a meditative awareness to a look, perhaps, into a different dimension … the music sounds like something incomprehensibly massive is passing by, slowly. Not a weak link in the bunch … Strong music, made with a singular spirit." (George Grella, New York Classical Review)
About the Evening
Sky Macklay :: Harmonifriends
Harmonifriends takes the form of a concerto featuring two of the composer's hand-crafted inflatable "harmonitree" sculptures, which use vinyl, fans, and dozens of deconstructed harmonicas, one containing harmonicas in A and the other in B-flat. However, the B-flat harmonitree sits about a quarter-tone higher than the accordion, opening up a crunchy free-reed microtonal pitch space between them. The harmonitrees interact with the ensemble in sonic and kinetic counterpoint as they rise, sing, tremble, and fall.
The music of Baltimore-based composer, oboist, and installation artist Sky Macklay is conceptual yet expressive, exploring extreme contrasts, surreal tonality, audible processes, humor, and the physicality of sound. Some of her pieces incorporate intermedia and extramusical narratives, addressing topics ranging from commuting times to the side effects of contraceptive and assisted reproductive technology. Sky Macklay is Ghost Ensemble's founding oboist, a 2021 Guggenheim Fellow, and serves on the composition faculty of the Peabody Institute of the Johns Hopkins University. www.skymacklay.com
Miya Masaoka :: Spirals of Energy
Ghost Ensemble will present the world premiere of a new work by Miya Masaoka, commissioned by the ensemble and germinated through intensive collaboration among the composer and musicians since 2021. Spirals of Energy investigates the elemental qualities of acoustic energy using a broad spectrum of density and transparency, knitting resonances together in successive timbral waves.
Miya Masaoka is a classically trained American composer, sound artist, and kotoist. Her work explores bodily perception of vibration, microtonality, and temporal perception while foregrounding complex timbre relationships. A 2019 Studio Artist for the Park Avenue Armory, Masaoka has also received the Doris Duke Artist Award, a Fulbright Fellowship, and an Alpert Award. Her work has been presented at the Venice Biennale, MoMA PS1, Kunstmuseum Bonn, Miller Theater and Merkin Hall, the Park Avenue Armory, and the Toronto Biennial. She is an Associate Professor and director of the Sound Art Program at Columbia University. Masaoka has deep gratitude to her composition teachers, Alvin Curran, Maryanne Amacher, the honorable Togi Suenobu, and her dear colleague, collaborator, and mentor, the late Pauline Oliveros. The Wire calls her work "virtuosic, magnificent … essential."
Ben Richter :: Rewild
Rewild traces the fragile evolution of a shadow biosphere, inspired by the perspectives and timescales of nonhuman beings. Seeking new strata in musical parameters, Rewild stretches acoustic elements across perceptual thresholds to distant orders of magnitude — the quantum foam susurrations of yoctomusic, the cosmological flux of yottamusic. Exploring the uncanny zones at which pitch becomes rhythm, harmonic interval becomes beating rate, and timbres morph over time, the pulsing, breathing sonic ecosystem orients temporal perception toward global listening in a sound-world of constant transformation. By modeling the interacting gradual processes of quantum and cosmic systems, Rewild aims to auralize the vast and infinitesimal timescales we do not experience in everyday life.
Ben Richter is a composer, accordionist, and director of Ghost Ensemble. Inspired by nonhuman consciousness, emergent perceptual horizons, and the potential of the act of listening to create experiences of community healing, Ben's immersive, gradually evolving compositions mark humanity's transient yet vital role within the immensity of geologic time. A student of Pauline Oliveros, Ben also explores the extended microtonal and timbral potential of the accordion in solo works such as Panthalassa: Dream Music of the Once and Future Ocean, hailed as "likely to offer a profound impact on the very nature of listening" (Stephen Smoliar, The Rehearsal Studio).