Description
"GHOE Go-Go 2017"…Homecoming Extravaganza
#GHOEGOGO2017
Saturday, October 7, 2017 @ BarCode Bar & Grill!!!
Featuring "The Divas of NC Go-Go"…Alter Egos Band
&
"Charlotte's Premier Go-Go Band"...Uptown Swagga
Also...DJ Fire Que providing your soundtrack!
Hookahs & Cigars by Majestic Smokers of the Q.C. on the Patio!!!
***2 Bands - 1 Incredible DJ***
Get Your Tickets Today!!!
Doors open @ 8pm
The All New "BARCODE BAR &GRILL" - 3793 Samet Dr., High Point
#GHOEGOGO2017
TICKETS & TABLES:
GHOEGOGO2017.EVENTBRITE.COM
☆☆☆☆☆☆☆☆☆☆☆☆☆☆☆☆☆☆☆☆☆☆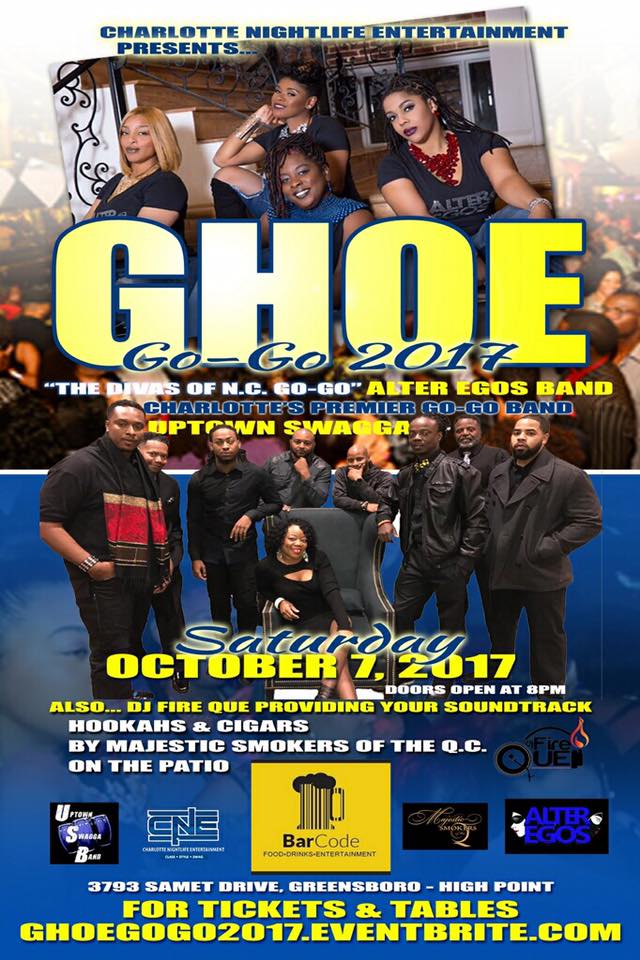 #UptownSwagga #UPTOWNSWAGGA1 #AlterEgosBandAndShow #ALTEREGOS #MajesticSmokersQC #MajesticSmokers #GHOE2017 #GHOEGOGO2017 #NCAT #AGGIES #AGGIEPRIDE #HIGHPOINTUNIVERSITY #HPU #HPUHomecoming17 #Panthers #GoGo #LITT #charlotte #HOMECOMING2017 #BARCODE #charlottenightlife1 #Greensboro #GreensboroSocialites #CharlotteNightlifeEntertainment