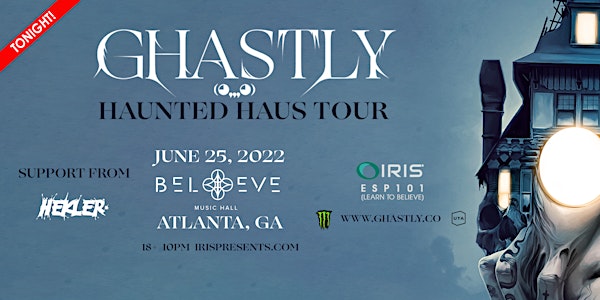 GHASTLY : IRIS presents HauntedHausTour| Sat Jun 25 |Less than 50 tics left
Location
181 Ralph David Abernathy Blvd SW
Atlanta, GA 30312
Iris Presents: GHASTLY: Atlanta Haunted Haus Tour| Sat Jun 25th | 10pm-3am | 18+ to enter
About this event
Iris Presents at Believe Music Hall...
GHASTLY - The Haunted Haus Tour
Born David Lee Crow in Phoenix, Arizona, Ghastly' s humble beginnings took place on his family' s dairy farm built over 100 years ago. From childhood, he was an entertainer and an entrepreneur- you could find David working on the farm, giving guided tours to the field trips that visited his home, and selling his own toys and T -shirts on his days off. Despite his upbringing, David knew from early on that music was his life' s calling, diving into production and recording his own music by the age of 12. As a teenager , he formed a death metal/grindcore band called The Irish Front, where he performed as its vocalist. Their success allowed him to tour the country , and he became hooked on both the energy of the crowd and the thrill of performing. Ultimately , the members of The Irish Front decided to go different directions, prompting David to take the plunge as a solo artist. He bought a van, saved up $1,000, said goodbye to his family and friends, and moved to Los Angeles to pursue his music career with no connections, but a stubborn dream. After years of trying and failing, at one point even losing everything and returning to the farm and start over , David eventually found his footing as a solo artist under the moniker "Ghastly" when he produced a high-profile collaboration with Lil Jon and Mija, titled "Crank It," released via Skrillex' s world-famous OWSLA label. In 2018, Ghastly debuted ' The Mystifying Oracle ,' his first full-length record spanning 13 supernatural tracks. During the album release, Ghastly was determined to bring his concept to life and devised the perfect plan to do it: The Mystifying Oracle Tour traveled to over 20 cities across the United States with its one-of-a-kind Oracle stage production, leaving audiences with a live experience they'd never forget.
This wouldn't be the last time he took his performances to the next level: Ghastly turned another concept into reality with the debut of his fully interactive Haunted House stage at his 2019 headline show at Los Angeles' Hollywood Palladium. Ghastly' s musical style is continuously evolving, resulting in a discography that spans a multitude of genres. His ability to produce tracks that range from tugging at the heart strings of listeners, to tracks breaking vertebral columns, is unparalleled. David took his artistry further in the spring of 2022 by introducing the evolution of Ghastly , the amalgamation of which became a secondary project known as "GHENGAR". GHENGAR sets are where Ghastly is able to completely cut loose and perform his most aggressive tunes, inspired by his love for metal music; the creation of GHENGAR also gives Ghastly the freedom to focus on exploring the world of groovy house beats and melodic bass. 2022 marks a new chapter for Ghastly , and he' s arrived with all the ammunition. This year begins with the release of his highly anticipated sophomore album, ' Haunted Haus ,' an entire album reserved for his unique take on house music. Fans got a taste of what' s in store with the release of album singles "Burner" and "V ibe," but Ghastly has a bundle of cursed tricks up his sleeve... the evolution continues.
Support :
HECKLER
STAYTRU
MIKE'S REVENGE
Yung Au$
__________________________________________
Doors 10:00pm
Believe Music Hall: 181 Ralph David Abernathy Blvd SW, Atlanta GA 30312
18+ to enter
To book your private VIP Section & bottle packages contact us by email - vip@irispresents.com or call 404-578-4416
__________________________________________
NO Moshing Allowed
Believe. A world-class facility in the heart of Atlanta. Originally built in the 1900s, the repurposed church has been transformed into a groundbreaking multi-purpose venue. The interior design ensures unobstructed sightlines to cutting-edge high-end production. Comprised of four separate event spaces arranged over three levels, the venue features two full stages, a mezzanine, and two outdoor terraces with breathtaking views of the Atlanta skyline - the 15,000 sq ft concert hall is a one of a kind destination.
At its core, IRIS focuses on high-quality production coupled with a multi-sensory experience that sets the venue apart from other Atlanta spaces. Concert-goers can have an up-close view of the main stage on the large open dance floor, or enjoy a high-energy VIP experience at any of the elevated VIP tables. Wander between 3 levels to gain a perfect view from above on the Mezzanine and eventually discover the downstairs for an entirely unique and more underground experience.
This is "The Church" that started it all back in the nineties - come and re-live history and be a part of the future of IRIS ESP101 [Learn to Believe].
Location: Believe stands tall at the Northwest corner of Ralph David Abernathy and Central Avenue in the heart of Atlanta.
Parking: Please park in one of our adjacent lots either RED or YELLOW off of Central Avenue. Parking is $5 in the Yellow Lot and $10 in the Red Lot. 
Entry: All ticket holders please use the main entrance located on the patio by the parking lot
About IRIS Presents:
THE UNMATCHED IRIS ESP101 EXPERIENCE: EACH & EVERY SATURDAY
Welcome to our playground, whoever you are, whatever you believe, this is a place where you can come and express yourself. At IRIS, it's about the music and the love for those that love electronic music. Everything involved with this night is our own and custom-built, from the heart, for your ultimate pleasure. From the massive sound rigs and custom lighting to the staff and overall energy we hope you will see and feel the difference in the IRIS Experience.
ESP101 [Learn to Believe] Atlanta's #1 EDM event. Each and every Saturday we feature the most talented DJs, producers, and production teams, all coming together to bring you the most electrifying audio-visual sensory experience you have never seen before.
IRIS Presents is one of the most respected and revered promotion companies in the industry. Our constant commitment to excellence, and our love of the music and the crowd, shines through in all the events we touch. Join our IRIS family and learn to believe!
"For those that know" Since 1996
NB: BUYER BEWARE: Eventbrite is the ONLY authorized ticket seller for this event. If you buy a print-at-home-ticket or hard ticket from an unauthorized vendor or source (ie: Stubhub, Ebay, craigslist) we cannot guarantee that it is a valid ticket. Eventbrite and Believe are not responsible for any counterfeit tickets and cannot provide refunds or exchanges.