Description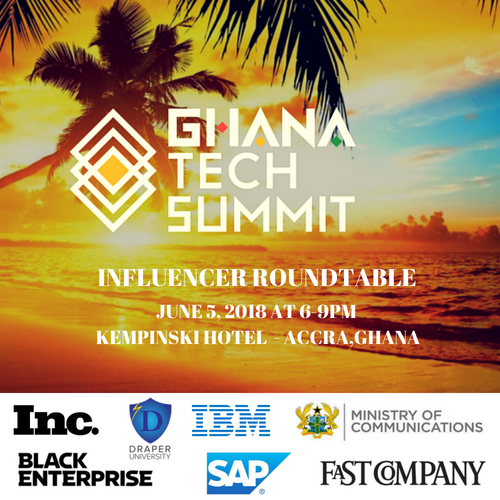 Ghana Tech Summit is on a road show to New York, London, Dubai and Silicon Valley. To kick off the major global event on July 18-20, 2018, we are heading straight to Accra!
This influencer meeting is an invite only event but there are a few space open to the public. This annual gathering will occur every year until 2030 to highlight Ghana and Africa's forward thinking influencers, policy makers and executives supporting business, tech and innovation within their ecosystem. Below we highlight the meeting detail.
---
Goal of June 5th Influencer Meeting:
To engage Ghana's leading celebrities, politicians, corporate leaders and influencers with the announcement of Ghana Tech Summit and the 12 year initiative that the summit offers the region.
Date & Location:
June 5, 2018 @ Kepinski Hotel, Accra, Ghana
---
Agenda Details:
6-6:30 Networking, Registration, Media Photos
6:30pm Opening Remarks by Founder of Ghana Tech Summit
6:45-7:00pm Presentation Remarks by Global Startup Ecosystem
Ghana Tech Summit Overview - 12 year initiative to 2030

Ghana Tech Summit Announcements- Sponsors, Partners, Speakers & Opportunities to Join the network
7:00-7:15pm The Role of Tech to Accelerate Business Development in Ghana & Africa (Top Initiatives Available to Africa & Emerging Markets)
International Remarks: Google (London), Draper University (Silicon Valley),
7:15-7:30pm The Role of Tech to Accelerate Business Development in Ghana & Africa (Top Initiatives Available to Ghana)
Local Remarks: Ministry of Communication
7:30-8:00pm Pioneer Roundtable Remarks
Speaker TBA Announced: Ministry of Communication

Speaker TBA Announced: Ministry of Tourism

Speaker TBA Announced: Ministry of Business Development

Speaker TBA Announced: Ghana Tech Summit 2018 Speakers
8:00-8:30pm Influencer Input Remarks
Influencer Q/A & Debate

Partnership Roundtable (exchange of initiatives and business cards for partnership closings)
8:30-9:00pm End Remarks & Final Announcements
Summary collection to be submitted to local and international media

We look forward to working with you to position Ghana as the future hub of innovation for Africa and the world.
---

About Us:
Ghana Tech Summit aims to bring together hundreds of entrepreneurs, investors, digital marketers and creatives under one roof together to address humanity's greatest challenges via technology and entrepreneurship. The central theme of the global summit is to "catalyze entrepreneurial and business ecosystems in emerging markets". The event on July 18-20, 2018 will host speakers from Facebook, Uber, Airbnb, Twitter, IBM, Microsoft, and more. Over 40+ media representatives from Forbes, Inc Magazine, Fast Company, Black Enterprise, NY Times and more will be in attendance.

The launch of Ghana Tech Summit was announced on at the MIPAD (Most Influential People of African Descent) event at the United Nations in New York and during the Obama Summit in Chicago, USA.

The event is a 12 year initiative of the Global Startup Ecosystem (GSE)- the first and largest digital accelerator that accelerates 1000 companies to market annually across 190+ countries entirely online.