About this Event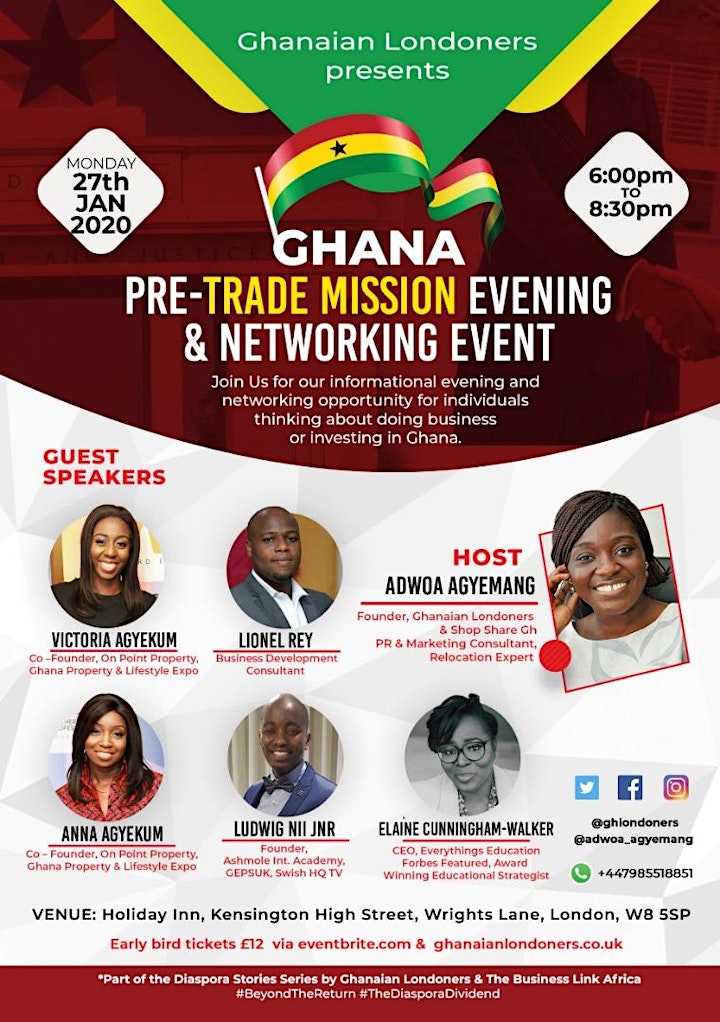 Want to explore business and investment opportunities in Ghana in 2020?
We invite you to join us for our informational evening and networking opportunity for individuals thinking about applying for our trade mission to Ghana, or interested in learning more about the trip and doing business in Ghana. Register Now for our limited complimentary tickets, taking place at Holiday Inn, Kensington High Street, Wrights Lane, London from 6pm-8.30pm on Monday 27 January 2020. This event is a perfect opportunity to learn more about our mission, hear first-hand from diaspora entrepreneurs who have set up businesses in Ghana and professionals who offer support services.
We will also cover some of the best business opportunities in Ghana Now and how this trip can help you to get started.
A great opportunity to connect with like-minded people and begin your dream journey of starting a business in Ghana.
Who Should Attend? African Diaspora, Entrepreneurs, Professionals seeking investing opportunities, Start-ups, Individual private investors, business people looking to expand into Ghana. Individuals looking to relocate with a business idea. Anyone interested to find local partners in Ghana.
Guest Speakers
Our Guest Speakers will share their experience and insights on doing business in Ghana as well as investment opportunities.
Anna & Victoria Agyekum - Co-Founders, On Point Property Management and Ghana Property Expo
Elaine Cunningham-Walker - Founder, Everythings Education
Ludwig Nii Jnr - Founder , Ashmole International Academy School
Lionel Rey - Business Development Consultant
Hosted by: Adwoa Agyemang, PR & Marketing Consultant, Relocation Expert Founder, Ghanaian Londoners
For more information about the Ghana Trade Mission, taking place in Accra from 7th to 14th March 2020, visit our website: www.ghanaianlondoners.co.uk
Eventbrite Link for Ghana Trade Mission
Closing date for applications is 31st January 2020