Ready to getaway? Start planning your nature experience in Ghana!
About this event
Perfect for nature and adventure enthusiasts. This 10-day experience will show you the natural and rugged side of West Africa. Discover the local plant and wildlife as well as the rich history of nature conservation in the area. You'll see and hear amazing sights and sounds during the drive, hike through national parks, engage with villagers while paddling in a dugout canoe at sea, and have a chance to learn about conserving the landscape along the way. Take a relaxing dip under the beautiful cascading waterfalls, bird watching in a wildlife bird paradise with marine turtles or discover the secrets of the caves that served as shelter to an indigenous tribe centuries ago.
Highlights:
Visit botanical gardens.
Take a bicycle tour on the mountain.
See the first cocoa farm in Ghana.
Refresh at the waterfalls.
Climb to the highest point of Ghana.
Enjoy a hike through lush greenery at a forest reserve.
Experience a game reserve which combines nature conservation, rich cultural interest and archaeological sites with splendid scenic beauty.
Brave a bat cave.
Test yourself through rope course challenges.
Experience bird watching, canoeing, fishing, and cycling.
Climb to new heights - 100 feet above a rain forest.
Visit the site of the final transit point for a large number of enslaved Africans.
Visit a village built on water.
Ride in a dugout canoe
Interact with local villagers and explore their community.
Relax and enjoy leisure time or last minute shopping.
Download the itinerary to get details on these experiences.
Ready to start your adventure? Click here to reserve your spot with a deposit.
Your adventure awaits.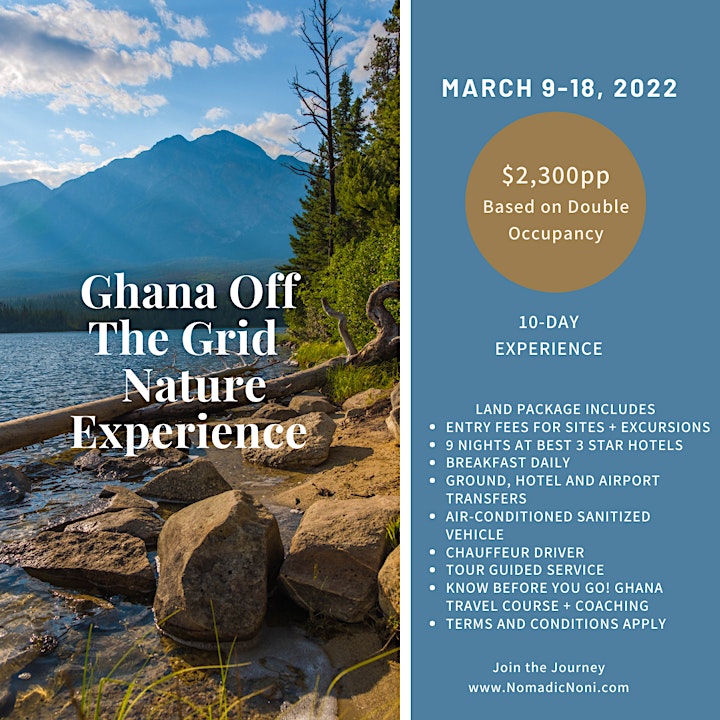 Organizer of Ghana off the Grid: Plan Your Adventure