Join us for a virtual celebration of Grail Family Services' 21 years of serving families with young children in East San Jose.
About this event
Help us honor our 2021 Siempre Award recipients: Jolene Smith, CEO, FIRST 5 Santa Clara County, for her support of GFS and our community, and Veronica Goei, GFS Executive Director, for her 21 years of leadership and service to the organization.
You'll hear from college students who came to GFS as youngsters about what that experience meant to them. You'll be entertained by our GFS Children's Choir. And you'll have the opportunity to support our continued work with families and young children in East San Jose. Be sure to check out the information below so you'll be ready for our GFS trivia game!
The Grail, an international women's group and Grail Family Services' founding organization, came to the Mayfair Community in the 1960s. The Grail provided:
• Training programs for women going to work in Latin America
• Community development programs
• Meeting place for Cesar Chavez's early UFW meetings
• Women's leadership workshops
In 1995 they incorporated as San Jose Grail Development Corporation and built affordable housing units on a donated parcel of land in the Mayfair Neighborhood of East San Jose. This is the property where GFS is located today. Members of the Mayfair community provided input to the project. Listening to the community is a tradition we still follow today.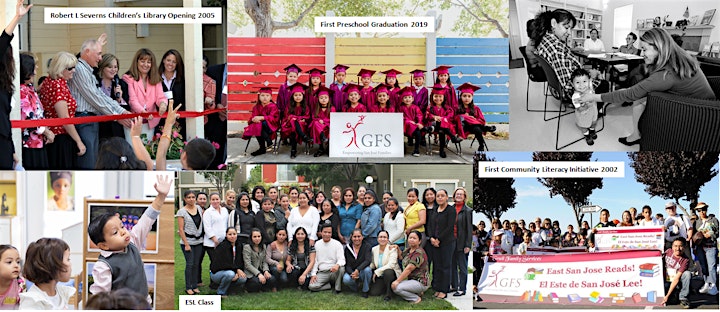 From the beginning GFS has been focused on creating innovative solutions that strengthen the parent/child bond and give young children a strong start on the path to success in school and in life.
Over the past 21 years we have identified and addressed multiple critical community needs – early literacy, English language acquisition, parenting skills, oral language development, early math, family engagement and access to early childhood education.
•We launched the first community literacy initiative in 2002
•We opened our Robert L. Severns Children's Library in 2005
•We launched our Yes We Can...Read! signature literacy program in 2010
•We opened our first State-funded Preschool in 2016 and our second in 2020
•We launched our Building Blocks of Parenting (BBP) App in 2020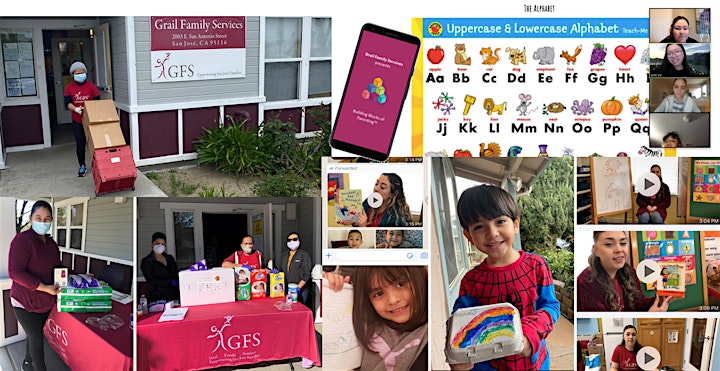 During the COVID-19 pandemic, GFS pivoted to remote service delivery and added activities to meet the immediate and evolving needs of families and young children in our community.
•We partnered with other local organizations to distribute food, diapers, formula and other basic needs as well as financial assistance.
•We added functionality to our Building Blocks of Parenting (BBP) App to send notifications to families with critical information about the virus and resources, as well as activities and tips to support their children's learning at home.
•Our preschool staff created and sent learning videos to families and our Yes We Can Read...Plus (YWCR+) staff and mentors continued to support K-1st graders in their literacy and early math skills.