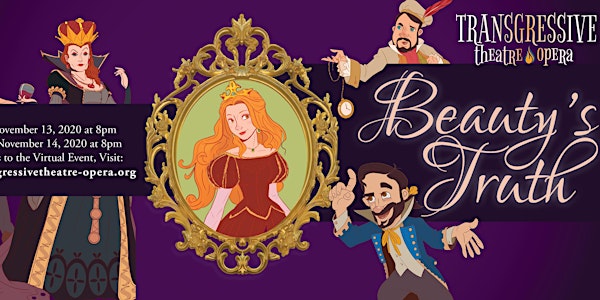 G.F. Handel's "Beauty's Truth"
"Beauty's Truth" is an adaptation of G.F. Handel's oratorio "The Time of Triumph and Truth" by Aaron Hunt
Refund Policy
Contact the organizer to request a refund.
Eventbrite's fee is nonrefundable.
About this event
This oratorio tells the parable of Beauty's journey from self-absorption to self-realization as presented by Transgressive Theatre-Opera, one of Chicago's premiere storefront opera companies. In this PG fairytale Beauty is hindered by Pleasure and Deceit, and assisted by Counsel. Will Beauty find a fuller purpose for her life before she must surrender to Time?
This is an adult fairytale that we would assign a PG -rating. There is no profanity, nudity, or violence, but sexual situations are spoken of in the abstract, and some of the images used in the production are of fine arts pieces that show some degree of nudity.
Both the first and last of Handel's oratorios, this piece was presented in three different versions during the master's lifetime. The small-cast, pastoral allegory composed in Handel's youth, Il trionfo del Tempo e del Disinganno, became less secular and more sacred with each version until the final version, The Triumph of Time and Truth, was a three-part behemoth with multiple chorus numbers that could have been lifted out of Messiah, and serious themes of sin, retribution, self-sacrifice, repentance, and eventual redemption. TT-O's Producing Artistic Director Aaron Hunt has gone back to the original score, translating sections from the Italian and creating new lyrics, and combined it with the best parts of the latest version to create a new piece that honors Handel's original intention, a small cast telling an intimate story sans Hallelujah choruses, while giving the titular character the right to her own agency.
Cast: (photos in the order as listed)
​Beauty - Teaira Burge
Time - David Govertsen
Pleasure - Ryan Townsend Strand
Deceit - Mary Govertsen
Counsel - Jonathan Wilson
Director - Aaron Hunt
Music Director - Sarah Jenks
Producing Artistic Director Aaron Hunt directs, with musical direction by Resident Music Director Sarah Jenks, audio design by Brent Morden, and video design by James Conrad Smith.