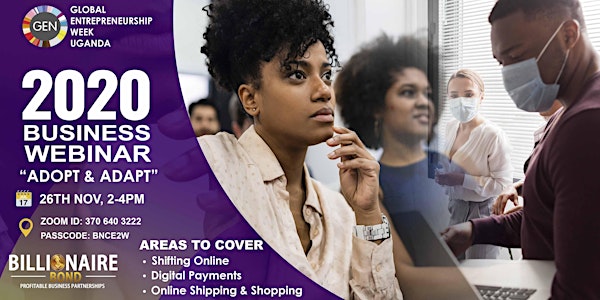 GEW 2020 - ADOPT AND ADAPT WITH INFORMATION TECHNOLOGY
Billionaire Bond is excited to celebrate the Global Entrepreneurship Week 2020 - GEW2020 under the theme "Adopt and Adapt"
About this event
Billionaire Bond is excited to celebrate the Global Entrepreneurship Week 2020 - GEW2020 which takes place every third week of November attracting entrepreneurs from all corners of the world under the theme "Adopt and Adapt" with Information Technology.
There are so many ways to describe 2020 however, one that stands out the most for us is the year for the "Great Reset". In order to reimagine a Post COVID-19 future, entrepreneurs worldwide have been forced to rethink, reorganize and redesign their current business models to thrive during these grim times.
One of the ways to adopt and adapt is by optimally relying on Information Technology as a key lever for business continuity. Billioniare Bond is hosting seasoned experts who are in the frontline of supporting Small to Medium Sized Businesses leap from surviving to thriving amidst the pandemic.
Below are the Zoom details:
Topic: GEW 2020 BUSINESS WEBINAR - ADOPT AND ADAPT THROUGH TECHNOLOGY
Time: Nov 26, 2020 02:00 PM Nairobi
Join Zoom Meeting
https://us02web.zoom.us/j/3706403222?pwd=NDJMbzA2ZWlIUFpqeS9TZ1oyZjlNZz09
Meeting ID: 370 640 3222
Passcode: bNcE2w