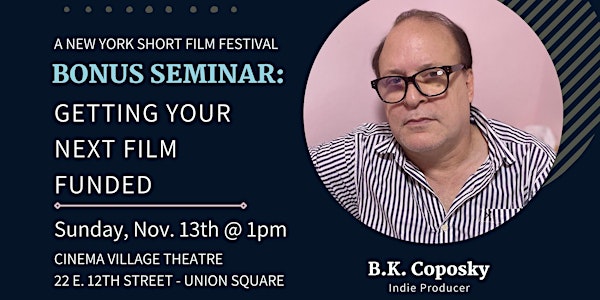 Getting Your Next Film Funded w/ B.K. Coposky
B.K. Coposky, indie film producer of 26+ years, shares tools of the trade for securing funding for your next film project!
When and where
Location
Cinema Village 22 East 12th Street New York, NY 10003
About this event
About this New York Short Film Festival Special Event
We are always seeking new ways to help empower our community of filmmakers to keep creating the fresh and innovative work of their dreams-- so we are thrilled to be able to platform B.K. Coposky, who literally "wrote the book" on financing for independent film. This mini-seminar will consist of a lecture with plenty of time for Q&A, so bring all your burning questions on how to fund your dream project!
About the Workshop: "Getting Your Next Film Funded"
An informative workshop going over the basic business aspects of getting funding for your next film project, and where to begin. Covers legal aspects of how to protect yourself and your project and provides guidelines to establish your goals as a filmmaker. The industry has drastically changed over the last few years, and this class will help you form a plan to navigate your way through the ever-changing evolution of the film business.
About B.K. Coposky
An Indie Producer with over 26 years of experience both on the creative and business side of indie filmmaking, with a focus on film finance and contracts. Author of the soon-to-be-released book "The Psychology of Indie Film Financing: The Art of the Deal". In development on several feature films, and an international fashion-tourism competition series. Creator and CEO of the Undiscovered Streaming Network launching in 2023.
Other Important Notes
-Although Mr. Coposky will be joining us virtually from abroad, this is a live event taking place at Cinema Village Theatre, in the NYSFF festival screening room.
-This event is free of charge, but exclusive to the NYSFF community. This means you will need to show either an NYSFF Filmmaker Comp Badge or proof of purchase of an NYSFF screening ticket upon entry. Ticket links to all blocks are available here: http://www.newyorkshort.com/2022-festival/
-Please register in advance if at all possible-- in addition to securing your seat, having an accurate head count will allow us to plan approximate timing allotted for Q&A vs. lecture appropriately. Thank you!