| | |
| --- | --- |
| Getting to "Yes" - Auckland NZ, 25-26 July 2016 | |
Event Details
Strategies, secrets, and street smarts for dramatically increasing your bottom line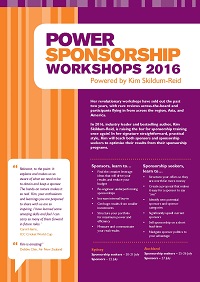 Her revolutionary workshops have sold out the past two years, with rave reviews across-the-board and participants flying in from across the region, Asia, and America.
In 2016, industry leader and bestselling author, Kim Skildum-Reid, is raising the bar for sponsorship training once again! In her signature straightforward, practical style, Kim will teach sponsorship seekers skills to...
Structure your offers so they are worth far more money

Create a proposal that makes it easy for a sponsor to say "yes"

Identify new potential sponsors and sponsor categories

Significantly upsell current sponsors

Sell sponsorship on a short lead-time

Navigate sponsor politics to your advantage
Information about this workshop can be found below. In addition, you can...
Workshop Outline
This two-day workshop for sponsorship seekers is the gold standard for sponsorship training. Kim Skildum-Reid works primarily on the sponsors' side, and knows what they expect, what you're competing against, and what it takes to get them to "yes".
This workshop is highly interactive and incorporates group, small group, and individual exercises, as well as ample opportunity for addressing your questions. Case studies and examples are used throughout, and your property may even be chosen for one of several live demonstrations.
The sponsorship landscape
What it takes to be a successful sponsorship seeker in 2016

The key differences between successful sponsees and those who are struggling

Sponsors' new expectations
Redefining your job (hint: it's not "sales")
Three things you must do before you start seeking sponsorship
Who to target
Creating the best possible hit list with minimum effort

Pinpointing new sponsors and emerging categories of sponsorship

The categories of sponsorship you should pursue first
Developing your offer
The differences between a great offer and a crap one

What makes a best practice offer worth so much more than the equivalent old-school offer?

Finding and punching a sponsor's hot buttons

The 100% most important component of any sponsorship offer, three simple ways to create it, and one giant shortcut

Ensuring the offer benefits your organisation beyond just cash
Working the angles
Little-used angles that sponsors love

Identifying opportunities few others will notice

Accessing additional, non-marketing funding
Getting the proposal right
The real role of the proposal

How to build the business case for "yes"

What a strong proposal looks like

Pricing, contra, and fee structure strategies
Offer killers – what not to do
Sponsorship sales challenges
Short lead time

Relatively small audience

Local/regional sponsorship targeting national sponsors

Budget shortfall

Replacing a long-term sponsor
Keeping your sponsors happy
Your obligations vs your best interest

Five must-do strategies to keep sponsors engaged and ensure they get the best possible result

The rules of flexibility

Reporting that sponsors will love (and won't make you crazy)
Sponsor management issues
Low level or disengaged sponsor taking up space where a much better sponsor could be

Your portfolio is full of rats and mice

You've got a sponzilla
It's all about the renewal
Create a legitimate case for upselling

Reinventing a stale sponsorship

Reinventing a less-than-perfect sponsor relationship
Making this work
Three things to change right now

Recommended forward plans
Bonus Post-Workshop Support
Every registered participant will receive one complimentary, formal coaching session with Kim Skildum-Reid, to be used within twelve months after your workshop. This is an AU $770 value. Put Kim to work on your toughest challenges!
Just have a quick question? Workshop participants are always welcome to drop Kim a line for a quick chat and some off-the-cuff advice.
Participants in Getting to "Yes" will receive a copy of the brand new, fourth edition of industry bestseller, The Sponsorship Seeker's Toolkit.
About the Facilitator, Kim Skildum-Reid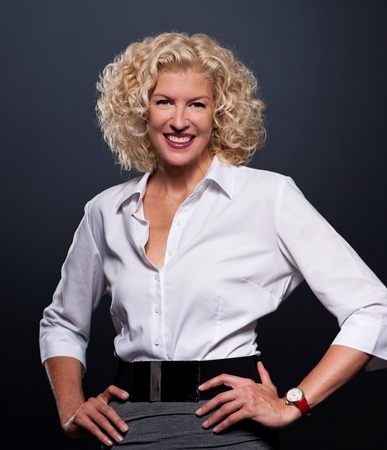 Kim Skildum-Reid is unquestionably one of the sponsorship industry's most influential thought leaders. She has 30 years' experience in corporate sponsorship and is one of very few professionals credited with defining and setting the best practice benchmark for the sponsorship industry. Her inspired, yet practical, approach and refreshing, irreverent style have won her legions of fans.
Kim is co-author of #1 industry bestseller, The Sponsorship Seeker's Toolkit, and author of The Corporate Sponsorship Toolkit and The Ambush Marketing Toolkit.
Kim provides content and commentary to business and industry media around the world, including Harvard Business Review, CNN, CNBC, Bloomberg, Marketing News (US), Marketing Africa, Marketing Russia, Sponsorreport (Netherlands), Successful Meetings (US), Brand Republic (UK), National Business Review (New Zealand), Adnews (Australia), Marketing (Australia), South China Morning Post, China Business Review, Australian Financial Review, and far too many more to list.
In addition to training, Kim provides strategic advice, portfolio audits, strategy sessions, and coaching for clients around the world. To find out more, see www.powersponsorship.com.
PowerSponsorship.com is one of the most popular websites in the industry and a testament to Kim's commitment to elevating the industry she loves.
Delegate Discounts
Early-Bird Special
Register and pay by 13 May 2016 and deduct AU $100 off each registration for Getting to "Yes".

Charity Discount
Take AU $100 off the registration fee for Getting to "Yes". This discount may be used in conjunction with early bird pricing. Your organisation must hold tax deductible status in its own right. Proof of this status must be furnished on request. Proof of this status must be furnished on request.

4-for-3 Offer
Register three people for a workshop and get a fourth for free. Not available with online registration. Please download the brochure and use that form.
Instructions, Terms, and Conditions
Registration will not be accepted without payment. Incomplete forms will not be accepted. Payment will be accepted by credit card, PayPal, or direct deposit only. Do not send a cheque.

Confirmation of your registration and a tax invoice will be e-mailed to you within one working day of receiving your registration and payment. Please use a separate form for each delegate.

Full refunds will be made for registrations cancelled in writing and received by Power Sponsorship at least 14 days before the workshop. Within 14 days of course commencement, no refunds will be issued. Substitute delegates will be accepted at any time up to close-of-business the day prior to the workshop. 

Power Sponsorship reserves the right not to accept a registration from any individual or company. 

The fee above does not include GST. GST is not payable by New Zealand delegates. If you are Australian and want to attend this workshop in Wellington, please download the brochure and use that form so that we can ensure GST is added to your fee. Power Sponsorship is a division of Pearlwise Pty Ltd, 25 Samuel Street, Tempe NSW 2044, ABN 95062415525.
Questions?

Feel free to drop us a line...
PH: +61 2 9559 6444
EM: admin@powersponsorship.com
Where

Eden Park
Walters Road
Kingsland
Auckland, 1024
New Zealand

Organiser
Power Sponsorship
Power Sponsorship provides corporate sponsorship consulting, training, coaching, and resources for sponsorship professionals.
EM: admin@powersponsorship.com
PH (AU): +61 2 9559 6444
PH (US): +1 612 326 5265
Getting to "Yes" - Auckland NZ, 25-26 July 2016