GETTING TO $100K - 2020

Thursday, March 12, 2020 from 8:00 PM to 10:00 PM (CDT)
Event Details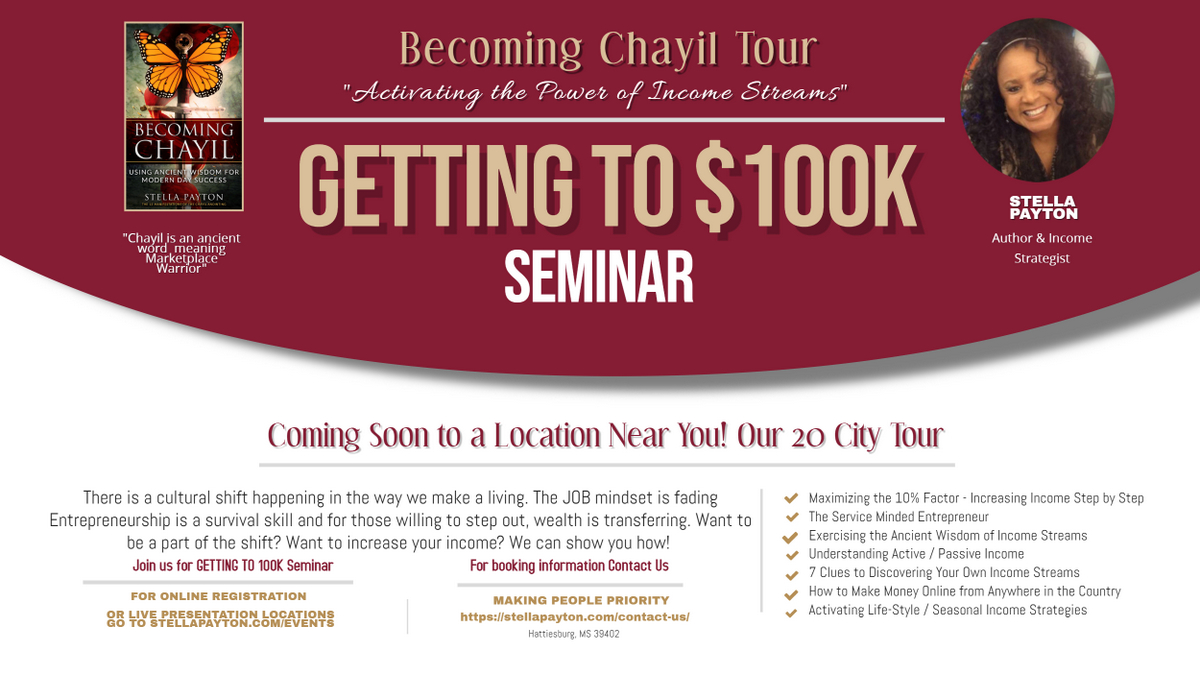 "You can love God, care about people and want to be the change; but without money, you will be limited in what you can do to impact the world. We want to help you make a difference."

Our March 2020 class is GETTING TO $100K - 2020. 
It amazes me how many people are trying to find ways to increase their income. And it's just not that difficult if you know how to do it. In this session, we're going to explore unique strategies that help you increase your income and gradually work your way to $100,000 a year.

As a newly divorced businesswoman, I realized how strong my business acumen was as I looked back over the assets we cultivated during the 15 years of my prior marriage. We amassed more than 17 pieces of real estate, 8 houses, a 10 unit apartment complex, six different businesses, and much more. Most of those resources went away with the divorce division of assets. I felt lost and hurt. How do you recover from that level of loss? You can recover! Because...
"Divorce doesn't have to be a financial death sentence!"
So I picked up the pieces and got busy! My assignment became to get back to $100K as quickly as possible, get on track to millionaire status and then teach you how to do the same! Why? Because we are all assigned with the responsibility to make a difference in the world. It takes money to make a difference! If you have big goals and dreams that have not been realized, It's not too late.  The world needs a bigger you! Let us help you get to $100K!

Here is what you will learn...
The Service Minded Entrepreneur

Exercising the Ancient Wisdom of Income Streams
Maximizing the 10% Factor - Increasing income step by step
7 Clues to Discovering Your Own Income Streams
Activating Life-Style / Seasonal Income Strategies
How to Make Money Online from Anywhere in the Country
Understanding Active / Passive Income
 Right now, there is a business anointing in the atmosphere that we can tap into which will allow us to accelerate into financial breakthroughs more easily. The winds of financial breakthrough are blowing! It is time to set your sail so that you can move and let's change the world as we increase income so we have the resources needed to make a difference! Now is the time to move and take action!

The session includes Program Activities Workbook, Financial Self-Assessment, and access to the ZOOM Follow-up Call.
Enroll now in #GETTINGTO100K
THIS CLASS WILL BE HELD ON ZOOM. IT IS LIMITED TO 100 PARTICIPANTS.
Tickets are nonrefundable. But can be transferred to another participant.
Save This Event
When & Where

Online Class

Hattiesburg, MS 39402


Thursday, March 12, 2020 from 8:00 PM to 10:00 PM (CDT)
Add to my calendar
Organizer
About Stella Payton . . .
Stella Payton is the principal of Making People Priority Consulting Group. Over the past (25) years, she has worked with organizations such as Apple Computer, Nordstrom,  VISTA, P-B Health Home Care Agency Inc., The City of Los Angeles, Head Start,  KCET Los Angeles Public Television, TurboTax and many others.
Her experience in training and development is broad and extensive. She regularly facilitates classes in strategic planning, performance planning, customer service, business excellence, and career/life mapping. 
In addition to providing training resources for corporations, she develops resources for churches and non-profit agencies in areas like financial education, the Service of Ministry, and lifestyle evangelism. Ministry clients include organizations like Faithful Central Bible Church of Los Angeles, Spirit of Faith Christian Center of Baltimore, MD, West Point MBC of Hattiesburg MS, Glory Church International of Columbia, SC and many others!
Stella is a regular guest on media talk shows and is a frequent speaker at professional and church conferences. Her articles have appeared in publications such as The Los Angeles Times. She hosts the on-air Workshop Better Life With Stella airing on www.blogtalkradio.betterlifewithstella.com.
She has authored more than a dozen books. Some past titles include A Word in Season, Accessing the Windows of Heaven, LifeStyle Evangelism, Finding Vision for Life, and Customers Are People Too!
New releases include Becoming Chayil – Using Ancient Wisdom for Modern Day Success, The Chayil Woman - the Virtuous Woman Revealed and She Lives by the River 3 bible studies about Proverbs 31:10-31. Few people realize that Deuteronomy 8:18, Proverbs 13:22 and Proverbs 31:10 share the same root word, Chayil. In 2 places it is translated as "wealth" and in Proverbs 31:10 it is translated as "virtuous." What is the connection between these passages and how will the answer to that question transform your life and finances? You will find the answers to these questions in this landmark series.
"Inspiring a Spirit of Excellence"
For more about Stella Payton contact us at stellampp@aol.com / www.StellaPayton.com
Business Programs
25 Ways to Market Your Business For Free!
The Basics of Business Excellence
Customers are People Too!
Your Telephone is Your LifeLine!
10 Professional Competencies Series
Education Programs
The 7 Universal Laws of Success
Oh, the Places You'll Go!
The Power of an Apology
Born to Be Somebody
The Gold Mine of My Mind
I Am the Creator of My Character
Faith-Based Programs
Before You Fall in Love!
Finding Vision for Life
Lifestyle Evangelism
The Service of Ministry
Connecting Mission / Meaning / Money
Love is a Verb
Contact us to customize workshops designed to meet the unique needs of your organization!
www.stellapayton.com / Stellampp@aol.com
"Inspiring a Spirit of Excellence"