Description
You're an AmeriCorps Alum which means two things: 1.) You started thinking about your next steps on the first day of service and 2.) You relied on the network of like-minded people around you to support you in the course of your service year and beyond.

Join other AmeriCorps Alums and current members for an informative and fun night of learning about the partnership in which The Heller School has invested $1M in exclusive scholarships for AmeriCorps Alums and spend time networking and socializing with other AmeriCorps alums.

Through the National Service Scholarship Program, the Heller School seeks to recognize the contributions AmeriCorps Alums have made to civic engagement and the greater good through service to communities across the country. There will be Heller School faculty and staff as well as Heller MBA, MA and MPP students and alums, who are also AmeriCorps Alums, speaking about how their service experience influenced their decision to apply to the MBA in Nonprofit Management and MPP programs. Complimentary beer, wine and appetizers will be served.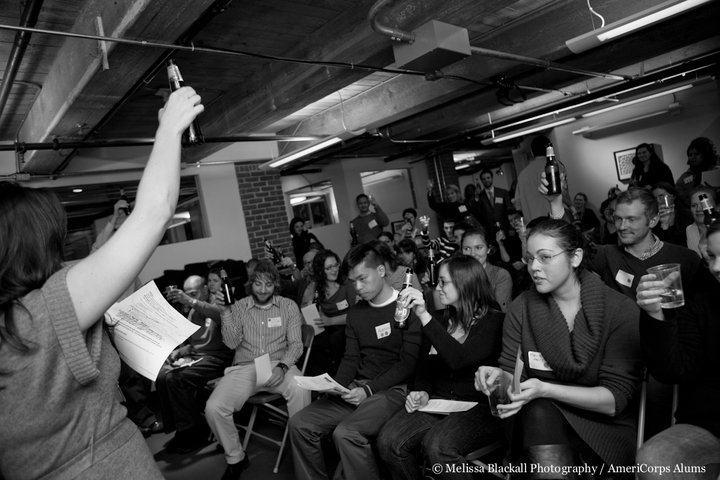 The event will be hosted by WorkBar (right across from South Station) – a cool venue that supports entrepreneurs during the day, and connects like-minded professionals in the evening.

Reserve your spot today for the largest networking event of the year that connects AmeriCorps Alums and current members. Please spread the word to your AmeriCorps friends.

We look forward to seeing you on December 6!
AmeriCorps Alums Boston Board

Heller Faculty/Staff Speakers
- Brenda Anderson, Senior Lecturer and MBA Program Director
- Mike Doonan, Assistant Professor and MPP Program Director
- Nancy Pratt, Assistant Director of Career Services

AmeriCorps Alums/Heller MBA Panelists

Beth Bryant '04
City Year Corps Member (2003/2004) in Boston
Heller Program - MBA '10
Current job: Manager of Strategic Analysis, City Year, Inc.

Andrea Shaye '04 (Moderator)
City Year Corps Member (2003/2004) in Washington, DC
Heller Program: MBA '11, Nonprofit Mangement Current job: Program and Disability Inclusion Officer, Massachusetts Service Alliance

Brian Meehan
Heller Program: MBA '13

David Weatherly '08, '09
City Year Corps Member (2007-2009) in Columbia, SC; and 2009-2011 as a staff member
Heller Program - MBA '12

Rachael Weiker '07
Assistant Volunteer Coordinator (2006/2007) with Habitat for Humanity of Dane County
Heller Program - MBA/MPP '13, dual degree
AmeriCorps Alums/Heller MPP Panelists

Ellen Marya '10

AmeriCorps VISTA (2009/2010) at Habitat for Humanity MetroWest/Greater Worcester

Heller Program - MPP '12, poverty alleviation concentration
Jamie Minton '10 (Moderator)
AmeriCorps VISTA (2009/2010) with Communities in Schools in St. Augustine, FL
Heller Program - MPP '13, poverty alleviation with focus on youth and families

Janice Neiman '11

AmeriCorps VISTA (2010/2011) at Delaware Economic Development Office
Heller Program - MPP '13

Rich Sheward '09

AmeriCorp VISTA (2008/2009) as the Program Coordinator of the Urban Environmental Health and Justice Initiative at Siena College

Heller Program - MPP '13

Ricky Ochelo
Heller Program - MPP '13

Organizer of Getting Things Done: Alums Networking Social with The Heller School
AmeriCorps Alums Greater Boston is a group of professionals with a shared passion for reconnecting to fellow alumni and a lifetime of service. We are specifically committed to and driven by our members' passions and work to support endeavors that our alums are affiliated with. Using our collective power and leadership we aim to make change through meaningful service, advocacy and social and professional development events.