Getting the Most Out of Family Tree Maker: A Workshop for Beginners & Pros
Description


Getting the Most Out of Family Tree Maker: A workshop with Tips for Beginners and Pros


A workshop with Tips for Beginners and Pros
A Jewish Genealogical Society of Greater Orlando Program
Are you using Family Tree Maker® for recording your family tree?
Are you thinking of using it?
Do you have questions about its features and how it can help you research, organize and share your family history?
Join the Jewish Genealogical Society of Greater Orlando for a workshop with demonstrations on how to start and build a tree and take advantage of some of its more advanced features.
Two copies of Family Tree Maker will be raffled off!
Family Tree Maker® is one of the most widely used software programs for creating and building family trees. It is designed to be intuitive to use and is easy to navigate. Over its thirty-year history, it has developed many useful features, enabling novices to continue to add new information and depth to their family histories. Two of our members will demonstrate how each has used this software to record and research their family's history. Members who have the software are encouraged to bring laptops with the software and their trees. Time will be made available for Q and A as well as helping individuals or small groups.

Diane retired from the University of Central Florida in 2016, completing 40 years as a tenured medical school faculty member. She has been doing genealogy research for 20 years and was a co-chair of IAJGS 2017. Diane is the President of the JGSGO.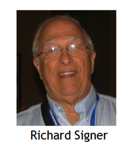 Richard was the second pediatric surgeon in the Central Florida and was a founder of both Arnold Palmer and Florida Hospitals for Children. He was a pediatric surgeon here for 32 years and was the Chief Medical Officer of Florida Hospital for Children for 14 years, retiring in 2016. He has been researching his family genealogy for more than 15 years.
DATE: Tuesday, March 3, 2020
TIME: 7:00 P.M.
ADMISSION: Free for members, $5 for guests, which can be applied to membership. No charge for first time attendees.
LOCATION: Roth Jewish Community Center, 851 N. Maitland Ave., Maitland, FL 32751 (in the "Senior Lounge")
REGISTRATION: Registration is required for attendance at https://jgsgo.org/programs-jgsgo/. Given the format for this meeting, the program will not be available for distance viewing.
---


Contact Information: Tom Hirsch, JGSGO Secretary pr@jgsgo.org JGSGO Voicemail: 407-494-4230


---