Getting the Big Picture Right: Naturally Occurring Affordable Housing (NOAH...
Description
GETTING THE BIG PICTURE RIGHT: 4 Community Forums on Housing + Transit
Join us for the upcoming forum:
Naturally Occurring Affordable Housing (NOAH) Preservation
The Big Picture Project, a coordinated plan to address affordable housing along the Green Line, set out to ensure that all segments of the corridor would be communities of opportunity and access for people of all income levels. Naturally occurring affordable housing (NOAH) is a term used to describe housing that's inexpensive, but doesn't use government resources to reduce the housing costs. Typically it's considered affordable if it serves families at or below 80% AMI ($65,700 for a family of four). With increased housing demand, these units are often at risk of being converted to higher rent housing. Or in weaker markets, they may suffer from disinvestment. Recent identification and focus on this housing stock has spawned several initiatives around the Twin Cities aimed at preservation. This session will highlight existing NOAH strategies and resources, and share ideas for what more can be done to preserve these housing options along the Green Line corridor. Join us for this important conversation.
Local and regional partners are encouraged to attend.
Hosted by the Big Picture Project members, and Twin Cities LISC
With funding from the Central Corridor Funders Collaborative


Mark Your Calendars:
2 More Upcoming Community Forums on Housing + Transit:
MARCH 2017
Mixed-Income Development and TOD
Date, Time & Place TBD
---
JUNE 2017
Reflections for Moving Forward
Date, Time & Place TBD
---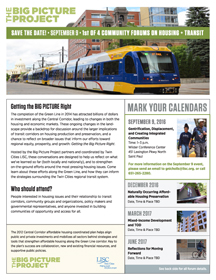 Click to Download a Detailed PDF for All Upcoming Events
About Getting the BIG PICTURE Right
The completion of the Green Line in 2014 has attracted billions of dollars in investment along the Central Corridor, leading to changes in both the housing and economic markets. These ongoing changes in the landscape provide a backdrop for discussion around the larger implications of transit corridors on housing production and preservation, and a chance to reflect on broader issues that inform our efforts toward regional equity, prosperity, and growth: Getting the BIG PICTURE right.
Hosted by the Big Picture Project partners and coordinated by Twin Cities LISC, these conversations are designed to help us reflect on what we've learned so far (both locally and nationally), and to strengthen on-the-ground efforts around the most pressing housing issues. Come learn about these efforts along the Green Line, and how they can inform the strategies surrounding the Twin Cities regional transit system.