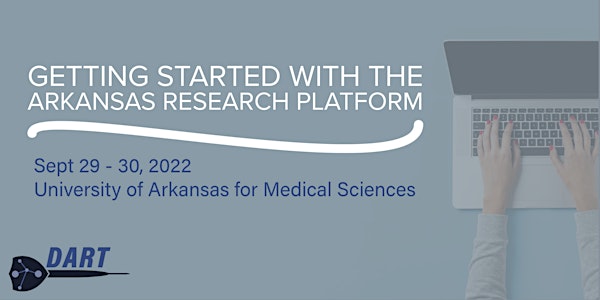 Getting Started with the Arkansas Research Platform at UAMS
These workshops are intended to provide foundational training for those getting started with high performance computing in Arkansas.
When and where
Location
UAMS Jackson T Stephens Spine & Neurosciences Institute 501 Jack Stephens Drive Little Rock, AR 72205
About this event
This series of two-day workshops is offered as part of the NSF-funded DART project and focuses on how faculty and students at institutions of higher education in Arkansas can gain access to and use the high performance computing resources in the State. Participants will learn by "coding along" with the instructors and will be encouraged to help one another and to apply what they have learned to their own research problems.
Who can attend?: This workshop is open to faculty, students, and staff enrolled at any Institute of Higher Education in Arkansas. No previous experience is required. You must be able to attend both days.
Computing Requirements:
Participants are encouraged to bring their own computer with a Mac, Linux, or Windows operating system (not a tablet, Chromebook, etc.); A small number of lab computers will be available by reservation only.
Participants will need the ability to install software either before or during the workshop.
What is covered? A detailed draft agenda is available for review here.
Accessing HPC resources
Open OnDemand Interface
Command Line Interface
Moving and Storing Data
Running and Scheduling Jobs
Accessibility: The University will make good faith efforts to provide reasonable accommodations to applicants, employees, students, visitors, and participants in programs and services. You may request accommodations via the registration form and/or by notifying the coordinators in advance of the workshop.
Policies: All participants are expected to abide by the University of Arkansas Systemwide Policies and Procedures in addition to those of their home institution and the Arkansas Research Platform.
NSF Acknowledgement and Disclaimer: This material is based upon work supported by the National Science Foundation under Award No. OIA-1946391. Any opinions, findings, and conclusions or recommendations expressed in this material are those of the author(s) and do not necessarily reflect the views of the National Science Foundation.
Contact: If you have questions about this workshop, please contact Hanna L. Ford hlford@uark.edu.