Getting Social at The Getty

Saturday, February 16, 2013 at 10:00 AM (PST)

Los Angeles, CA
Who's Going
Loading your connections...
Event Details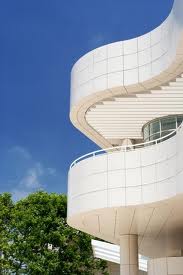 Like most great adventures in social media, it all began with a tweet. 
It was a quick blast of back-and-forth tweets between some social media users in Los Angeles County and Orange County that hatched the idea for a Southern California tweetup. 
Two days later, the social media friends -- most of whom have yet to meet each other -- selected the picture-perfect venue for Instagram and an optimized theme for a hashtag -- #GettySocial. 
And they invite you to join them for an informal and informational Southern California cultural arts tweetup -- one of the first of its kind.
-------------------------------------
Getting Social at The Getty
10 a.m. to 3:30 p.m. Saturday, Feb. 16
J. Paul Getty Museum, 1200 Getty Center Dr. (off the I-405)
Los Angeles, CA
--------------------------------------------------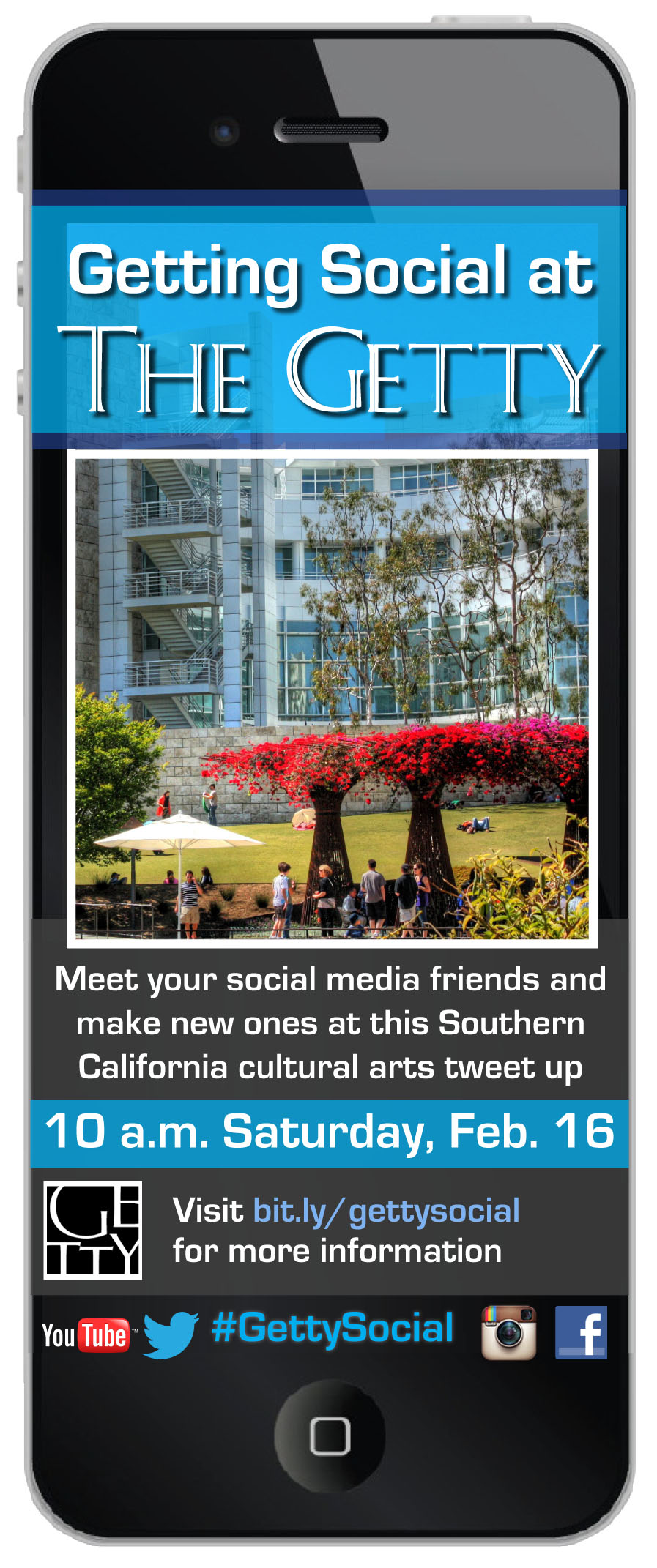 Come with your Facebook friends or meet new ones you've first chatted with on TweetDeck or HootSuite.
Capture the unique moments on YouTube, Viddy, SocialCam, Snapchat or the latest social media tool as we learn how international museums and other cultural organizations are tapping into the power of digital media to cultivate meaningful relationships, foster deeper insights and create compelling interactive experiences.
Because it's social media, this event is an open invitation for all to come join us for a fun and interactive day.
And we won't have a formal agenda -- just a digital map to help us maximize the fun experience by using a social scavanger hunt to highlight the must-see, must-hear and must-do features of the Getty Museum -- both inside and out.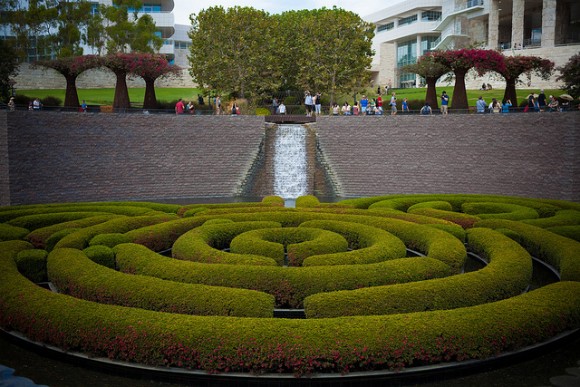 Although the museum does not have an entrance fee, there is a $15 parking fee. 
Carpooling is encouraged to the Getty Center located off of the San Diego Freeway (I-405). Transit options are also available to the Getty Center in Los Angeles. 
Check out this page for additional information about the museum. 
Social media users from Los Angeles County, Orange County, Ventura County, the Inland Empire, San Diego and other areas are welcome to converge in friendship and to share in connecting with new contacts, enriching existing relationships and reconnecting with old acquaintances.
Los Angeles Hosts
Beverly Macy, Founder and President of Gravity Summit and UCLA Faculty @beverlymacy 
Lana Layne, On-air Host and Digital/Social Media Strategist @lana_layne
Orange County Hosts
Ted Nguyen, Social Media Strategist @tednguyen
Laura Billiter, Cal State Fullerton Titan PR @laurabilliter
For questions, comments and just to share the event with your networks, please use the hashtag: #GettySocial
Attendee List
Sort by:

Date

|

First Name

|

Last Name
When & Where


The J. Paul Getty Museum
1200 Getty Center Drive


Los Angeles

,

CA

90049

Saturday, February 16, 2013 at 10:00 AM (PST)
Add to my calendar
Organizer
Ted Nguyen
Ted Nguyen is a nationally award-winning social media, public relations and marketing communications professional with more than 20 years of developing and executing cost-effective programs.
An international panel selected Ted to lead a seven-member team of social media experts and bloggers for Florens 2012, a worldwide gathering for arts and cultural heritage week in Florence, Italy.
He also was chosen to present on social media and mobile apps for museums.
Ted's work in social media and digital communications is featured in two books: The Power of Real-Time Social Media Marketing and The Big Book of Social Media.
Friday, February 15, 2013 - 11:56 PM
REMINDER:
If you didn't design your free custom Moo Promo Packs for pick-up at the event. 
You can still get them.
Save the #GettySocial Moo Card link you received.
When you have time to design your cards, utilize the save link.
Submit your custom design! and get them shipped to your preferred address.
Friday, February 15, 2013 - 10:10 AM
#GettySocial Mobile/Web Application Install FAQ:
IOS Devices:
IPhone or iPad there is a pop up that says add to home screen. Click that option and it will place the app on your IOS device's home screen.
Androids, Windows, Blackberry Devices:
Enter the link into your device's browser. Click your device's option button, usually the same button that displays bookmarking options. Look for the Add Shortcut to homescreen. That will save your #GettySocial Web/Mobile app to your device's homescreen.
Thursday, February 14, 2013 - 1:27 PM
Thursday, February 14, 2013 - 1:25 PM
Thursday, February 14, 2013 - 9:48 AM
Thank you to Austen Weinhart of Ivy Worldwide for donating free downloads of the E-book version of available in the contributor section of #GettySocial Mobile App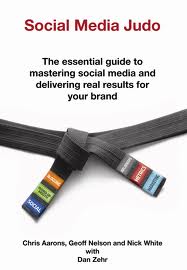 Tuesday, February 12, 2013 - 12:04 PM
Here is the QR code for the #GettySocial Mobile app for easy download: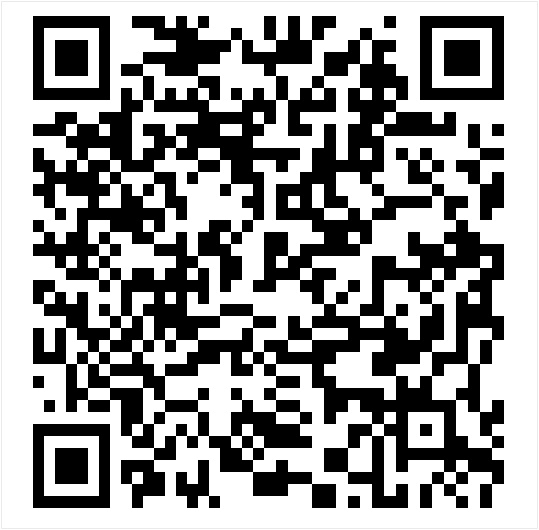 Monday, February 11, 2013 - 3:14 PM
For Detailed Information about parking and getting to The J. Paul Getty Museum 
Please Read The J.Paul Getty Museum FAQ
Due to the amazing outcome of attendees of #GettySocial TweetUp Event Carpooling is encouranged. 
Also included in the FAQ is public transit information as well. 
Monday, February 11, 2013 - 10:07 AM

One #GettySocial Attendee will be receiving :
Sunday, February 10, 2013 - 3:52 PM
#GettySocial App is Now live Click the Picture Below 
Special Thanks to @TapCanvas

For contributing and upgrading #GettySocial Mobile App to Premium Service.
Learn more about TapCanvas.
TapCanvas is compatible with:
Iphone, Ipad, Android, Windows Phone, and more.
Thursday, February 7, 2013 - 11:32 AM
Special Guest Speaker at the #GettySocial
Nic Adler @nicadler

Find out more about Nic Adler....Mashable's Interview with Nic Adler
Thursday, February 7, 2013 - 3:08 AM
Wednesday, February 6, 2013 - 10:16 AM
 Special Thanks to #SiliconBeachLA for creating an online Community for #GettySocial attendees to engage prior to the event and to continue to stay connected after the event. Join the #GettySocial Group on Silicon Beach LA and join the conversation.
Don't for get to use our special #GettySocial hashtag on Twitter and other social platforms to join the conversation.
Wednesday, February 6, 2013 - 9:57 AM
The Schedule will be update soon on the Eventbrite #GettySocial Page, also sent out in a event reminder email prior to the event.
Also we will have an event mobile app for the #GettySocial for attendees to download prior to the event Cheers!
Moo Cards deadline for pick up at the #GettySocial will be extended to the end of today Feb. 6, 2013
Thanks,
Lana
Monday, January 28, 2013 - 9:37 PM
Freebies at the #GettySocial!!
@MNYMTVTD
Monday, January 28, 2013 - 9:14 PM
Friday, January 25, 2013 - 3:16 PM
#GettySocial Giveaways
1 #GettySocial Guest will win a Ipro Lens System for their iphone. "iPro Lens System Turns iPhone Into a Pro-Grade Camera"- Mashable
@iprolens

Thursday, January 24, 2013 - 11:32 AM
#GettySocial Update
Stay in touch with new connections with a free pack of personalized Moo business cards for all registered #GettySocial guest.
Check your emails for the link to start designing your custom Moo Cards today!
Get your designs in by Feburary 7th and you can pick up your moo cards at the #GettySocial event.