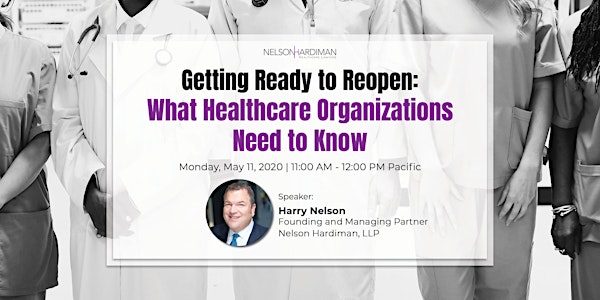 Getting Ready to Reopen: What Healthcare Organizations Need to Know
A webinar overview of the steps healthcare organizations and providers should take when considering to reopen amid COVID-19.
About this event
As we move closer to reopening healthcare organizations, many questions are arising around legal/regulation, operational, and risk management considerations, including potential liability, employees reluctant to return, and new hygiene and cleaning requirements. This webinar will offer insights and recommendations on navigating the legal and practical issues in preparing for the "new normal" in healthcare.
About Harry Nelson
Harry Nelson is the Founder and Managing Partner of Nelson Hardiman, LLP, the largest sole healthcare and life sciences law firm in Los Angeles. Harry has earned a national reputation as a leading expert on the future of U.S. healthcare, and is frequently called on to make sense of the most complex aspects of our healthcare system, delivering valuable insights for healthcare providers, government, consumers, employers, and investors.
For more COVID-19 related legal updates, please consider subscribing to the Nelson Hardiman COVID-19 Task Force Newsletter.