Description
Does public speaking make you nervous? You're not alone! But chances are, at some point, you will need to stand up in front of people and deliver an important message. In this workshop, presenter Marc Gabris, will give tips and tricks on delivery techniques (eye contact, stage use, gestures, vocal variety, pacing, audience participation, etc.) along with preparation, and overcoming fear of the stage. A portion of the workshop will provide the opportunity to practice the tips shared through "Table Topics," which are questions asked of the audience to answer in a 1-2 min improv speech. Participation will be optional, voluntary, and a great opportunity to mentally cement the information learned!
We hope you attend! If you do, we guarantee that it will be knowledge gained that will benefit you for the rest of your life! You may be the most intelligent person in the room with the best tech advancement to share, but if you can't communicate your genius, no one will know! Come learn how to communicate that genius and to best pitch your ideas!
About the Presenter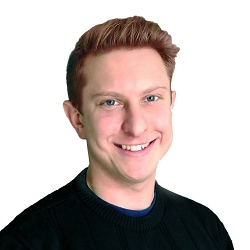 Marc Gabris is an Innogrove Weekend Startup champion! His team "Invimma" won back in 2015 with him as the primary pitchman. Marc has a background in public speaking through the Toastmasters organization in which he's won multiple rounds of their speaking contests – later rounds involving speaking on the main ballroom stage at grand hotels in front of an audience of hundreds. To continually hone his public speaking skills and share his experience, he founded a chapter of the Toastmasters organization at Sacramento State University where he has continued to mentor students in public speaking skills for the last seven years.