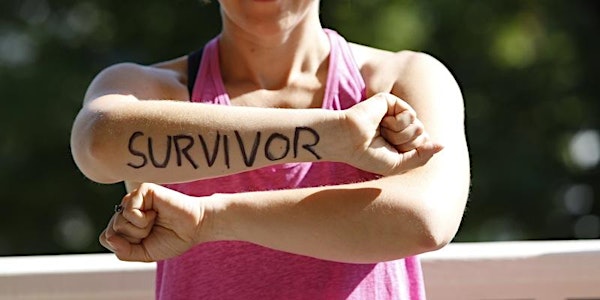 Getting Comfortable: A Conversation About Sexual Violence
When and where
Location
Impact Hub Boston 50 Milk Street 18th Floor Boston, MA 02109
Description
Conversations about sexual violence don't have to be uncomfortable. And they don't have to be polarizing either. In fact, comfortable conversations about sexual violence are a key tool to transforming rape culture, and a tangible way to stand in solidarity with survivors. In this hour-long session, you'll learn from Sarah Beaulieu about the mindset necessary to engage others - especially men - in conversations about sexual violence, and the practical ways these conversations can support survivors and create a world free of sexual abuse and assault.
Please note that this is a women-only event that intends an inclusive definition of women. We are welcoming and respectful of trans women and any others who identify as a woman in a way that is significant to them.
Agenda
5:30pm-6pm: Registration
6pm: Welcome
6:05pm-6:20pm: Watch TEDx talk on TEDxBeaconStreet site
6:20pm-7pm: Discussion and Q&A
Walk with us
To continue the conversation about sexual violence, we're pleased to host a team at the Boston Area Rape Crisis Center's annual Walk for Change on Sunday, April 23rd at the DCR Artesani Park in Brighton, MA. The Walk for Change is the largest event with and for survivors of sexual violence in New England. Register here to join our team, and use SHEGEEKS17 to receive a $15 discount!
About Sarah Beaulieu
Sarah Beaulieu's work is grounded in her ability to spark and lead a variety of sensitive and often uncomfortable conversations that help leaders and organizations align their capital with mission and unlock their full potential. She has done this with business executives, survivors of sexual assault and the people who love them, leaders of nonprofits and foundations and an extraordinary range of others. She has held senior fundraising, advising, and strategy positions at organizations like Brown University, Boston College, Be the Change, and GreenLight Fund, working with hundreds of investors and strategic partners across industries and sectors.
Sarah Beaulieu writes frequently about sexual violence on The Enliven Project, her personal blog, and is a contributor to The Good Men Project and Huffington Post. Her work has been published by the Providence Journal, AskMen.com, Cognoscenti (WBUR), the Nonprofit Quarterly, Commonhealth (WBUR) and the Stanford Social Innovation Review. Her Tumblr blog, Places I Have Pumped, was featured on Huffington Post Parents and attracted several thousand followers. She is also an experienced nonprofit executive and advises leaders and organizations seeking to deepen their impact in the world. As a survivor of sexual violence herself, she's had hundreds of conversations with all kinds of people about her experiences and journey as a survivor.