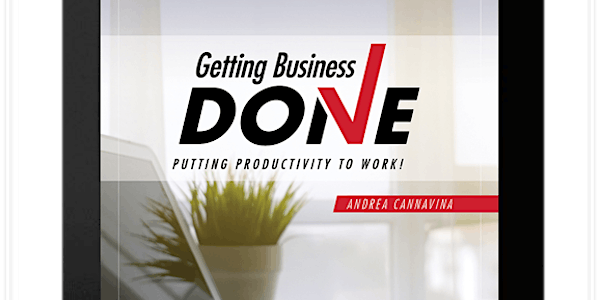 Getting Business Done Monthly MasterClass
Getting Business Done - putting productivity to work
Refund Policy
Contact the organizer to request a refund.
About this event
Getting Business Done - putting productivity to work
Are you part of the 70% of professionals who is constantly stressed out, with too much to do, and not enough time to get the important client work done ... let alone get to all the admin tasks necessary to run a successful business <- you know, the ones that technology was supposed to automate out of our lives?
Most people today are not far away from a computer and keyboard, constantly reviewing the incoming and adding to the list of never ending things to do. Which is so stressful alone - but then you know, client work... so you
Buckle down and work just a little bit harder, a little bit longer. The trouble is...
You are not catching up! If anything, you are now frustrated, knowing you have to do something because you can't keep going at this pace, but you just don't know what or where to start. Stop. Breathe...
I am here and I KNOW what every lawyer/professional/entrepreneur needs in order to get and keep their office and business organized and efficiently working from where ever they happen to be.
And I'm inviting you to learn my strategies for building a practice that works for you through my live MasterClass - Getting Business Done - putting productivity to work.
In my MasterClass:
✅ I share my number 1 tool to help process to dos and emails so you are not trapped in a never ending barrage of urgent tasks (from things falling through the cracks);
✅ I teach you how to create the proper space - in your office, calendar and mind ... so you get the paying work done (billed and collected); and
✅ I show you how to pivot when shift happens so you're still productive, no matter what life/the office/your clients throw at you!
Sign up and attend Getting Business Done and immediately see the positive changes in your office, staff, mind AND bottom line.
So when you're ready to go from feeling out of control with a business that's running (and ruining) your life ~ to working in an efficient and productive environment - pick a month, sign up and let me show you how to go from complete chaos (complete havoc and overwhelming stress) to clear (consistently leveraging every available remedy) ;)
It really doesn't have to be this hard and you really aren't alone.