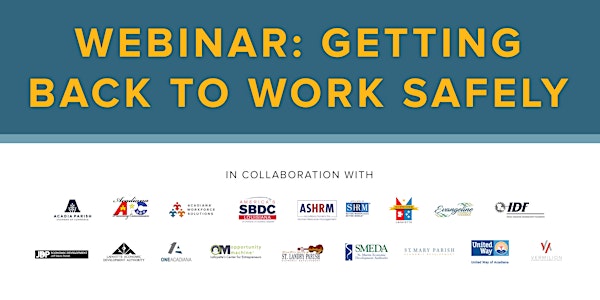 Getting Back to Work Safely
Acadiana business resource partners are hosting a series of webinars on timely and relevant topics in response to COVID-19.
About this event
Join us for a conversation with business leaders about relevant guidance and best practices for keeping your workplace and employees safe as more businesses start reopening.
Date / Time:
Tuesday, May 12, 2020
9:00 - 10:00 a.m. CDT
Presenters:
Chad Abell, ACSW
Tessa Brown, CCI Piping Systems
Neil Davis, Acadian Companies
Brent Hebert, Dupre Logistics
Following the Governor's next announcement on May 11 about what to expect when Louisiana's extended Stay at Home order ends on May 15, we will hear from a panel of business leaders about what getting back to work safely means to them and their company. We will also share a set of resources for you to consider when developing your own reopening plans, including official guidance and examples of new workplace protocols. This should be an informative discussion and will offer the chance for you to ask your questions.
Notes:
Due to system limitations, the live webinar will be limited to 250 participants, but it will be recorded and widely shared by partner organizations afterwards
We will allow for Q&A but might not have time to take all questions
You can access the video within 24 hours after the webinar ends at: oneacadiana.org/covid-19-resources