Description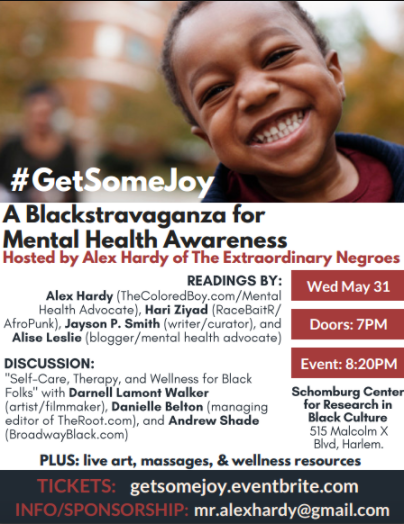 Join writer, mental health advocate, and co-host of The Extraordinary Negroes podcast Alexander Hardy for a night of merriment, art, readings by poets and storytellers, and candid conversations to increase awareness, address stigmas around mental illness, and promote wellness.
In addition to live art, massages, and access to community health resources, #GetSomeJoy will include readings by host Alexander Hardy, Hari Ziyad (Editor-in-Chief of RaceBaitr and Deputy Editor at Black Youth Project), Alise Leslie (blogger at InMyMentalMind.com and mental health advocate), and Jayson P. Smith (writer, curator, and Emerge-Surface-Be Fellow with The Poetry Project). Darnell Lamont Walker (filmmaker, artist, and traveler), Danielle Belton (Managing Editor of TheRoot.com), and Andrew Shade (Founder and Editorial Director at BroadwayBlack.com) will join Alexander for a panel discussion on "Self-Care, Therapy, and Wellness for Black Folks."
A special guest will then join Alexander for a conversation on healing, self-love, and keeping it the hell together.
Head here for more information about the event's participants.
For more information or sponsorship opportunities, contact Alexander at mr.alexhardy@gmail.com.
Past Events:
Colored Boy and Friends: Mental Health Awareness Edition
Resisting Limitations: AfroLatin@s and Radical Identity
Colored Boy and Friends: Summer Edition
Colored Boy and Friends: Spring Edition
Personal Essay Writing - workshop