Description
Ever wondered what the heck you're signing up for when you're signing up for a retirement fund? Or where to even begin?
Join us at Chicas Latinas de Sacramento's Financial Workshop to learn the tools of the trade and how to get your piece of the pie! (Also, we'll have pizza pie.)
Space is limited | RSVP to Secure your Spot | Open to the Community | Donation-Only
Your ticket in: a new pair of kids shoes and/or a donation to go towards purchasing shoes!!!
Our DONATION-ONLY workshop is aimed to help YOU understand the language of finance in order to set yourself, and your family, up for success! Feel free to come prepared with your financial questions. Chicas Latinas' Board Member, and financial expert, Terry Ward is ready to help educate our members, family, friends, and community.
Donation boxes will be set-up at multiple locations from July 1st - Sept. 16th., check out link for more info!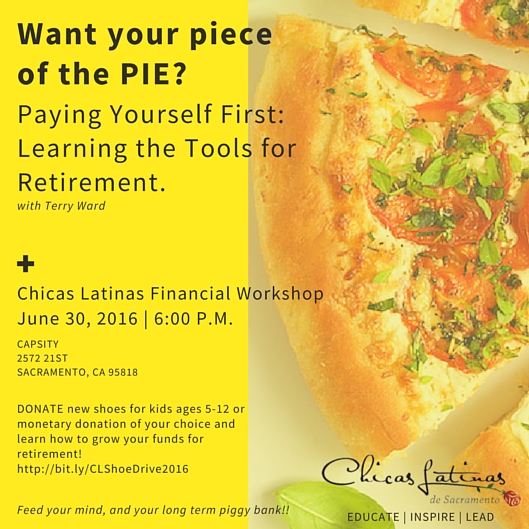 * No services, products, or businesses will be promoted during the workshop. 100% educational and donated!