Location
De Soto Corner Theater
211 East Pleasant Run Road
DeSoto, TX 75115
Get Your Laugh On Out Loud Comedy Show starring Michael Shawn and guests - Showtime at 7PM
About this event
Presented by Snoop Robinson
Join us Saturday night with some of the funniest comedians in town!
Featuring comedians
Michael Shawn
Lamar Jones
Fonzo Crow
DeSoto Corner Theatre
211 E. Pleasant Run Road DeSoto, TX
*** FREE PARKING***
TICKETS $10 Early Bird before 8/20
***Smokey D'z BBQ***
FOOD AND DRINKS WILL BE SOLD
Expected to be a SOLD-OUT show
Michael Shawn pushes the envelope to keep a lively discussion going in order to give the listeners a forum to speak freely. One never knows exactly what they are going to get when they tune in, from having Johnny Gill singing on the show to a magician doing magic (yes magic on a radio show) but they know it's always guaranteed to be fun, energetic and entertaining.
The team makes a concentrated effort to hit on educational topics such as financial literacy, entrepreneurship, physical and mental health as well as race relations in order to make sure their targeted demographic age range of 18-49 have a space to ask questions and gain knowledge on a variety of subjects. The feedback from the fans further proves that the winning formula has been figured out with Michael Shawn as the anchor of this podcast.
Michael Shawn and The Takeover Legends Show Podcast is available for listening on Google Play and IOS devices. The show can be streamed on YouTube, Facebook, and Twitch via MediaRoom 360.
There will be no refunds for this event.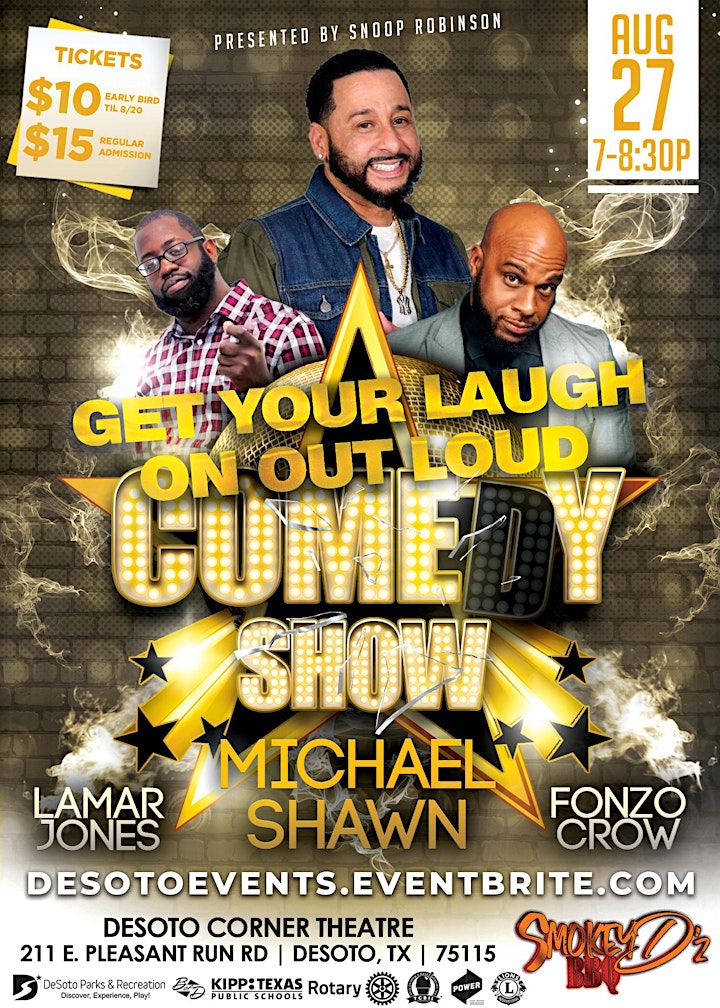 Lamar Jones
Lamar Jones was born and raised in New Orleans. A 7-year veteran with a unique voice and clever and firm stage presence. He has performed all across the country and shared the stage with some of the most talented comics in the world. His connection with the audience leaves uncontrollable laughter. Regular comedian at Comedy Clubs across the Country.
Fonzo Crow
This Dallas, TX native Fonzo Crow is a star on the RISE! When he is not performing his high-energy, quick witted comedy. Fonzo has always seen this world through a different lens. His comedy will leave you in stitches with his stories about fraternity life, married/divorce life and the challenges on being a father raising stepkids. He talks about his love for his son and becoming a stepgrandfather.
Fonzo credits his comedic ability to his upbringing in Dallas, TX. Being a favorite among his comedic colleagues Fonzo has been fortunate to feature for many national headliners and performed at legendary venues such as Los Angeles' famous clubs such as Jay Anthony Brown's " The J Spot", The Laugh Factory, The Comedy Store, Improv Comedy Clubs, The Comedy Union, etc. Fonzo was a semifinalist for Shaq's All-Star Comedy Jam Tour, as well as the funniest comic in Texas in 2019 and currently, he is touring colleges and clubs across America. While he is trending to become a household name you better look out for this breakout talent!