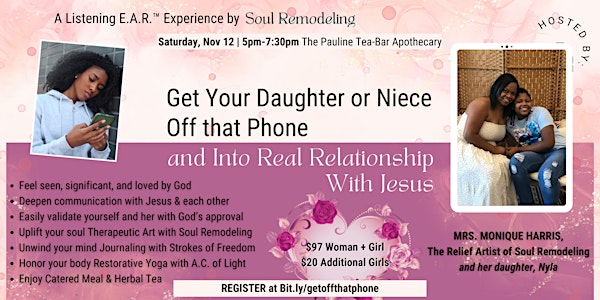 Get Your Daughter or Niece Off Her Phone & Into Real Relationship w/ Jesus
At this Listening E.A.R.™ Experience, you'll pour into yourself and overflow into your daughter or niece through affirming expressive arts.
When and where
Location
The Pauline Tea-Bar Apothecary 2326 Arty Avenue Charlotte, NC 28208
About this event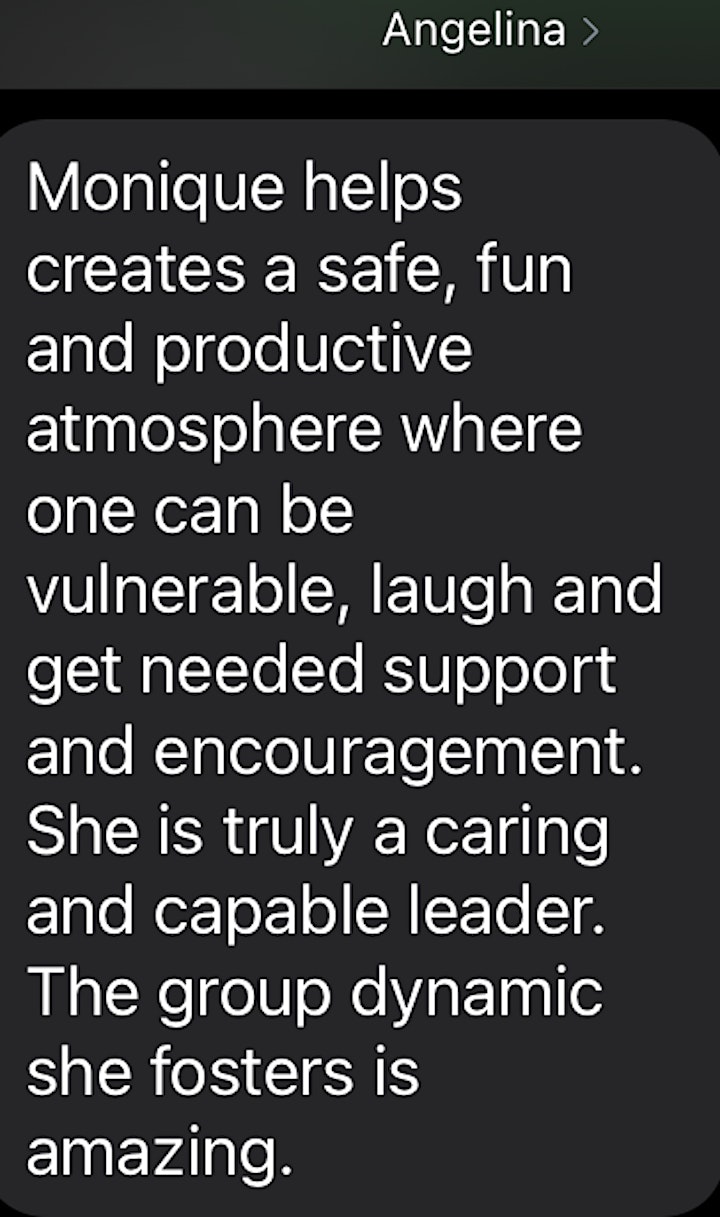 Can you imagine your daughter or niece fully believing and trusting in Jesus -and herself?
Take this easy next step to empower her with Jesus in a safe space and sacred place!
THEME: "What's In Your Cup?" We know that we need pouring into so we can be nourished and overflow; but what are we being filled with? We'll explore Soul Remodeling's LISTEN Framework™️ to discover What's In Your Cup?
YOU BOTH/ALL RECEIVE:
*THREE Expressive Art Sessions led by local and professional black woman-owned businesses (Value $300+)
*Art and Journal Keepsakes
*Catered Dinner
BENEFITS:
*Feel seen, significant, and loved by God
*Deepen communication with Jesus & each other
*Easily validate yourself and her with God's approval
*Create your own Bible-based Affirmations
*Uplift your soul Therapeutic Art with Soul Remodeling (No art skills or supplies needed)
*Unwind your mind Journaling with Strokes of Freedom (Journal included)
*Honor your body Restorative Yoga* with A.C. of Light (bring your own mat and/or blanket; our Yoga Mats and Blankets are available for purchase on Soulremodeling.com
*Enjoy a Catered Meal* by a professional Chef (please email Clientcare@soulremodeling.art if you or your guest(s) have any food allergies)
*Herbal Tea from the venue (your choice of special cup to use at event)
BONUSES:
Every family will receive a take-home gift and special offer from Soul Remodeling!
THANK YOU for sowing into Soul Remodeling™️ by Mrs. Monique Harris which directly opens more doors to healing for child witnesses/survivors of abuse.
PLEASE NOTE: LIMITED to a maximum of 10 women who are moms/aunts (age 21 years or older). You can bring up to 2 girls for this event as the venue space is limited. Suggested age for Daughter/Niece is 12 years old and older, including adults. All sales are final. No refunds. If you cannot attend, you can transfer or donate your ticket. Thank you for understanding.
All rights reserved ©2022 by Mrs. Monique Harris, Soul Remodeling, LLC
FREQUENTLY ASKED QUESTIONS (FAQ):
Why is the price so low? We are aware low-priced events can make you feel like corners were cut and the experience isn't worthy of your precious time. This ain't that! And here's why- we maintain a high standard of excellence and refuse to sacrifice our Clients' experience with us and our brand by cheapening quality. This is our first in-person experience tailored to Moms/Aunts and Daughters/Nieces, and we want to honor our pioneers with exclusive pricing.
What should we wear? Dress comfortably in what makes you feel good and can move in! We suggest layers to be mindful of the cooler temperatures at night.
Do I need any experience or skills for any of the sessions/activities? Absolutely not!
Is this a drop-in event? No. Please plan to attend from 5pm-7:30pm so we can move through our quality time without disruptions. Arriving at 5pm sharp also allows you to enjoy every minute of this experience! Schedule to arrive at 4:45pm, if needed.
Will we be painting on canvases for the Art Experience (like a sip & paint)? Nope! As The Relief Artist of Soul Remodeling, Mrs. Monique Harris loves exploring and sharing other unique therapeutic art techniques.
What ages is this best suited for? We suggest Daughters and Nieces to be age 12 years and older, including adult Daughters and Nieces. Use your discretion on if a younger girl would be a good fit.
How many Daughter and/or Nieces can I bring? Because the Tea Bar is an intimate setting, we advise bringing a maximum of two. You are welcome to book a private Experience or attend a future event that accommodates more guests. To receive our upcoming event announcements, please join our Treasured Insiders VIP Email List on www.Soulremodeling.art
What is the Catered Meal? You'll receive the menu in advance. Remember to email Clientcare@soulremodeling.art with any allergies after you purchase your tickets.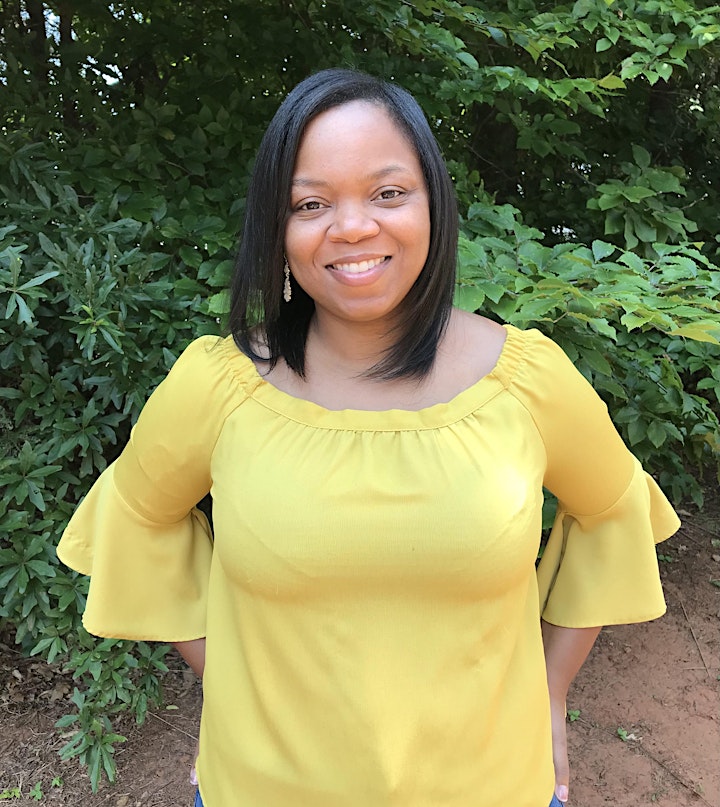 About Your Experience Facilitator
Blessings! I am Mrs. Monique Harris! I am Relief Artist of Soul Remodeling™, certified in Trauma-informed Care and Therapeutic Art. Soul Remodeling is interior design in your heart™. Because my intimate relationship with Jesus enables me to be a thriving survivor of sexual assault, domestic violence, PTSD, and currently a chronic migraine warrior- I use my art to provide personalized Listening E.A.R. experiences for moms healing while raising children so you can feel seen, significant, and loved by God.
My artwork infuses the transformations and experiences from remodeling my home and my healing journey from trauma to treasure. It also features black women and girls of different complexions, highlights our natural beauty and hair, and is soulfully crafted with gems as reminders we are God's special treasure.
I get super excited when creating gifts to honor and uplift others, vacationing with my family, hosting games and events, enjoying tasty sugar-free desserts, making up corny jokes with my children.