| | |
| --- | --- |
| Get your copy of Rules of the Road: Navigating the New Ethics of Local Journalism | |
Event Details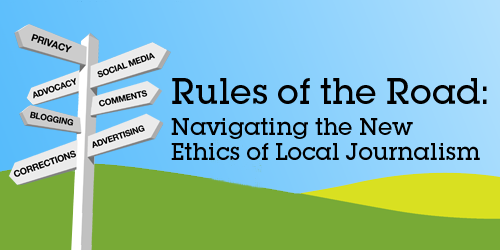 As the landscape of local news online today changes under our feet, we set out to chart how the publishers, editors and reporters shaping it are finding their ethical bearings. We conducted in-depth interviews with site founders and ethics experts to try to unearth some close-to-ground-level stories and derive some higher-level principles.
The organizations covering local communities online today run a wide gamut: from nonprofit to commercial, one-person shops to dozens-strong teams, and village-sized readerships to metropolitan audiences. That means, inevitably, that there are few bedrock rules or universally agreed-upon practices, and there's more seat-of-the-pants improvisation than carefully mulled decision-making. Written ethics policies of any kind are scarce – either because the newsrooms are simply too small, or editors believe that no formal policy can guide them well through the wilderness of problems that can come up.
We asked local news site editors and entrepreneurs where they saw ethical dilemmas most often crop up. Some topics that are staples in this field, like plagiarism, didn't enter the picture much. Other areas where practices in traditional newsrooms are well-defined, like the editorial/advertising divide, turned out to be full of uncertainties and questions.
Order a copy of this book for your newsroom, your classroom, or yourself!
Have questions about Get your copy of Rules of the Road: Navigating the New Ethics of Local Journalism?
Contact J-Lab
Organizer
J-Lab is the Institute for Interactive Journalism