Description
With less than 10 months to go, GDPR is the biggest shake up in data protection in the EU of the last 20 years, and you need to be ready! Not only will GDPR impose expensive fines and stringent prosecution, it will have a significant impact on businesses, both inside and outside the EU. So, if you provide goods or services to or process user behaviour of EU-based data subjects, this event is for you.
Simply complete the online registration to book your FREE place. But hurry—number of places is limited!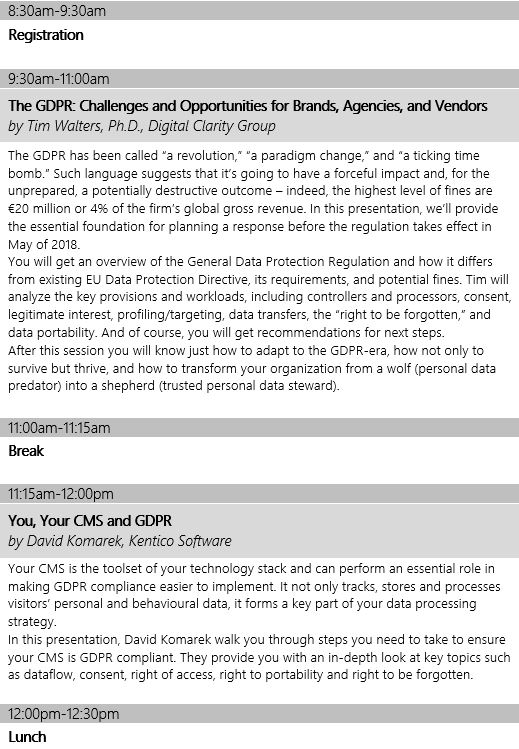 ---
About Tim Walters, Ph.D.
Tim Walters is a principal strategist and the privacy lead at The Content Advisory, as well as a founding partner of Digital Clarity Group and a contributing analyst for the Content Marketing Institute.
In this writing, advising, and public speaking, Tim aims to help both enterprises and solution providers come to terms with customer experience management (CEM) – while also respecting the privacy and personal data of consumers. In particular, Tim focuses on the EU's General Data Protection Regulation (GDPR) and the challenges and opportunities it poses for marketers and other customer experience professionals.
His publications include "The CEM Imperative," an Executive FAQ about the GDPR, and "Get Ready for the GDPR: Talking to Colleagues and Vendors." He has conducted executive-level advisories with firms such as 3M, Henkel, Allianz, Allstate Insurance, Scandic Hotels, Adobe, Sitecore, and OpenText.
Prior to co-founding DCG, Tim was a Senior Analyst and Advisor at Forrester Research, and director of international marketing and strategy for FatWire Software. Earlier, he was a professor at the University of Rochester and New York University.