Get Your Art On! The Association of Yale Alumni Goes to Art Basel Miami

Thursday, December 6, 2012 at 11:00 AM

-

Friday, December 7, 2012 at 6:30 PM (EST)
Who's Going

Loading your connections...
3 of your friends are going.
Share it to get more people on board!
Share

Sara Haughty
San Francisco, California

Luke Picard
London, United Kingdom

Rick Vespucio
Florence, Italy
Event Details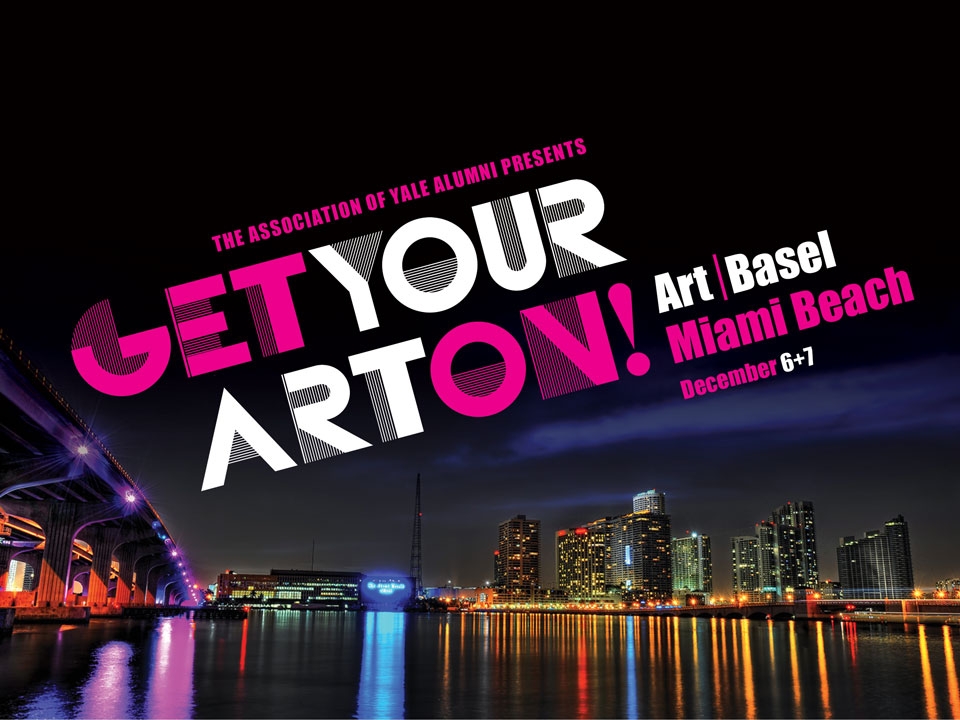 Join Yale alumni and friends as we venture to Miami Beach to explore Art Basel Miami, one of the most significant shows on the contemporary art scene. Whether you are a seasoned collector or just beginning your artistic journey, the Association of Yale Alumni invites you to exclusive behind the scenes venues, select gallery introductions and of course our networking party. It is Miami after all!


Thursday Dec. 6

 

12:00 PM

Private Tour: Craig Robbins Collection

The Craig Robins Collection is a private contemporary art and design collection that includes works from John Baldessari, Richard Tuttle, Marlene Dumas, Paul McCarthy, Mike Kelley, Kai Althoff, Cosima von Bonin, Huang Yong Ping, and Paulina Olowska. Pieces in the collection represent a wide spectrum of artistic perspectives and encompass the disciplines of design, architecture, film, music and dance.

Believing that art should be shared, pieces from the collection are constantly rotated and put on display in Dacra properties. Pieces are also loaned out to museums and cultural institutions for exhibition. Design objects by leading designers such as Gio Ponti, Jean Prouvé, Zaha Hadid, the Campana Brothers, Ron Arad and Maarten Baas are also part of the collection and on display in Dacra offices.

2:00

Art Basel Miami VIP Show Tour with Benjamin Hunter (Option 1- limit 25)

Friday Dec. 7

 

12:00 PM

Art Basel Miami VIP Show Tour with Benjamin Hunter (Option 2 - limit 25)

2:00

"The Jean and Robert Steele Collection"

Lecture and Conversation with Robert  E. Steele  '75 Ph.D noted collector and Exec. Director of the David C. Driskell Center  for the Study of Visual Arts and Culture of African Americans and the African Diaspora

Interviewed by Richard Powell '88 Ph.D the John Spencer Bassett Professor of Art & Art History at Duke University

3:00

"The International Contemporary Art Scene" – Hear from leading industry figures as they discuss their insights into the contemporary culture of the Art world.   

Bonnie Clearwater, Executive Director & Chief Curator MoCA North Miami

Hallie Hobson '95, Associate Director of Development, MoMA

Marc Porter '87 J.D., Chairman, Christie's Americas

Eric Shiner'03 M.A., Director of the Andy Warhol Museum

4:30-6:30

Networking  Reception – Get your art on! Mixing and mingling with alumni and friends in the heart of South Beach.
BIOS
 










Photo Credit: Betty Rosado

Bonnie Clearwater is the Executive Director and Chief Curator of the Museum of Contemporary Art, North Miami since 1997. She is the former Executive Director of the Lannan Foundation Art Programs in Los Angeles and Director of the Lannan Museum in Lake Worth, Florida, from 1985 to 1988 and was an advisor to the Norton Family Foundation 1988-1989. She was the Curator of The Mark Rothko Foundation in New York and concurrently was the Curator of the Leonard and Evelyn Lauder Collection also in New York. She served as an advisor to the 2002 Whitney Biennial, was a juror for the Lucilla Award, National Museum of Art, Smithsonian Institution, Washington, D.C., 2002, and Advisor for the Altoids Collection, 2002. She is the 2003 recipient of the American Red Cross Spectrum Award for Women, Cultural Award.

Ms. Clearwater has written extensively on Modern and contemporary art. She is the author of The Rothko Book (Tate Publishing, 2006/Abrams, 2007) and was the author of the book Mark Rothko: Works on Paper (Hudson Hills, 1984, also published in German and French editions). She also is the author of Edward Ruscha: Words Without Thoughts Never to Heaven Go (Abrams) and Roy Lichtenstein: Inside/Outside, Frank Stella at 2000: Changing the Rules (both for the Museum of Contemporary Art, North Miami) and is the editor and contributing author of West Coast Duchamp (Grassfield Press) and Ana Mendieta: A Book of Works.

Exhibitions organized by Ms. Clearwater range from solo shows for emerging artists to historical surveys of modern and contemporary artists as well as thematic exhibitions that examine current interests of artists. Among the exhibitions organized by Ms. Clearwater are "Mark Rothko: Works on Paper" (National Gallery of Art, Washington, D.C.; traveled to the Guggenheim Museum, New York, San Francisco Museum of Modern Art, and other U.S. museums), "Edward Ruscha: Words Without Thoughts Never to Heaven Go," (Lannan Museum, traveled to Williams College Museum). She curated "Defining the Nineties: Consensus-Making in New York, Miami, and Los Angeles" which inaugurated the Museum of Contemporary Art in February 1996 (the first major museum exhibition to examine the new art of the decade). She curates the majority of MOCA's highly acclaimed exhibitions.  Such exhibitions include:  "Painting into Photography/Photography into Painting," "Tableaux" which traveled to Houston's Contemporary Arts Museum, "David Smith: Stop/Action," "Anna Gaskell," which traveled to the Museum of Modern Art, Oxford, England, and Astrup Fearnley Museum of Modern Art, Oslo, Norway, "Matthew Ritchie: The Fast Set," "Teresita Fernandez," "Making Art in Miami," "Roy Lichtenstein: Inside/Outside," "Frank Stella at 2000: Changing the Rules," "Frankenthaler: Paintings on Paper" which traveled to the Irish Museum of Modern Art., "MOCA and Miami," "Albert Oehlen: I Know Whom You Showed Last Summer," "Malcolm Morley: The Art of Painting,  "Jorge Pardo: House" "Mark Handorth: Rolling Stop."  She is also the curator of Tracey Emin's first solo U.S. museum exhibition, which premieres at the Museum of Contemporary Art North Miami in December 2013.

Ms. Clearwater received a M.A. in art history from Columbia University and a B.A. in art history from New York University.

 

 

Photo Credit:Easton D. Rankine

Hallie S. Hobson '95 is Associate Director of Development at The Museum of Modern Art, where her focus is donor stewardship and major gift cultivation.  She has held a variety of roles in the cultural sector, working as Associate Director of Development for The Studio Museum in Harlem; Director of Development for Meredith Monk/The House Foundation for the Arts; and as Assistant Editor/Project Assistant on A Cultural Blueprint for New York City, a special initiative of the New York Foundation for the Arts.  Hallie has lectured on the art of relationship management in the cultural sector to the Yale World Fellows and at the Sotheby's Institute of Art graduate program.  She received her bachelor's degree from Yale and a master's degree in fine arts from UCLA.  Her professional affiliations include memberships in ArtTable and Women in Development.   In addition to her career in arts administration, Hallie writes poetry and plays.

 

 

Benjamin Reed Hunter is an internationally recognized art advisor, curator, and a lifelong collector. He's also an author, former band manager, and cultural prognosticator. Hunter earned a Bachelor of Science degree in film-making from Boston University in 1990 with a concentration in Art History and English. In 1987, he "discovered" the rock band Phish and choreographed, as manager, their first international tours and record deal. The band's debut album, "Junta," was named after Hunter as a tribute to his long-time nickname. Subsequently, Phish has grossed hundreds of millions of dollars in live revenues, and continues to perform to enthusiastic audiences all over the world. In the early 90's, Hunter turned his attention to writing, working for such publications as Rolling Stone, Spin and Vibe. In this capacity he wrote substantial portions of the Rolling Stone Encyclopedia of Rock & Roll and The Rolling Stone Jazz and Blues Album Guide. In the late nineties, Hunter authored the well-received Midnight Special, 1972-1981: Late Night's Original Rock & Roll Show, published by Simon and Schuster's Pocket Books. Shortly thereafter, he decided to focus on art collecting, a passion gripping him since he was a youngster. This soon morphed into the formation of TenLetters Media, an efficient vehicle for him to help other enthusiastic art collectors negotiate the murky waters of selectivity, acquisition and connoisseurship. Hunter lives in the Chelsea section of Manhattan with his wife and 3 children. 

TenLettersMedia, Inc.
Founded in 1997 by Benjamin R. Hunter, TenLetters Media, Inc. (TLM) is a private art consultancy building world-class collections for prominent individuals and institutions in The Americas, Europe, the Middle East and Asia.

Focusing primarily on late twentieth and twenty-first century artists, TLM caters to a small group of passionate collectors looking to access artworks with bona fide historical and market value. 

Interacting with a global network of purveyors, TLM has been instrumental in assembling important collections ranging in stylistic diversity from Post-Impressionism to German Expressionism, Abstract Expressionism, Modernism, and American/European/Asian contemporary masters, to name a few.

TLM helps clients navigate the multi-faceted world of art collecting by providing intelligence and connoisseurship in the following areas, amongst others. 



 

Marc Porter '87 J.D. is Chairman and International Head of Private Sales at Christie's. He is also a member of the Board of Christie's. Mr. Porter was promoted to Christie's first International Head of Private Sales in April 2012. This newly created global position reflects Christies' commitment to better serve collectors in the global art market with an unparalleled private art sales facility to meet the growing needs of clients. 

Mr. Porter was appointed Chairman in January 2010, and served as President of Christie's Americas for six years.  Prior to this, Mr. Porter was the head of Trusts and Estates Department and the International Managing Director for our Impressionist & Modern Art and Post-War & Contemporary Art departments.

Mr. Porter has been instrumental in securing numerous important consignments over the past two decades. Most recently, he was responsible for the Collection of Elizabeth Taylor, which totaled $183.5 million over a series of sales. Comprised of magnificent jewelry, Impressionist and Modern Art, couture clothing, memorabilia and decorative arts, the Collection of Elizabeth Taylor achieved the highest totals in auction history for jewelry and fashion and included Christie's first-ever series of online sales.

In spring 2010, Christie's won two major single-owner collections—those of Mrs. Sidney F. Brody and Michael Crichton—in the same season, a feat unprecedented in today's highly competitive market. The Brody collection, one of the greatest private American holdings of Modern Art to come to auction, achieved $225.9 million, the highest total ever for a single-owner sale offered at Christies New York. The highlight was Picasso's Nude, Green Leaves, and Bust, which sold for $106.5 million, a new world record for any work of art sold at auction. He also played an important role in the renowned sale of the Annenberg Diamond in fall 2009 for $7.7 million, a world record price of $240,000 per carat for a colorless diamond.

Mr. Porter has been especially active in the firm's involvement with matters involving Holocaust-related restitutions including the oversight of the Mauerbach Sale in 1995, which was the beginning of the recognition by the art world of the serious matters to be redressed with respect to pictures stolen by the Nazis. Mr. Porter also played an important role in the record-breaking sales of the five paintings by Gustav Klimt that were restituted to Maria Altmann and other heirs of Adele and Ferdinand Bloch-Bauer. The central work of the group, Portrait of Adele Bloch-Bauer I, was purchased privately by philanthropist Ronald Lauder for the Neue Galerie in New York.

Mr. Porter has led a number of private treaty sales at Christie's, including Thomas Eakins's Gross Clinic, sold on behalf of Thomas Jefferson University for $68 million, the world record price for an American painting produced prior to World War II and one of the most expensive museum acquisitions in history. Mr. Porter specifically created the structure of this sale to allow for the Philadelphia Museum of Art and The Pennsylvania Academy of Fine Arts to retain the picture in Philadelphia.

Mr. Porter earned a B.A. degree from the University of Pennsylvania's College of Arts and Sciences and a B.S. in Economics from the Wharton School of the University of Pennsylvania. He also holds a law degree from Yale Law School. Prior to joining Christie's, he was associated with the New York law firm of Proskauer (formerly Proskauer Rose Goetz & Mendelsohn). He also held positions with the New York City Department of Cultural Affairs and the office of the general counsel of the Metropolitan Museum of Art. Mr. Porter resides in New York City.

 

Richard J. Powell '88 Ph.D. (B.A., Morehouse College, 1975; M.F.A., Howard University, 1977; M.A., Yale University, 1982; M.Phil., Yale University, 1984; & Ph.D., Yale University, 1988) is the John Spencer Bassett Professor of Art & Art History at Duke University, where he has taught since 1989.  Along with teaching courses in American art, the arts of the African Diaspora, and contemporary visual studies, he has written extensively on topics ranging from primitivism to postmodernism, including such titles as Homecoming: The Art and Life of William H. Johnson (1991) and Black Art: A Cultural History (1997 & 2002).  His latest book is Cutting a Figure: Fashioning Black Portraiture (2008).  Powell, a recognized authority on African American art and culture (and a frequent commentator and lecturer on this topic both in the United States and abroad), has also helped organize numerous art exhibitions, most notably: The Blues Aesthetic: Black Culture and Modernism (1989); Rhapsodies in Black: Art of the Harlem Renaissance (1997); To Conserve A Legacy: American Art at Historically Black Colleges and Universities (1999); and Back to Black: Art, Cinema, and the Racial Imaginary (2005).  From 2007 until 2010, Powell was Editor-in-Chief of The Art Bulletin, the world's leading English language journal in art history.

 

Eric C. Shiner'03 M.A is the Director of The Andy Warhol Museum in Pittsburgh. His scholarly focus is on the concept of bodily transformation in postwar Japanese photography, painting and performance art. Shiner was an assistant curator of the Yokohama Triennale 2001, Japan's first ever large-scale exhibition of international contemporary art, and the curator of Making a Home: Japanese Contemporary Artists in New York at Japan Society in 2007. He is an active writer and translator, a contributing editor for Art AsiaPacific magazine and adjunct professor of art history at The University of Pittsburgh. He received a Bachelor of Philosophy in The History of Art & Architecture and Japanese Language & Literature from The University of Pittsburgh's Honors College in 1994, an M.A. in The History of Art  from Osaka University in 2001, and another M.A. in The History of Art from Yale in 2003.

 

Robert E. Steele '75 Ph.D, has been the Executive Director of the David C. Driskell Center for the Study of the Visual Arts and Culture of African Americans and the African Diaspora at the University of Maryland, College Park since 2004. Under Dr. Steele's leadership, the Center has become nationally known in the field of African American Visual Arts. Steele established a visual arts education program, including lectures and conferences, and has founded several endowed funds to support the Visual Art program of the Center. Prior to his current position, he held several positions at University of Maryland, College Park including Assistant Professor at the Department of Psychology and Associate Dean of the College of Behavioral and Social Sciences.

Steele has written and contributed to a number of publications in the field of African American Art, including several entries in the St. James Guide to Black Artists. In addition, Dr. Steele has a number of advisory and board memberships, such as the Governing Board of the Yale University Gallery of Art, the Board of Directors of the National Black Arts Festival in Atlanta and the Founder of the National Black Arts Festival's Collectors Guild, the Advisory Committee of the Experimental Printmaking Institute at Lafayette College, the Advisory Board of Brodsky Center for Innovative Print and Paper at Rutgers University and the Board of Director of Brandywine Workshop in Philadelphia. Steele is also a member of the Collectors Club of Washington, D.C., Inc. and the New York Print Club.

Steele and wife Jean are co-owners of the Steele Collection of prints and works on paper by African American artists. An exhibition of 62 works from their collection, "Successions: Print by African American Artists from the Jean and Robert Steele Collection" has been traveling to several venues on the East Coast since it first opened at The Art Gallery at the University of Maryland, College Park, in April 2002.

 
Event Fee:
$450 – Includes 3-day pass to Art Basel Miami, transportation to and from Craig Robbins Collection private tour leaving from The Lords Hotel, VIP Art Basel Miami Show tour with Benjamin Hunter, Lecture and Panel Discussions and Networking Reception.
$50 – Friday 4:30-6:30 - Networking Reception only.
Please note the Lecture, Panel Discussion and the Networking Reception will be held at our host hotel, The Lords, 1120 Collins Ave. The hotel is a short 4 block walking distance to the Miami Convention Center where Art Basel Miami is being held. It is also central to shops and restaurants. Depending on personal preference, most weekend attractions will be in walking distance or a short cab ride.
We have arranged for a discounted hotel rate at The Lords Hotel and The Clifton Hotel from Dec. 6-8, 2012. There are only a limited number of discounted rooms so we encourage you to book early. As Art Basel Miami is one of the biggest events in the State of Florida, hotel rooms will be going fast.
·         The Lords Hotel, 1120 Collins Avenue, Miami Beach FL, 33139 http://www.lordssouthbeach.com/
Standard Room: $250.00+tax =$282.50 per night for single to double (1-2) occupancy
7 day cancellation policy
·         The Clifton Hotel, 1433 Collins Avenue, Miami Beach FL, 33139    
http://cliftonsouthbeach.com/
Standard Room: $145.00+tax =$163.85 per night for single to double (1-2) occupancy.
7 day cancellation policy


To make reservations, please follow the directions below:
1.       Phone reservations at: 305-672-5858
2.       Select  OPTION #2
3.       State the Group Block, "The Yale University, AYA - Shared Interest Group"
For additional information please contact tricia.cushing@yale.edu or 203-432-4699.
A cancelation request received prior to Nov.14th will be charged a $35 processing fee. Cancelation requests received on or after Nov. 15th will forfeit the entire event fee, as applicable.

When & Where

The Lords Hotel
1120 Collins Ave
33130


Thursday, December 6, 2012 at 11:00 AM

-

Friday, December 7, 2012 at 6:30 PM (EST)
Add to my calendar
Organizer
The Association of Yale Alumni
Get Your Art On! The Association of Yale Alumni Goes to Art Basel Miami