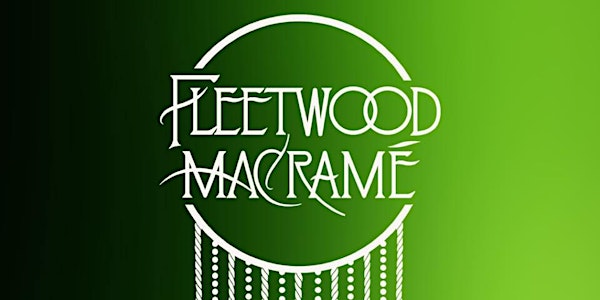 Get witchy with FLEETWOOD MACRAMÉ at Tiny Towns!
ALL AGES
WEAD, Ivy Room & Fireside Lounge Presents Tiny Towns Outdoor Concert Series
Tiny Towns Outdoor Concert Series
When and where
Location
Ivy Room & Fireside Lounge presents 1435 Webster St. Alameda, CA 94501
About this event
West End Arts District, Ivy Room & Fireside Lounge Present
Tiny Towns Outdoor Concert Series
Fleetwood Macramé
DOORS - 4PM / SHOW - 5PM
All Ages! - Make sure to check out the kid zone!
Fleetwood Macramé
Website / Facebook / Instagram / KQED Article
Fleetwood Macramé has become one of the Bay Area's most exciting tribute bands. What began as a simple exercise in fun has turned into an awe inspiring live experience complete with show stopping renditions of Fleetwood Mac's greatest hits. Audience participation is encouraged, and Bay Area crowds are coming in droves to sing along with Fleetwood Macramé. What's more, they sound so much like Fleetwood Mac, if you closed your eyes, you would think it was the real thing. Only it's better, because you are in the front row!
Linda Moody
Linda Moody (aka Stevie Nicks), singer/guitarist of tribute bands Fleetwood Macramé and Proud Mary and original bands, Chaos Fiction and Excuses For Skipping, also doubles as a neo-folk singer/songwriter in San Francisco, Ca. Her acoustic music has been likened to Joni Mitchell with vivid imagery, sweet falsetto vocals and dark guitar tunings. Her newest work, a full length album entitled "Angel Island Is On Fire" is available here.
Find her music on Spotify or here: www.excusesforskipping.com
Jai Bird
Jai Bird (aka Mick Fleetwood) has been playing drums ever since she was a kid in Austin, Texas. After moving to San Francisco, she has played in many bands including The Patsychords (A Tribute To Patsy Cline). Currently she also plays drums in Proud Mary, a CCR tribute band.
Tori Fulkerson- Jones
Tori Fulkerson-Jones (aka John McVie) plays bass for Fleetwood Macramé and Proud Mary. She is also the bassist of San Francisco-based bands Chaos Fiction and Excuses For Skipping. Before moving to San Francisco, Tori performed, recorded, and toured with groups from Washington, DC and Pittsburgh, PA. She studied music at Duquesne University in Pittsburgh.
Owen Adair Kelley
Owen Adair Kelley (Lindsey Buckingham) hails from Columbus, Ohio, where he studied classical and jazz guitar. After moving to the bay area in 2010, he established himself as an adept guitarist, bassist, and performer. He is a member of Cash Pony, Fine Points and Sleepy Sun. His first album, Even Still, was released in August of 2016, Followed by Full Alpine Lace in 2019. Check out his music here.
Madeline Tasquin Streicek
Madeline Tasquin Streicek (Christine McVie) is a multifaceted musician originally hailing from a small logging town in BC, Canada that she's sure you've never heard of. The daughter of a prospector and an opera singer, Madeline accidentally made Oakland her homebase in 2006 when she arrived for a "6 month long" exchange program in architecture and quickly stumbled into a life in Music. You can hear her voice on recordings with Fantastic Negrito, Beats Antique, Whiskerman, Tea Leaf Green, Antioquia, Dan Cantrell, Montreal's Bernard Adamus, and many more. But her main squeeze is writing & recording her own harmonically-lush songs under the moniker Madeline Tasquin.
After performing all over the world, both in supportive roles and fronting her own DIY bands, she couldn't be happier or readier to be welcomed into the Fleetwood Macramé family, in the role of Christine McVie!!
Visit the Madeline Tasquin Multiverse to hear her music (and learn about how musical you are) --> www.madelinetasquin.com
We are excited to be able to bring you live music again!
***All tickets are will call only. ***
All Ages! // Children 4 and under are free with table purchases. // Children 10 and under are free when accompanied with an adult who purchases a General Admission ticket. (Make sure to check out the kid zone!)
Merchandise plus food and drinks will be available for purchase.
First come first serve seating and based on your table purchase.
Bring a hat for the sun and layers for the bay breeze.
Event is rain or shine.
Live performances end at 8pm
Enjoy the show!
From your friends at Ivy Room and Fireside Lounge
Sponsored by Deep Eddy
A quick word about transportation and parking.
Webster Street is accessible via the tube with nearby access to I-880 and public transportation such as BART and AC Transit. There is street parking on Webster, both metered and non-metered. ADA Parking is available at any metered space free of charge with a CA Disabled Placard. There is a parking garage on Park Street with a direct bus line to Webster via Santa Clara on bus 51A. Please be respectful to our neighbors and avoid blocking driveways or parking in lots posting private parking spaces.
Tiny Towns Concert Series is supported by Alameda nonprofit West End Arts District (WEAD). Founded in 2015, WEAD presents a wide range of arts programming as well as providing fiscal sponsorship, advocacy and operational support to artists wanting to present work locally. Head over to https://www.westendartsdistrict.org/ to see more and sign up to our mailing list.