Get UPGRADING, GET HIRED in various DIGITAL JOBS (SUBSIDIZED & FULLY SPONSO...
Description
Digital skill sets are must-have for every Singaporean and permanent resident (PR) today. Employers are demanding these new capabilities from employees. This FREE Info Session has been organised specifically for Singaporeans and PRs who would like to;
Upgrade themselves with modular bite-size training,

Obtain part-time and full-time professional Diploma qualifications leading to employment

Get your company to sponsor your training,

Get hired with fully sponsored training by ready employers.
We have something for everyone depending on your aspirations. First Media Designs Careers ~ Designs Lives.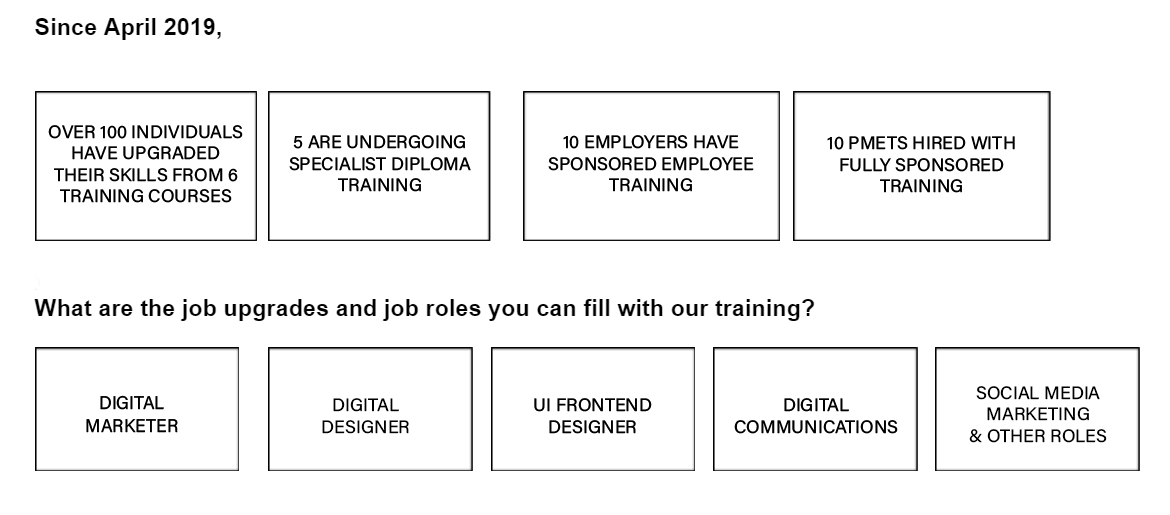 About this FREE Info Session
This info session will cover the following essential topics;
The training curriculum and how it applies to your upgrading needs and job prospects

The various job roles and career prospects

Different types of grants and training sponsorships

How to get hired with ready employers

Who should attend:
1. Singaporeans and PRs 21 - 55 years old
(No minimum qualifications or work experience - something for everyone!)
2. Singaporean/PRs PMETs looking for a mid-career switch with fully sponsored training
(23 - 55 years old with minimum 2 years working experience in any role)
All programmes are suitable for persons with no prior experience BUT have a strong interest in digital design, digital marketing and business development.
Only 60 places are available on the first-come-first-serve basis for this Info Session. Register here now!
If you are unable to join this session, but you are interested, please drop an email to enquiries@firstmedia.edu.sg with an expression of interest.
*Upon successful completion of these stated WSQ modules, students then embark on the Final Major Project (FMP) conducted by First Media Design School (FMDS).?
The Specialist Diploma qualification is conferred by First Media Design School, FMDS