To get the full video of the December 3 virtual eX Summit, grab your ticket.
About this Event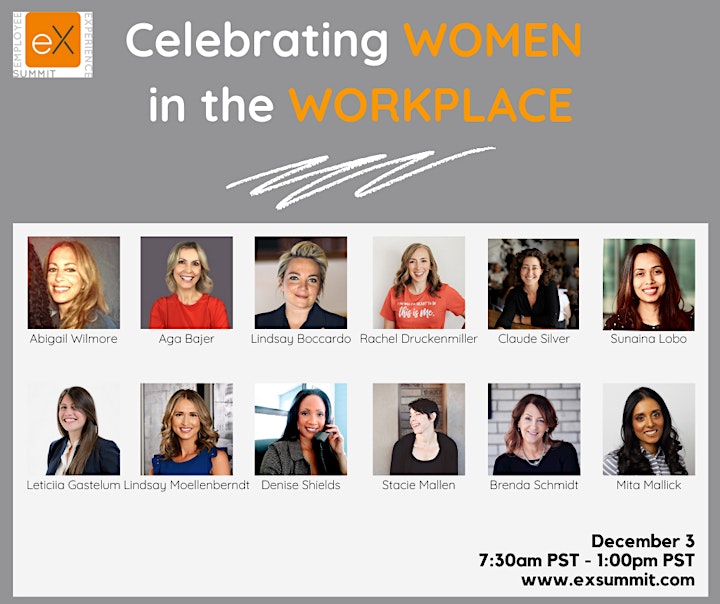 SPEAKERS
All times on PST
7:30-7:45: Kick-off by Stephan Vincent, Founder of eX Summit and eX Podcast
7:45-8:05: Abigail Wilmore, Chief People Officer at Stella McCartney
8:05-8:15: Q&A
8:15-8:35: Aga Bajer, Culture Strategist, Author, Creator and Host of the CultureLab Podcast
8:35-8:45: Q&A
8:45-9:05: Lindsay Boccardo, Founder at Lindsay Boccardo Training and Coaching
9:05-9:15: Q&A
9:15-9:35: Rachel Druckenmiller, Founder & CEO at UNMUTED
9:35-9:45: Q&A
9:45-9:55: break
9:55-10:15: Claude Silver, Chief Heart Officer at VaynerMedia
10:15-10:25: Q&A
10:25-10:45: Sunaina Lobo, Chief People Officer at Navis
10:45-10:55: Q&A
10:55-11:55: Panel - Leticia Gastelum, Director of People Operations at CampusLogic; Lindsay Moellenberndt, Chief Business Development & Marketing Officer at Fennemore Craig, P.C.; Denise Shields, Talent Acquisition Manager at Chicanos Por La Causa, Inc. Moderated by Stacie Mallen, Director for Total Compensation, Benefits and Talent at Universal Technical Institute.
11:55-12:15: Brenda Schmidt, CEO at Coplex
12:15-12:25: Q&A
12:25-12:45: Mita Mallick, Head of Inclusion, Equity and Impact at Carta
12:45-12:55: Q&A
12:55-1:00: Closing remarks, Stephan Vincent