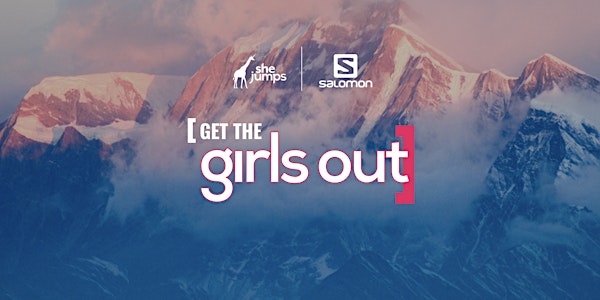 Get The Girls Out | Celebrate International Women's Day
In celebration of International Women's Day, SheJumps is hosting a FREE, virtual scavenger hunt to get women and girls outside.
Refund Policy
Contact the organizer to request a refund.
Eventbrite's fee is nonrefundable.
About this event
This year for International Women's Day, SheJumps is bringing our signature Get the Girls Out! program to women and girls everywhere. A global initiative to encourage outdoor play, Get the Girls Out! on March 5-7, 2021 is a free virtual event that inspires and encourages participants to get outside through fun challenges that can be accomplished anywhere. Regardless of age, ability, geographic location, or experience in the outdoors, Get the Girls Out! celebrates the power of nature to uplift and inspire.
#SheJumps
Using a mobile app to provide outdoor-themed missions that participants accomplish to earn points and win prizes, just by signing up to participate in the Get the Girls Out! you're entered to win amazing prizes directly from our partners. The more you play, the more you can win! View real-time progress of other participants and connect with fellow SheJumpers across the globe. The event features the missions that teach foundational outdoor skills and mental fitness, with tutorial videos and challenges from amazing women leaders, guides, athletes, social entrepreneurs, and activists.
Learn more about Get the Girls Out! event.
The game goes live on Friday, March 5, 2021 at 6:00 AM MST and you can complete challenges to win prizes until Sunday, March 7, 2021 at 7:00 PM MST.
HOW TO PLAY
Download Goosechase app.
Enter game code from confirmation email on March 5.
Complete challenges on the Goosechase App through the weekend.
Have fun, enjoy the outdoors, and hopefully win some prizes!
----
FAQ
When does the game start and end?
The game goes live on Friday, March 5, 2021 at 6:00 AM MST and you can complete challenges to win prizes until Sunday, March 7, 2021 at 7:00 PM MST.
What is Goosechase?
Goosechase is an app that is the easiest way to organize and run a scavenger hunt. SheJumps has teamed up with Goosechase to bring virtual events to our community at a time where gathering in large numbers isn't possible. Goosechase app displays missions and types to engage participants through video and photo uploads, text responses, and GPS checkpoints.
What is a mission?
Missions have a name, description, point value and an optional link or photo to provide extra information. For text & GPS missions, the answer and target destination must also be provided.
Can I play the game in teams?
No. While some GooseChase games are set up for teams, our game is set up for individual players.
How do you win prizes?
You win prizes by accomplishing missions in the app. Sometimes it will ask you to share a photo and other times it's a video of you completing a mission.
What are the prizes?
You can view the full list of prizes on our terms and conditions sheet. We have a number of skis, snowshoes, sunglasses, goggles, clothing, and tents from various partners. Check out our Instagram page the week of March 1-5 and we'll be sharing previews there, too.
Are there bonus points or how do you deal with tie-breakers?
Yes you can gain bonus points for going above and beyond with your submissions. Sometimes that means adding extra vibrance to an answer, wearing ridiculous costumes or featuring a partner item.
What kind of missions are there?
Here are the categories: Act It Out! , Show & Tell, Self Care, Safety and Preparedness...and many more!
What materials do I need for this?
You really only need your phone and to be outside, but 'being outside' might mean different things for different people. We always recommend that you have your 10 Essentials with you for safety, especially if you are going to be out on the trail.
Costumes are encouraged
A couple of 'creative' missions might require a pen, paper, or coloring utensils.
Do I have to go skiing to participate?
No! Anyone, anywhere can do these missions although if it's available to you, going skiing is a fun way to participate as well (and do the missions on the mountain).
Can I participate if I'm injured?
You can do some of the missions that are more creative, but stick with doctor's orders. There are plenty of missions to complete while just sitting on a park bench.
----
SheJumps increases the participation of women and girls in outdoor activities to foster confidence, leadership, and connection to nature and community through free and low-cost outdoor education.
We believe in increasing diversity in the outdoors and providing ALL women and girls with the spark that will lead to a lifetime of outdoor learning and empowerment. We welcome all women and girls (transgender and cisgender) as well as non-binary people who identify with the women's community.
Click here for the official rules of Get the Girls Out!
Follow SheJumps: