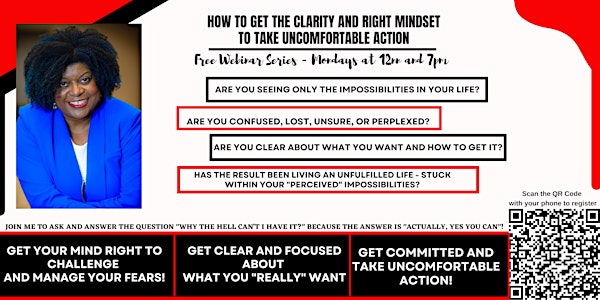 Get the Clarity & Mindset to Have More Money, Freedom, Fun and Less Stress!
Clarity is your only way to success and happiness. Commit to get clear about what you want with a plan to take uncomfortable action!
About this event
You wanted something different, better but it did not happen! And because it did not happen - again, the most important question to ask and answer is: Why the HELL Not? Why didn't you do it, get it, or have it? Why did you believe it when they said you shouldn't, couldn't or wouldn't?
If you want that cycle to end, you must do something different. It is time to make a mindset shift and take uncomfortable action to get what is yours! You have the ability and capability to take advantage of change and not be destroyed by change. This could be your most transformative year yet!
How?
Every Monday from noon to 1 PM and 7pm to 8pm eastern time I am hosting a small group, Get the Clarity & Mindset to Have More Money, Freedom, Fun and Less Stress! webinar on Zoom to teach you the tools and techniques you must implement to make the shift and get what you want. Just pick a day and time. Know that you are not a product of your circumstance, but of your decisions. Decide, take ownership, and commit to invest this time in YOU! There are a limited number of seats available. Make yourself the priority and register now.
Trust me to help you:
Get your mind right to challenge and manage your fears!
Get clear and focused about what you "really" want!
Get committed and take uncomfortable action!
Do not put this off, miss out, and suffer more of the same this year. If you want to get clear, focused, and committed to make real change to get results, join me and get ready to set yourself up for success as you define it - More Money, More Freedom, and More Fun with Less Stress an overall BETTER life! See you there!
YOUR TIME - YOUR YEAR - YOUR BETTER LIFE!!
What are they saying about the webinar: "I knew I wanted more in my life and career. But I was in a negative spiral of thinking and a victim to what I thought were impossibilities. Gladys helped me shift my mindset toward the possibilities with tips on key actions to make my dream a reality. I can exhale." Jenny X