About this Event
On Friday April 19th in Brooklyn; NYCRavers and Sounds So Sweet are going to open a portal to the Squanchiest party ever squanched this side of the Promethean nebula! We'll be Squanching with over 35 djs performing on 4 themed stages as we combine 2 awesome Brooklyn Venues into ONE. This party will certainly TEAR A HOLE IN THE VERY FABRIC OF SPACETIME WITH ITS AWESOMENESS.
NYCRavers and Sounds So Sweet Present
Get Squanchy 2
A Rick and Morty Rave Adventure
▒▒ SQUANCHY UPDATES ▒▒
Our Morty Shield is at 80%!
The SQUANCHY lineup has dropped! Our $20 Schmeckle tickets are already half gone! THERE IS NO TIME TO SQUANCH GET YOURS MEOW!
(Posted on 4/3/19)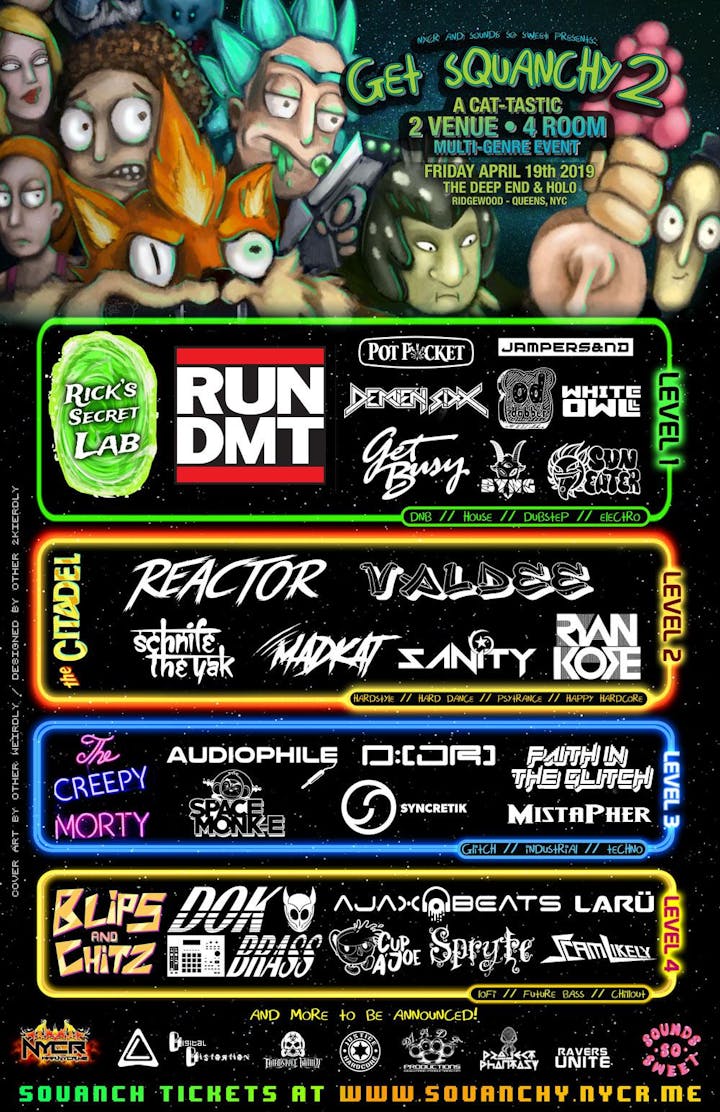 █▓ SQUANCHY LINEUP ▓█
* * FOUR Rooms of Squanch across TWO Venues * *
▒▓ LEVEL 1 ▓▒
RICK'S SECRET LABORATORY
DUBSTEP // DNB // HOUSE // ELECTRO
Hosted by NYCRavers + Sounds So Sweet
RUN DMT (Kill Your Ego, TX) *Multi Genre*
RUN DMT has a love affair with music that runs deep. It strides across many genres and vibes, but always captures the signature energy of John D Robbins' production and live performance. With a history spanning over 6 years and a mind blowing resume of releases, remixes, festival appearances, and tours, RUN DMT has earned its place in the often fickle, ever changing world of electronic music. Since its inception, RUN DMT has been featured on the lineups of major festivals such as Electric Daisy Carnival, Camp Bisco, Coachella, Wakarusa, and many more. He has officially remixed for the likes of Bassnectar, Major Lazer, Diplo, Asking Alexandria, Twenty One Pilots, and The Who. He has released 2 albums, several EPs, wrote an official song for the Mortal Kombat Soundtrack, and had his music featured on commercials for Titanfall and ESPN.
*FIRST TIME IN NYC*
Jampers.+ ND (Project Phantasy, CA) *Drum and Bass*
Get Busy (SNAP Music, NY) *Electro*
Pot Pocket (Justice Hardcore, OH) *Drum and Bass*
Demien Sixx (DSixx Records / NYCR, NJ) *Multi Genre*
White Owl (Movement 19 / NYCR, MD) *Special Birthday DnB Set*
OD Dabber (Sounds So Sweet, NY) *Dubstep*
Suneater vs Byng (Sounds So Sweet, NY) *Riddim / Dubstep*
▒▓ LEVEL 2 ▓▒
THE CITADEL
HARDSTYLE // HARD DANCE // PSYTRANCE // HAPPY HARDCORE
Hosted by Council of Ricks + Team Eric
Reactor (Hard with Style, NY) *HARDSTYLE*
ValDee ( M.A.D.E. Productions, CT) *Happy Hardcore*
Schnife The Yak ( Sounds So Sweet, NY) *Hard Dance / Psytrance*
Ryan Kore (Hardcore Underground, CA) *UK Hardcore*
Madkatz b2b SANiTY (NY) *Multi Genre*
▒▓ LEVEL 3 ▓▒
THE CREEPY MORTY
GLITCH // INDUSTRIAL // TECHNO
Hosted by Audiolust Productions
Audiophile (Audiolust, NY) *Industrial / Multi Genre*
D:JR (Audiolust, PA) *Multi Genre*
Faith in the Glitch (Night.Wav, NJ) *Glitch*
Space Monk-E (Smooth Villain Records, NJ) *Techno*
MistaPher aka Fiction *Techno*
Syncretik *Cyberlounge*
▒▓ LEVEL 4 ▓▒
BLIPS AND CHITZ
LOFI // FUTURE TRAP // CHILLOUT
Hosted by The LoFi Escape + Mashfest NYC
DokBrass (Brooklyn Beat Syndicate / The Producers Corner , NY) *Live PA*
AJAXBEATS (NYCR , PA) *Chillhop / Beattape*
Cup A' Joe (Sounds So Sweet, NY ) *Dubstep*
DJ Spryte (NYCR, NY) *Future Trap*
Scam Likely (Serious Sounds, NY) *Multi Genre*
Larü (NY) *Chillout*
-- MORE DJS TBA! --
█▓ EXTRA SQUANCH ▓█
• Squanchy Custom GFX Lasers and Intelligent Lighting by Storm Lighting & Sound
• Squanchy 3D Visuals by Sounds So Sweet
• Squanchy Video Game Arcade by Mashfest NYC
• Squanchy Art Installations by 2k Industries, Zoë Rae Stratton, Sy Malik and Jakki X Valentino
• Squanchy Live ART by Cindy Louwho
• Squanchy UV Face/Bodypainting by Inner Spirit Body Arts LLC
• Squanchy Free Fresh Fruit throughout the night
• Squanchy Costume Contest - Winner gets free tickets to all 2019 NYCR and SSS events!
• Squanchy Vending by Cindy Louwho Designs, Keza Studios, NYCR and more!
█▓▒ SQUANCHY TICKETS ▒▓█
21+ Event, You Must have VALID ID to enter
Limited Capacity Venues. Buying Presale Tickets = Guaranteed Entry.
$10 Limited Early Squanchers SOLD OUT (In 4 hours)
$15 Tier 1 Squanch SOLD OUT (In a day)
$20 Tier 2 Squanch 50% SOLD OUT
$25 Tier 3 Squanch
SQUANCH PRESALES AT http://squanchy.nycr.me
Door Prices TBA (if we do not sell out again before doors!)
█▓ LOCATION ▓█
We've combined both H0l0 and The Deep End to bring you...
NEVER PAST BEDTIME LAND
Main Entrance at
1080 Wyckoff Ave
Ridgewood, NY 11385
Nearby Cheap Sketchy Hotel : https://goo.gl/maps/XwfpeLzmLa82 ($80/night at time of writing, down the street from venue)
█▓ THEME ▓█
This event is a tribute to Rick and Morty, an animated series about a scientist who discovers interdimensional travel Rick and his Grandson Morty. The show was created by Justin Roiland and Dan Harmon in 2013 and has been renewed for 10 seasons by Adult Swim. This rave is done by fans and we are unfortunately not affiliated with these awesome people.
Watch Rick and Morty at https://www.adultswim.com/videos/rick-and-morty/