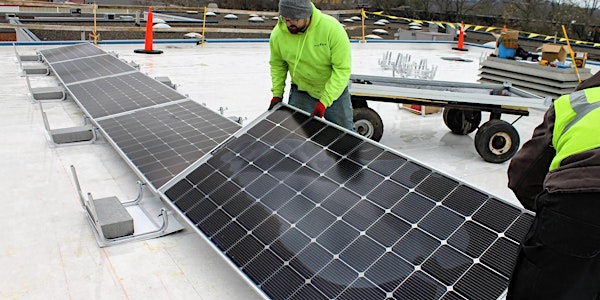 G.E.T. Solar Round 3 C-PACE Webinar
Join our video conference to learn about Commercial Property Assessed Clean Energy (C-PACE) can help your business or non-profit go solar.
About this event
Please join us for our video conference to learn more about Round 3 of our G.E.T. Solar initiative, wherein we help more nonprofits and businesses go solar. G.E.T. Solar helps guide Pennsylvania businesses and non-profit organizations through the entire solar procurement process. We connect you with the technical assistance and financing options that best suits your project, while providing education and support throughout.
This webinar will focus on how Commercial Property Assessed Clean Energy (C-PACE), legislation new to Pennsylvania, can help organizations finance their solar, including any roof redevelopment or upgrades. If your organization is need of a new roof or roof repair, solar can be a great way to attract funding and offset the overall investment through tax benefits on the bundled project (this can include non-profits through creative financing tools).
We will be joined by special guest speaker and PACE expert, Christopher Jones of Brickler and Eckler LLP.
The Pennsylvania Solar Center is a project of our fiscal sponsor, The New Sun Rising (NSR), a 501(c)(3) non-profit organization. The purpose of the Solar Center is to inspire the adoption of solar energy in the state by educating the Pennsylvania public about solar energy technology, resources, and policies that advance solar energy and by offering technical assistance and programs in an effort to power people's lives with clean electricity
If you have ever considered going solar, now is the time!
Join the online meeting at https://join.freeconferencecall.com/leo309
OR join by phone: (701) 802-5207; Access code: 6763691#