Get SMART (SoCal Muslim Anti-Racism Training)

Saturday, May 2, 2015 at 9:30 AM (PDT)
Event Details
Get SMART
SoCal Muslim Anti-Racism Training
A one day conference aimed at building bridges through cross cultural dialogue and strategic planning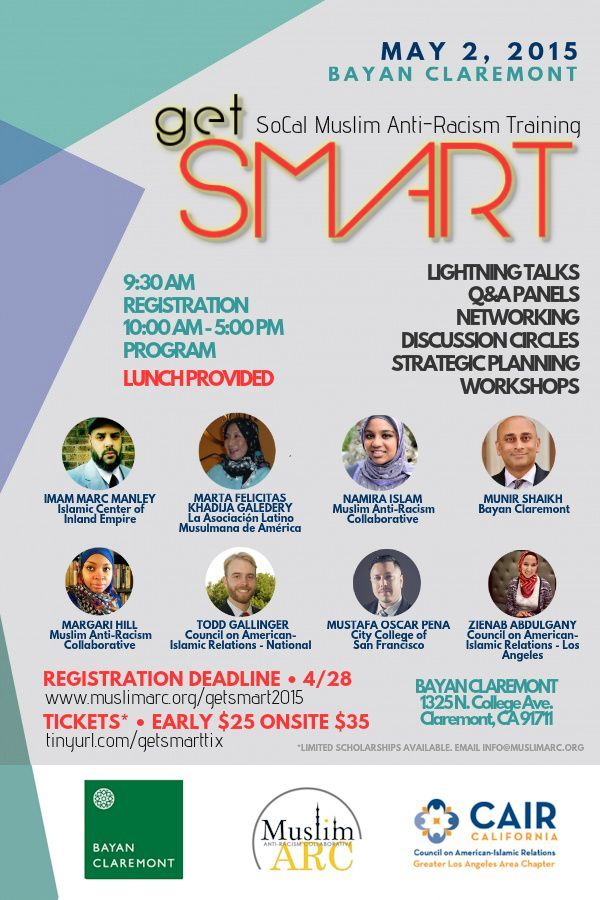 SoCal Muslim Anti-Racism Training (SMART) Leadership Conference: Building Bridges Through  Dialogue and Strategic Planning is a one day workshop aimed at community builders, including imams, masjid board members, volunteers, student leaders and activists. It aims to increase raising awareness of anti-racism theories and practice and prepare local Muslim leaders for developing sustained projects that will address racism. The format will include informative lectures followed by a Q&A discussion, dialogues, and a project based learning workshops. By creating an engaging and interactive format, this workshop sets out to create a space where today's leaders can both envision and initiate Muslim led projects that aim to bring about racial equity in our communities and society.
Speakers include:
Imam Marc Manley (Religious Director, Islamic Center of Inland Empire)

Mustafa Oscar Pena (Student Body President, City College of San Francisco)

Zienab AbdulGany (Programs Coordinator, Council of American Islamic Relations - CAIR-LA)

Namira Islam (Executive Director, Muslim Anti-Racism Collaborative)

Todd Gallinger (Director of Chapter Development, Council of American Islamic Relations- CAIR-National)

Marta Felicitas Khadija Galedery (President, La Asociación Latino Musulmana de América- LALMA)  
Topics include:
Youth experiences of discrimination and alienation in the Muslim community

Overcoming barriers to inclusive communities

How to address social inequality in the Muslim community

Increasing  cultural competence in our organizations and Islamic schools

Solidarity and coalition building
Saturday May 2, 2015
This is an all day event 9:30 am to 5 pm PST
Lunch provided
To complete your order please complete a Pre-registration required for each participant.
Presentations by:
Munir Shaikh
Bayan Claremont
Director of Academic Affairs & Planning
Zienab Abdelgany
CAIR-LA
Youth Development Coordinator
Marta Felicitas Khadijah Galedary
Los Angeles Latino Muslim Association- LALMA
President
Todd Gallinger
CAIR-LA
Director of Chapter Development at Council on American Islamic Relations
Margari Aziza Hill
Muslim Anti-Racism Collaborative
Programming Director
Namira Islam
Muslim Anti-Racism Collaborative
Executive Director
Marc Manley
Islamic Center of Inland Empire
Religious Director
Mustafa Osca Pena
City College of San Francisco
Student Activist
When & Where

Mudd Theatre- Bayan Claremont
1325 North College Avenue
Claremont, CA 91711


Saturday, May 2, 2015 at 9:30 AM (PDT)
Add to my calendar
Organizer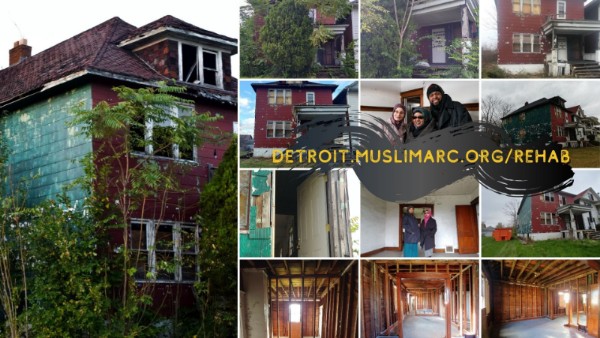 Muslim Anti-Racism Collaborative (MuslimARC) is a human rights education organization providing training and anti-racism resources to counter racism, xenophobia, and Islamophobia. Founded in 2014, MuslimARC Creates spaces for learning and developing racial equity, Connects multiracial and multifaith network using digital media, dialogue, and storytelling and Cultivate solutions to advance racial equity through research and curriculum design.  MuslimARC has over 100 active members across the US and Canada, with founding Directors in Michigan and California. They have  worked with grassroots organizations, community centers, Islamic schools, and universities across the country through consulting, participating in roundtables, as well as giving workshops, talks, and keynote speeches on on interfaith and multiracial coalition building to address Islamophobia and racism. MuslimARC has organized screenwriters rooms, consulted media firms and collaborated on noteworthy crowdfunding campaigns, including Respond With Love: Repair Black Churches Destroyed by Arson, Muslims United for San Bernardino, and #Muslims4Flint.