Description
GET RICH THROUGH BUSINESS & PROPERTIES
• Are you worried that you are not making enough income to cover your monthly expenses?
• Are you frustrated with your current salary that is not rising faster than your lifestyle needs?
• Are you afraid that you will be next on the chopping board by the next corporate restructuring?
• Do you want to learn how you can get rich through starting a small business and start investing into the right properties today and generate your dream income?
If you answered YES to all the above questions, we have the solutions for you.
Register to attend the GET RICH THROUGH BUSINESS & PROPERTIES FREE FULL DAY TRAINING and you will start your journey to overcome all the above challenges immediately.
Programme Description:
This FULL DAY FREE training program is for anyone that has the right intention to GET RICH by starting your own small business & property investment with the right strategies taught to you by Ernie Chen, Asia's No. 1 Business Coach/ Life & Business Transformation Strategist & Michael Tan, Asia's No.1 Millionaire Maker. They call this their twin engines to GET RICH for anyone.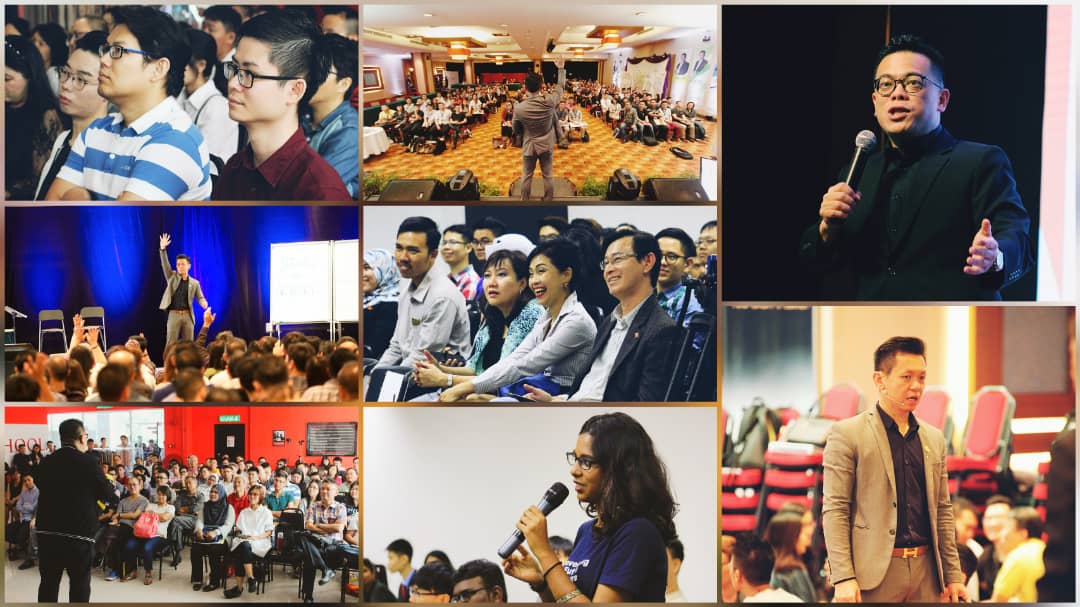 Who should attend:
1. Working Professionals that want to be your OWN Boss to Get Rich!
2. Entrepreneurs & start-ups that are not growing, stagnant and even dying.
3. Anyone that want to Get Rich through Property Investment through Property Stacking formula.
4. Anyone that desires to achieve a much better Life for themselves and their families.
3 Hours Business Fast Track
Not everyone has the ability & suitability to start and grow a big business with lots of stress and daily operational issues. However, EVERYONE can start a SMALL SCALE BUSINESS that is WITHOUT all the overhead cost such as high office rental & heavy headcounts THAT CAN STILL GENERATE 7 FIGURES & HIGHLY PROFITABLE. Ernie Chen can show you just how you too can generate consistent & continuous cash flow from your small scale business that will be used into property investment for you to GET RICH!
What you will learn:
1. How to start your small scale business with NO START UP CAPITAL and be PROFITABLE starting day one.
2. What small scale business you should start immediately to generate fast cash consistently & continuously.
3. How to build a 7-figure revenue small scale business without high overheads such as the staff and office rental.
4. How to leverage on the consistent & continuous cash flow to invest into property FOR YOU TO GET RICH.
---
Your World Class Speaker
ERNIE CHEN
Asia's No. 1 Business Coach
Life & Business Transformation Strategist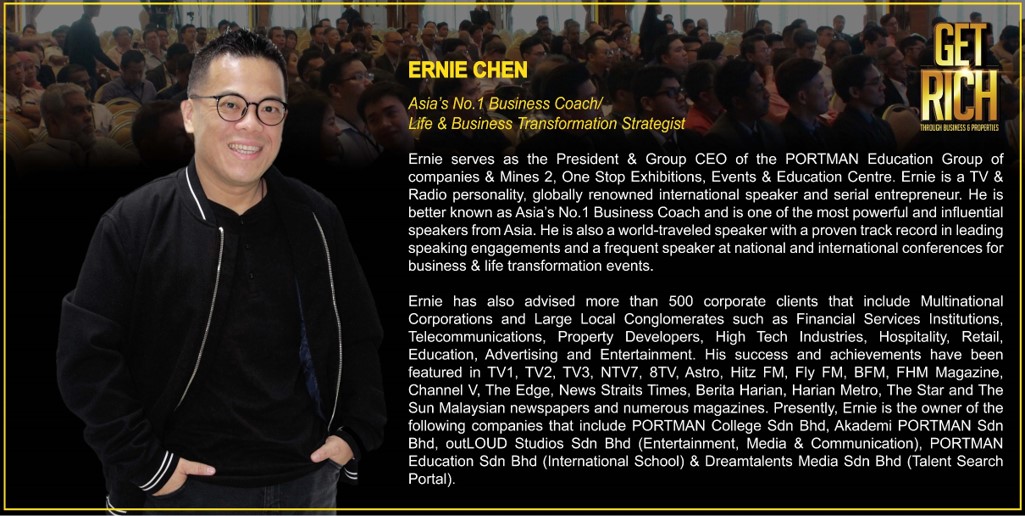 Ernie serves as the President & Group CEO of the PORTMAN Education Group of companies & Mines 2, One Stop Exhibitions, Events & Education Centre. Ernie is a TV & Radio personality, globally renowned international speaker and serial entrepreneur. He is better known as Asia's No.1 Business Coach and is one of the most powerful and influential speakers from Asia. He is also a world-traveled speaker with a proven track record in leading speaking engagements and a frequent speaker at national and international conferences for business & life transformation events.
Ernie has also advised more than 500 corporate clients that include Multinational Corporations and Large Local Conglomerates such as Financial Services Institutions, Telecommunications, Property Developers, High Tech Industries, Hospitality, Retail, Education, Advertising and Entertainment.
His success and achievements have been featured in TV1, TV2, TV3, NTV7, 8TV, Astro, Hitz FM, Fly FM, BFM, FHM Magazine, Channel V, The Edge, News Straits Times, Berita Harian, Harian Metro, The Star and The Sun Malaysian newspapers and numerous magazines. Presently, Ernie is the owner of the following companies that include PORTMAN College Sdn Bhd, Akademi PORTMAN Sdn Bhd, outLOUD Studios Sdn Bhd (Entertainment, Media & Communication), PORTMAN Education Sdn Bhd (International School) & Dreamtalents Media Sdn Bhd (Talent Search Portal).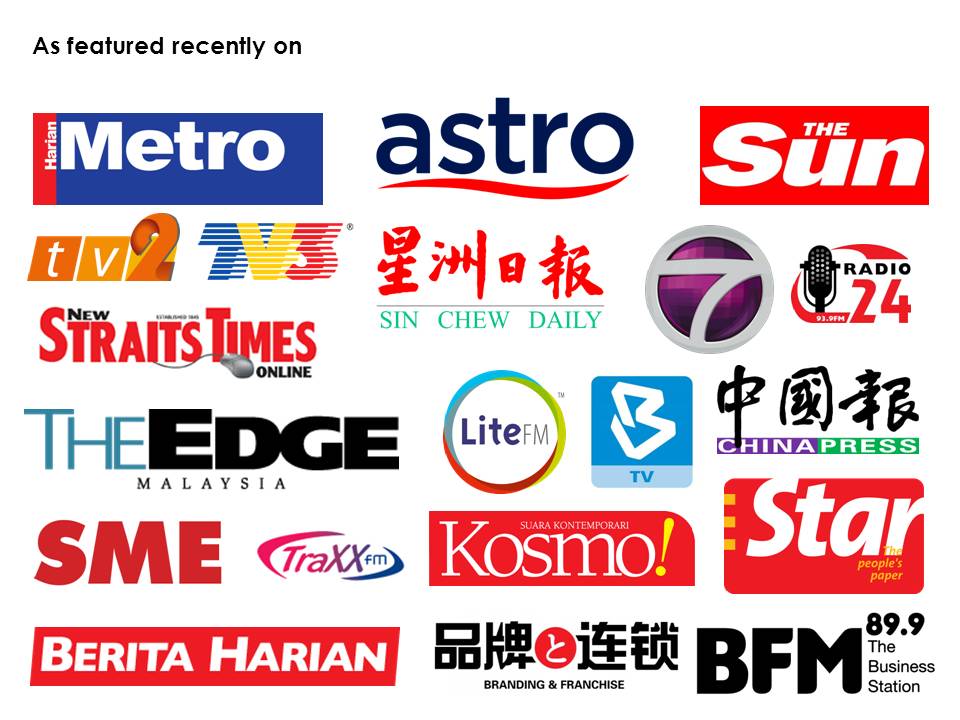 Register for this event & start your journey to GET RICH THROUGH BUSINESS & PROPERTIES.
3 Hours Property Fast Track
Discover how to master the skill of property investment that generates passive cashflow and turn it into a successful business that can make & grow money using Property Stacking System in just 3 months.
What you will learn?
1) Secrets to maximize your rental with creative management and enjoy double or triple the rental income
2) Fundamental of Subsale Investment to earn steady cashflow every month on top of your monthly salary.
3) Identify and understand your financial goals to achieve your financial freedom and live your dream live
4) Discover how to get started in property stacking with NO MONEY DOWN.
---
Your World Class Speaker
MICHAEL TAN
Asia's #1 Millionaire Maker, No. 1 Best-Selling Author,
Property Coach & Entrepreneur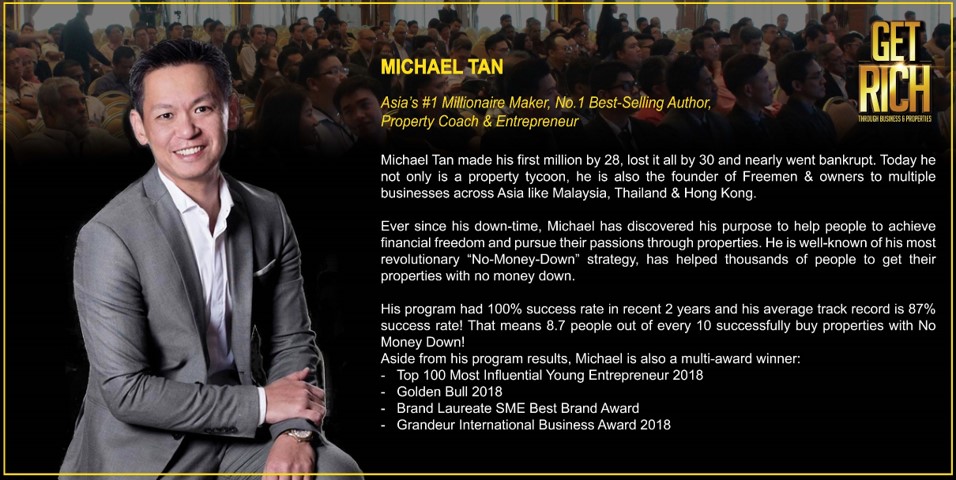 Michael Tan made his first million by 28, lost it all by 30 and nearly went bankrupt. Today he not only is a property tycoon, he is also the founder of Freemen & owners to multiple businesses across Asia like Malaysia, Thailand & Hong Kong.
Ever since his down-time, Michael has discovered his purpose to help people to achieve financial freedom and pursue their passions through properties. He is well-known of his most revolutionary "No-Money-Down" strategy, has helped thousands of people to get their properties with no money down.
His program had 100% success rate in recent 2 years and his average track record is 87% success rate! That means 8.7 people out of every 10 successfully buy properties with No Money Down!
Aside from his program results, Michael is also a multi-award winner:
Top 100 Most Influential Young Entrepreneur 2018

Golden Bull 2018

Brand Laureate SME Best Brand Award

Grandeur International Business Award 2018
This life changing event is definitely NOT for you
1. If you are looking for a Get-Rich-Quick scheme;
2. If you are lazy, not hungry for success and not wanting to work hard for a short period of time
3. If you are expecting Immediate Results without having to take massive actions.
4. If you are suspicious & cynical about what we can do to help you GET RICH through business & property investment.
Register for this event & start your journey to GET RICH THROUGH BUSINESS & PROPERTIES.
FAQs About the Event
What are my transportation/parking options for getting to and from the programme?
Please refer to this page for the details.

What can I bring into the Event?
Please bring a pen and notepad if you need to.

How can I contact the organizer with any questions?
For more information, you may contact:
Gym Chan- gym_chan@portman.edu.my / 016-227 3968
See you there!