Event Information
Location
The Altman Building
135 West 18th Street
New York, NY 10011-4104
Description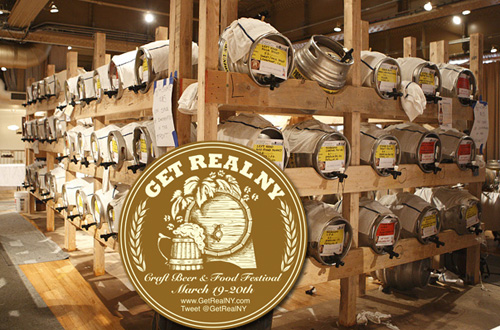 Get Real NY's Craft Beer & Food Festival is returning to the Altman Building in NYC's Flatiron District on Saturday, March 19, 2011 and Sunday, March 20, 2011 for two more days of free-flowing suds and nonstop local eats. The all-you-care-to-taste event is being held across four sessions: Saturday's "March Madness" Sessions from 12-3 P.M. and 5-8 P.M. and the "Sunday Funday" Sessions on the 20th from 12-3 P.M. and 5-8 P.M. There will also be a VIP session each day from 4-8 P.M. featuring rare and limited quantity beers, special foods and tasting panels. General admission tickets are $65 and VIP are $80.
Get Real NY is excited to have Brother Jimmy's as the official BBQ Sponsor of the festival, Brother Jimmy's will be at all 4 weekend sessions serving up their signature Pulled Pork and Pulled Chicken Sliders to attendees!
The centerpiece of the festival will be the Cask Bar, which will showcase 80+ cask ales from some of the nation's best craft breweries and homebrewers. Attendees can expect rare cask finds like Sierra Nevada Harvest, Green Flash Double Stout, Lagunitas Brown Shugga, Blue Point 10th Anniversary IPA, Ballast Point Sculpin IPA and Sixpoint Diesel. The beer lineup is available on the Get Real NY website here and is being updated daily as new beers come in.
The festival will also feature local beers from Brewery Ommegang, Brooklyn Brewery, Greenport Harbor Brewing, Kelso of Brooklyn, Empire Brewing Company & Sixpoint Craft Ales.
Joining the mix will be several NYC beer-focused bars like Rattle N Hum, Jimmy's No. 43, The Stag's Head, Brickyard Gastropub, and Manchester Pub, who will be at the festival serving up specialty beers and some bites.
Get Real NY has greatly expanded its food pairing program at this year's event. Attendees can expect food tastings from some of NYC's top restaurants, bars, food trucks and food artisans, including:
Anfora, Luke's Lobster, Fatty Crab, Cascabel Taqueria, Cafe D'Alsace, Brother Jimmy's, Loreley Williamsburg, Mexicue, Murray's Cheese, L'asso Pizza, South Houston Restaurant, Petite Abeille, The Delta Grill, Frites n' Meats, Lucy's Whey Cheese Shop, Orwasher's Bakery, Rick's Picks, My Friend's Mustard, Kings County Jerky Co., Meze Grill, Frites 'n' Meats, Grandaisy Bakery, La Bella Torte and more.
What's Included
Unlimited sampling of 80+ cask beers (preliminary list below, many more to come!) and a souvenir glass.
Unlimited food samplings from 20+ NYC restaurants and food trucks.
Admission to brewery discussion panels.
Cask Beers (so far)
Dogfish Head 75 Minute Johnny Cask
Dieu du Ciel Peche Mortel

Stone Brewing Sublimely Self Righteous w/ Amarillo Ale

Stone Brewing Smoked Porter w/ Vanilla

HeBrew Bittersweet Lennys RIPA

Coney Island Vertical Jewbelation

Dieu du Ciel Corne du Diable IPA
Ridgeway Quercus
Fullers ESB
Fullers London Pride
J.W. Lees Harvest Ale (Port Cask)
RCH Old Slug Porter
Burton Bridge Festival Ale
Harvey's Lewes Castle Brown Ale
Williams Bros Fraoch Heather Ale
Williams Bros Joker IPA
Willams Bros Midnight Sun
Williams Bros Scottish Session Ale
Thornbridge Merrie
Great Divide Titan IPA
Great Divide Oak Aged Yeti Imperial Stout
Great Divide Hercules Double IPA
Great Divide Belgica
Two Brothers Cane & Ebel
Two Brothers Resistance IPA
Two Brothers Heavy Handed IPA
Victory Yakima Glory
Blue Point 10th Anniversary
Sierra Nevada Northern Hemisphere Harvest
Oskar Blues Dale's Pale Ale
Oskar Blues Mama's Little Yella Pils
Green Flash Le Freak
Abita Red
Troegs Nugget Nectar
Troegs Pale Ale
Defiant Little Thumper
Defiant IPA
Greenport Harbor Disorient IPA
Firestone Walker Union Jack IPA
Firestone Walker Pale 31
Bruery Saison De Lente
Weyerbacher Double Simcoe IPA
Lagunitas Imperial Stout
Lagunitas Censored (Kronik)
Sixpoint Oyster Stout
Sixpoint Righteous Rye
Sixpoint Chocolate Rye
Sixpoint Bengali Tiger IPA
Left Hand Black Jack
Lagunitas Pale
Lagunitas maxiPus
Lagunitas Hairy Eyeball
Thornbridge Hall Country House Brewery Jaipur Cask
Thornbridge Hall Country House Brewery Kipling Cask
Harviestoun Brewery Bitter & Twisted Cask
Harviestoun Brewery Shiehallion Cask
Ballast Point Big Eye
Ballast Point Sculpin
Double dry-hopped Wolaver's IPA
Otter Creek Double dry-hopped Black IPA
Troegs Pale Ale
Oskar Blue's Dales' Pale Ale
You can expect to taste food from places like:
Luke's Lobster
dell'anima
Loreley
Cafe d'Alsace
Cascabel Taqueria
Mexicue
Murray's Cheese
Oysters from Blue Island Shellfish Farms
L'asso Pizza
Meze Grill
Jimmy's 43
Rick's Picks
Manchester Pub
The Stag's Head
Rattle n Hum
Petite Abeille
First Prize Pies
Rick's Picks
Roni-Sue Chocolates
Murray's Cheese
Frites 'n' Meats
Anfora
South Houston Restaurant
My Friend's Mustard
Date and Time
Location
The Altman Building
135 West 18th Street
New York, NY 10011-4104