Description
GET REAL CRAFT BEER PASSPORT
MANHATTAN KICK-OFF PARTY


ALL YOU CAN DRINK NY STATE CRAFT BEERS FOR $25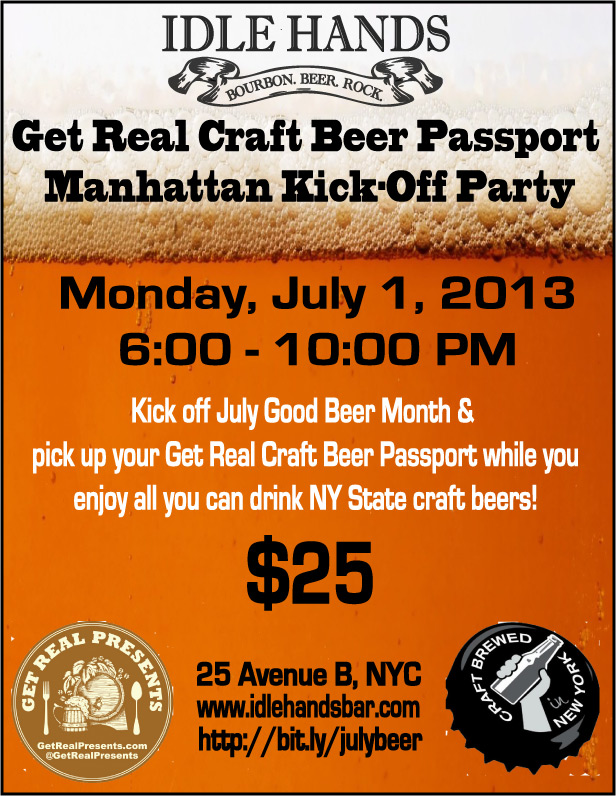 JULY 1, 2013
Idle Hands Bar
25 Avenue B, Downstairs, NYC
6:00 - 10:00 PM
Price: $25
All you can drink NY State Craft Brews

There is no better way to kick off the July Good Beer Month than by drinking local Beers at Idle Hands! We'll be pouring an array of NY State brewed beers for which you can sample them all for only $25.
You can also pick up your Get Real Craft Beer Passport, good for 37 Craft Beers at 37 of the best Craft Beers in NYC, including Idle Hands!
Featured Beers:
Barrier - Icculus Kölsch

The Bronx Brewery - Summer Pale Ale

City Island - Pale Ale

Empire - White Aphro

Saranac - Wild Hop Pils

Sixpoint - Sweet Action



*Limited amount of tickets available.
*Must be 21 years or older with valid ID


Need to go easy?
- All drafts only $5, no advance purchase needed.

Love Craft Beer? Love NY? Love NY State Craft Beer?
- Sign up to become a member of the NY State Brewers Assocation! -
Organizer of Get Real Craft Beer Passport Manhattan Kick off Party
Idle Hands is bringing "Bourbon. Beer. Rock." to the East Village in NYC. Whether you are on the search for a rare bourbon or that new craft beer, you'll be able to enjoy it in a comfortable bar with a rock 'n roll twist. Idle Hands is now open as your new destination for post-concert parties and bourbon & beer tastings.