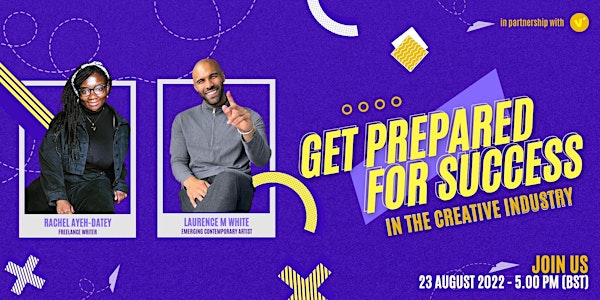 Get prepared for success in the creative industry
Want to know how to boss your creative career whilst keeping your mental health intact?
About this event
Voltage revolution is a creative and wellbeing program aimed at black creatives aged 18- 24. It is a space where they can develop the skills, experience and confidence needed to embark on their creative career.
This will be our first event of the year, join us on Zoom where will be discussing all things on being a black creative and what you need to get prepared for success in the industry.
We will be joined by 2 amazing creatives who are making waves in their respective disciplines.
Rachel Ayeh Datey, Senior strategist at VMLY&R and freelance writer
Rachel Ayeh-Datey is a freelance writer and senior researcher at advertising agency, VMLY&R. She has been published in publications such as AMAKA, gal-dem, Black Ballad and more. In her freelance writing projects, she covers a variety of subjects including music, LGBTQ+ issues and Black British history. She is also very passionate about DE&I and champions cultural change within the creative industry.
Laurence White, Contemporary artist
Laurence is a self taught artist who paints vibrant portraits of some of the most influential people who have helped shape the world we see today. Alongside his work, he owns and runs 'Laurence M White', an online art studio where he develops and sells prints of his most famous pieces and runs workshops designed to teach others on how he achieves his own individual style
They will talking to us about:
Tips on navigating the industry as a black creative
How to stay true to yourself
The best ways to find inspiration
How they manage their mental health and well being whilst bossing their careers
There will also be an ideas generation session, Do you need support coming up with a new creative idea or maybe you would like to nurture an old one? This an opportunity to come together share your work and ideas with like minded people and to see how the Voltage revolution programme could take your project to the next level!
This event prioritises London based black creatives aged 18-24, who are unemployed or underemployed (earn less than 18k) & not in full time education.