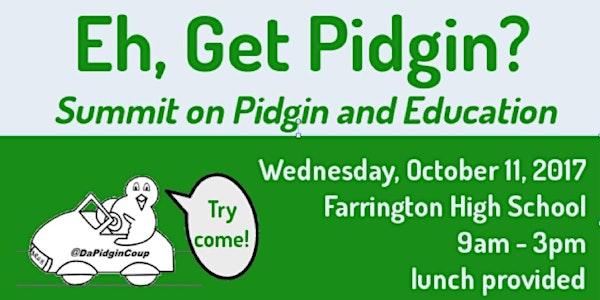 Get Pidgin?: Summit on Pidgin and Education in Hawai'i
Location
Governor Wallace Rider Farrington High School Library
1564 N King St
Honolulu, HI 96817
Description
A limited number of same day registrations will be available at the door. Come early!
Program PDF: https://goo.gl/D7q4b1
Parking PDF: https://goo.gl/h4ekih
THE EVENT IS IN THE LIBRARY; SEE MAP BELOW

While an estimated 500,000 residents in the State of Hawai'i speak Pidgin (also known as Hawai'i Creole) as one of their languages, very little attention has been paid to the role of this language in educational contexts. For teachers new to Hawai'i, a lack of knowledge about Pidgin can lead to challenges in the classroom. While some practicing teachers see Pidgin as a resource that can be tapped to enhance learning and teaching dynamics, others are less certain whether Pidgin should have a place in schools. It is clear that many teachers would like to know more about the role of Pidgin in education, but there is a general lack of dialogue about this language in educational policy or in teacher education in Hawai'i. To address these issues, a one-day summit on Pidgin and education will be held on Wednesday, October 11, 2017, during the Department of Education's Fall Break. The goals of the summit will be:
To enhance participants' understanding of the history and linguistic structure of Pidgin

To draw attention to the ways that multilingual pedagogies including Pidgin can enhance learning

To raise awareness of the connections between language, identity, and academic success

To provide practical teaching materials and activities for teachers in a wide array of contexts
SCHEDULE
Welcome: 9-9:15 am
Session 1: Get Pidgin? (9:15-10:15am)
This session will introduce key aspects of the history of the development of Pidgin on sugar plantations in Hawai'i and will discuss changes in the language over time. It will also teach important aspects of the linguistic structure of Pidgin, focusing particularly on the ways that Pidgin differs from English. (note: This session includes fun, interactive activities with Pidgin t-shirts and stickers as prizes)
Session 2: No can talk Pidgin in school? (10:30-11:30am)
This session provides an opportunity to hear about the experiences that Pidgin speakers have had in home, community, and educational contexts. It is important to understand the role of Pidgin in society in order to engage with it in schooling, so these stories will offer insight into the various attitudes and beliefs that people have toward this language. Speakers for Session 2 are;
Lois-Ann Yamanaka, author
Darrell Lum, author and co-founder, Bamboo Ridge Press
Lee Tonouchi, Da Pidgin Guerilla, author and educator
Scott Kaʻalele, Ph.D. Candidate, Department of English, UH-

Mānoa
LUNCH
(11:30am-12:30 pm)
Keynote speaker, Augie T!
Session 3: Wot teachers do wit Pidgin? (12:45-2:45 pm)
This session will involve in-service teachers from all levels (K-20) sharing how they make use of Pidgin in their own classrooms and schools. Taking the perspective that Pidgin is a valid and valued language of Hawai'i, these presentations will offer others ideas and inspiration for ways of embracing Pidgin in their own contexts. Presentations will take place in two parallel sessions, and presenters include:
Lorna Holmes, ELL aide, Princess Ka'iulani Elementary
Susan Izawa, Language Arts teacher, Hilo High School
Rae

Marino

, Language Arts teacher, Waiakea High School
Jamie Cruz, Instructional Coach, Kamaile Academy
Alicia Rozet, Hawaiian language instructor, UH-Mānoa
Don Carreira-Ching, Instructor, Leeward Community College
Dr. Larson Ng, Professor, Ed.D. Program, College of Education, UH-Mānoa
Dr. Andrea Berez, Ashleigh Smith, Maggie Sood, Kevin Baetscher, Department of Linguistics, UH-Mānoa, HI-SKILLS After School Program, Voyager Middle School
Pau hana ( 3pm)
FAQs
What are my transportation/parking options for getting to and from the event?
Parking is available in the Gordon Field Parking Lot through the Gordon Gate, which is accessed from King Street near the intersection with Kalihi Street. Extra parking is available adjacent to the Gordon Parking Lot in the Ewa Courtyard Lot. The event is in the Library.