Event Information
Location
Kembangan-Chai Chee Community Hub
11 Jalan Ubi
Blk 1, Level 2
Singapore, 409074
Singapore
Description
GET PAID TO SPEAK!
Learn how you can monetize your passion & get paid to speak / train / coach at this workshop!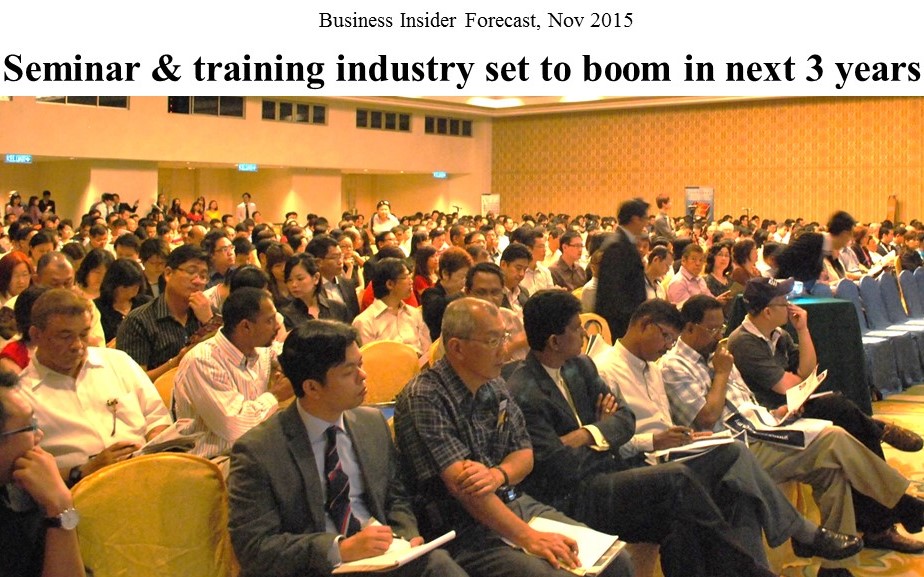 THE 'KNOWLEDGE' BUSINESS IS BIG IN SINGAPORE!
Our government is institutionalizing LIFE-LONG LEARNING across all Singaporeans (from schooling years to late-career age). Skills-upgrading initiatives, educational subsidies, training credits have all been dramatically enhanced and driven by the government! Never before in the history of Singapore have we experienced such an EDUCATIONAL EXPLOSION! This spells a booming market for the training, teaching, & speaking industry!
Insider reports (May 2016) show that there is a disproportionate shortage of trainers to meet this surge in training demand! Current findings place this gap at nearly 48% shortage! Early adopters guard this secret tightly while extending their monopoly on projects. We are also noticing the emerging freelance / associate professional market. But all these are just early-signs pointing toward a market boom in the next 5 yrs! This is literally a sitting GOLDMINE! Yet so few are actually CAPITALIZING on it!
---
WORKSHOP SPEAKER: GLENN LIM
Glenn is a Transformational Coach, Organisational & Business Consultant. Since 2007, he has trained over 150,000 professionals, and spoken regionally in SE Asia, up to an audience of 20,000 at a single sitting. He serves as consultant to corporates, government agencies, & chairs various non-profits & national committees.
In his early days, Glenn started out with just a passion to see people inspired by his story. He had no platform, no resources, and doubted if anyone would listen to him, much less pay to learn from him! After honing his public speaking & training skills, & running several knowlege-based businesses (with a 6-digit turnover within 10mths!), his passion for motivating people has since led him to coach others to achieve their dreams today. That's why this year he launched this program to JUMPSTART your lucrative speaking business!
---
HOW MUCH CAN YOU EARN AS A TRAINER / SPEAKER?
The range is wide. Typically a professional trainer commands a going rate of $3.5k - $5.5k for a full day workshop. A typical 1-hr keynote is in the $8k - 10k range (The popular speakers easily command $15k per keynote). Everything's really quite relative, and it depends largely on where u want to take your career to...
---
LET US FAST-TRACK YOU!
Enough of bumping your way around in the dark & making the costly time-wasting mistakes! Let us FAST-TRACK you to discover your niche in this competitive speaking industry. Learn how to quickly develop your curriculum, hone your subject matter, maximize your visibility, enlarge your sphere of speaking opportunities to accelerate your professional speaking career!
At this workshop, u will learn:
✔ Trends in our current Information Age
✔ Plotting your Skillset Spectrum
✔ 3 Knowledge-based biz models
✔ 3 Critical Jumpstart Factors
✔ ...and other secrets of monetizing your speaking career!
---
WHO SHOULD ATTEND?
This workshop is for:
- Individuals who want to explore new & profitable career switch!
- Those who want to monetize their speaking passion!
- People who want to inspire others through education!
- Existing trainers / practitioners who are stuck & want to move beyond their $5k - $6k/mth ceiling!
---
REGISTER NOW!
We are expecting a FULL HOUSE. Do register early to avoid disappointment! We also ask that u please register Responsibly? ie) If u SIGN UP, please SHOW UP! Otherwise u will be taking a seat from someone else who was able to attend.
Enquiries please call / text 9299-4148
Date and Time
Location
Kembangan-Chai Chee Community Hub
11 Jalan Ubi
Blk 1, Level 2
Singapore, 409074
Singapore