Location
Allen Pond Park
3330 Northview Drive
Bowie, MD 20716
with Prince George's County Executive Angela Alsobrooks & Wes Moore.
About this event
Come enjoy excellent food, live entertainment and activities, and special guest celebrities at this free event, including:
DJ Quick Silva
Emcees Autumn Joi with WHUR 96.3 FM and Guy Lambert from WPGC 95.5 FM
Yoga with Zizi Hassan
DR Soul Line Dance (try the Prince George's Proud Slide!)
Go-Go Fitness LLC
Team Alsobrooks is working hard to add even more special guests and activities to the event and entertainment schedule. I'm excited to connect with supporters at the GOTV Rally and I hope you and your whole family will join us for the fun!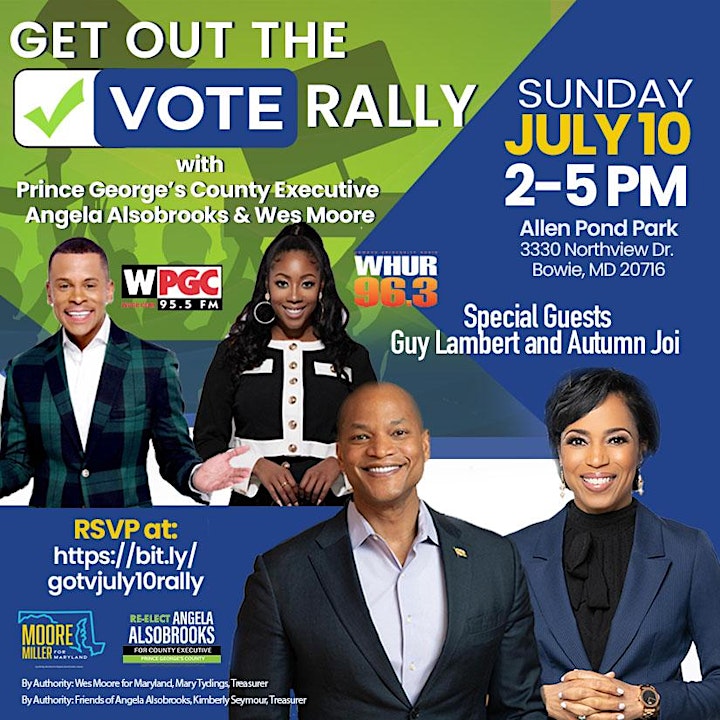 Even more convenient, the GOTV Rally is taking place just down the street from the Bowie Gymnasium Early Voting Center.
Stop by to vote on your way to the rally, or make plans to go vote after you've heard from our next Governor, Wes Moore.
There are amazing candidates running who have the character and vision to lead! It's essential that EVERYONE VOTES to elect the best leaders for our State. I'm honored to support Wes Moore for Governor, because I know that he sees us, he understands us, and he will leave no one behind as Governor.
Gather your family, friends, and neighbors, pack your picnic blanket and lawn chairs, See you there!