About this Event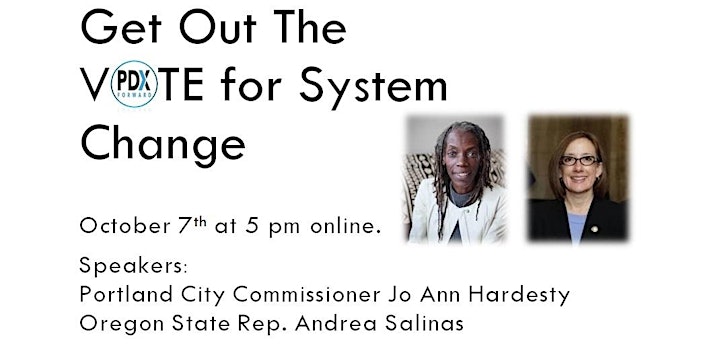 Join Portland Forward as we highlight system change campaigns in the election homestretch!
Zoom link is here: https://us02web.zoom.us/j/85157433957?pwd=aG1ESWxHQi9DajEzSTNWNU5WQmY5QT09
We will feature Portland City Commissioner Jo Ann Hardesty, who will speak on the Real Police Accountability measure, and Oregon State Representative Andrea Salinas speaking on Measure 107
Co-hosting with us are Pacific Northwest Family Circle, Oregon DA for the People, Portland Metro People's Coalition, Common Cause Oregon, Our Rev PDX and the campaigns for Universal Preschool Now! and Yes! for Fair and Honest Elections.
Starting at 5 pm til 6 pm, in a pre-debate event, we will have a chance to hear from these campaigns.
Sign up today to help get out the vote or if you can't make it share with your networks and make a pledge to support these campaigns by phone banking, donating, volunteering and spreading the word, and most importantly, through your yes vote for system change.
We support efforts to reform our system of government, to enhance opportunities for families, to better our access to democracy, and to move Portland forward. Let's get out the vote for System Change.