Get on the 7 Streams Team: The "WRITE IT" Edition feat. Dr. Adair White-Johnson

Sunday, October 25, 2015 from 7:00 PM to 8:30 PM (EDT)
Event Details
For years, you have wanted to write a book; you even started to write one...then something happened.
Maybe your book is already written and even published online but sales are simply dragging.
Or...your book has done fairly well with you pushing and promoting it but you have broke into the coveted "Bestseller" category.
If any of these situations resonate with you, you cannot miss this free telecoaching call!
"Write It" Edition of Get on the 7 Streams Team:
"How to Write, FINISH, and Self-Publish Your Book"
with Guest Coach, Amazon Bestseller, writing professional, and educator,
Dr. Adair White-Johnson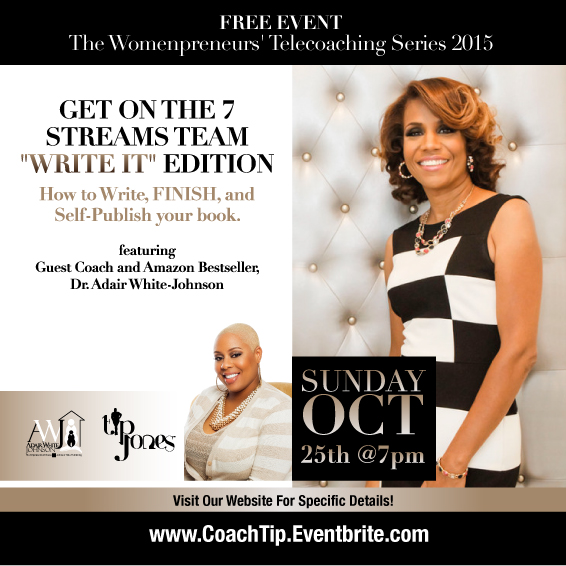 About Dr. Adair:
As the author of "How to Get Over It! in 30 Days," "Get Over It! How to Bounce Back After Hitting Rock Bottom" and "Get Over It! How to Bounce Back After Hitting Rock Bottom for Teens," Dr. White-johnson focuses on teaching others how become empowered, resilient and ready to positively move forward in their lives.
Empowerologist, Resiliency Expert, Author and Speaker, Dr. Adair f. White-johnson is a leading authority on motivating, inspiring and empowering individuals to move towards positive change, become resilient and to bounce back after hitting rock bottom.
Dr. White-johnson decided to leave her six-figure income job after 26 years so she could "follow her next dream." She then created The Empowerment House where she coacheswomen, teens, parents through life changes. She teaches them how to operate and thrive in spite of their circumstances and shares techniques that help them empower themselves to "push through the pain" in their lives. As the creator of The Resiliency Formula she imparts strategies that focus on overcoming odds, controlling anger, creating healthy balances, forgiving techniques, building dreams and reaching destiny points. Her Wheel of Resiliency introduces 6 stages of self-empowerment that includes rejuvenating natural resiliency.
A State University of New York at Buffalo graduate who earned a Ph.D., a Certificate of Advanced Studies and a Master's degree, Dr. White-johnson has provided motivational, creative and unique coaching services for over twenty years. She also created an empowerment and resiliencycurriculum for teens. This program is aligned with the current National Common Core Standardsas well as the American School Counselor Association National Model. As a Professional School Counselor of the Year and Writer of the Year recipient Dr. White-johnson has also been featured in POSE magazine, several national and international radio shows and is the recipient of several academic and civic awards.
Dr. White-johnson has been married for twenty-four years, is the proud mother of five children and loves watching soap operas. Her life mantra is "I am. I can. I will. I do." and she seeks to share this positive outlook on every person she meets.
Dr. Adair White-Johnson
Johnson Tribe Publishing
Bestselling Author/Owner
Tip Jones
The Consulting Studio
President/Head Coach
Have questions about Get on the 7 Streams Team: The "WRITE IT" Edition feat. Dr. Adair White-Johnson?
Contact Tip Jones Global
Organizer
Tip Jones Global is a conglomerate of companies servicing #OwnHers.
TJG provides business coaching, graphic design, web design, book publishing, local entrepreneur workshops, webinars, and island retreats. Please visit the website for the most up-to-date events and service offerings.