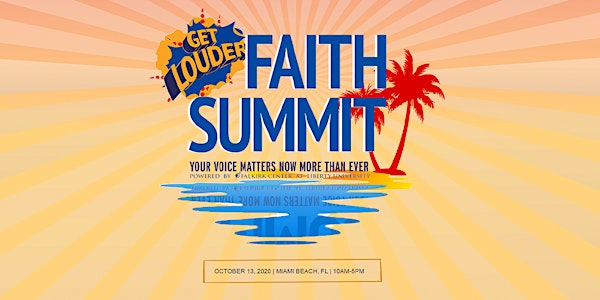 Get Louder Faith Summit - Miami, FL
Your Voice Matters Now More Than Ever
When and where
Location
Ritz Carlton Key Biscayne 455 Grand Bay Drive Key Biscayne Miami, FL 33149
About this event
Falkirk Center is hosting the Get Louder Faith Summit: Your Voice Matters Now More Than Ever on Tuesday, October 13, from 10am– 5pm EST in Miami, Florida.
The Faith Summit is a rallying cry and a call to action for courageous pastors and Christian leaders who champion the Gospel of Jesus Christ and are unapologetic in their pursuit of a robust political and cultural engagement.
The purpose of this Summit is to feature leaders who are stepping up and stepping out in the public sphere for their faith and are wanting to help change the direction in this country when it comes to the cultural battlefield. One strategy we're implementing is the development of a coalition of support from various Christian camps across the country. The Falkirk Center is fighting against apathy in aggressively denouncing the abdication of the Church to engage culture and establish a standard of moral principles and political engagement.
Confirmed speakers include author Eric Metaxas, Turning Point USA president Charlie Kirk, Faith & Freedom Coalition founder, Ralph Reed, CEO of the Babylon Bee, Seth Dillon, Pastor Rob McCoy, Jack Brewer, Greg Locke, Jenna Ellis, Gary DeMar, Tom Ascol and many more. LIMITED SEATS REMAIN, REGISTER NOW!
PARKING is available on site for $45.
NEED A HOTEL ROOM?
Book your group rate for Falkirk Center Freedom Summit Miami by copying and pasting this link into your web browser: https://www.marriott.com/event-reservations/reservation-link.mi?id=1602174156586&key=GRP&app=resvlink
Event Summary:
Falkirk Center Freedom Summit Miami
Start Date: Friday, October 9, 2020
End Date: Thursday, October 15, 2020
Last Day to Book: Monday, October 12, 2020
Hotel(s) offering your special group rate:
• The Ritz-Carlton Key Biscayne, Miami for 199 USD per night
Book your group rate for Falkirk Center Freedom Summit Miami by copying and pasting this link into your web browser: https://www.marriott.com/event-reservations/reservation-link.mi?id=1602174156586&key=GRP&app=resvlink