Raw stories. Real people. In their own words. Join us for "Get Lit" featuring Author Talisha Hunter and her book Childhood on Fire.
About this Event
Join us for an intellectual evening on the patio with Author Talisha Hunter. "Childhood on Fire: My Journey from the Hell of Baltimore to High Water" is a true story based on harrowing events that happened in Talisha's life; and one in which, Talisha writes a magnificent story of tragic loss and incredible redemption.
This outdoor literary experience features a dramatic reading, interview with the author, audience q&a, and extended happy hour offerings at r.bar. Admission price includes a paperback copy of the book signed by the author.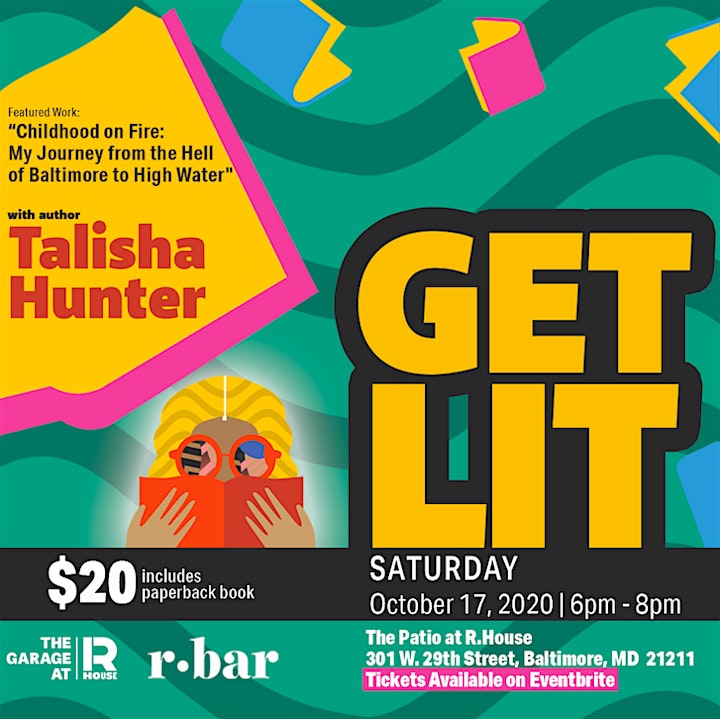 Author's Bio: Talisha achieved a Bachelor of Science in Nursing from Sojourner-Douglass College in 2014 and a Master of Science in Nursing Leadership and Education from Morgan State University in 2017; the same year of the university's sesquicentennial anniversary. Talisha is currently employed as a Community Nurse Case Manager and an Adjunct Faculty Instructor; passing the godly torch of self acceptance to future and bright minds.
Talisha has been recognized for her scholarly work by Morgan State Graduate Student Association. She is also the recipient of honorable awards. In 2016, Talisha was presented with the Daughters of the American Revolution award and in 2014, she was the sole recipient of the VAMHCS Physician's Nurse Choice award. Talisha enjoys reading books from all genres, vegetable gardening, sewing, crocheting, and watching celestial bodies, through the lens of her telescope.
Talisha Hunter: Facebook | Instagram | Twitter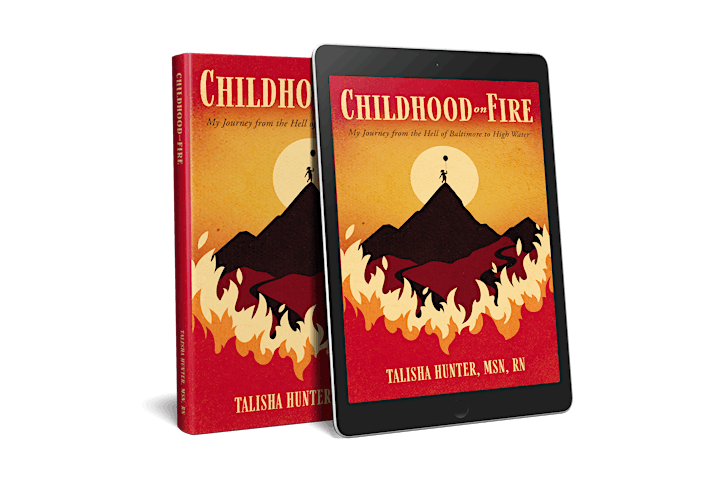 Subscribe to our email list for first access to events & tickets: http://bit.ly/RHouseEmails
About GET LIT: Raw stories. Real people. In their own words. Celebrating the power of the written and spoken word, Get Lit welcomes writers, artists, and thinkers to share their unique perspectives. From literary happy hours & readings to Get Lit Trivia, it's our mission to celebrate and amplify diverse voices, stories, and experiences.
ABOUT R. BAR: To take a seat at r.bar is to take a chance on a new spirit, to take a chance on meeting a new friend, and to take the chance you won't leave 'til last call. r. bar features stellar cocktails, craft beers from Baltimore and beyond, and wines to pair with each stall. Pick your potion, and we'll serve it up — or on the rocks. Welcome to your bar, my bar, r. bar.
ABOUT R. HOUSE: R. House is a place to come together in Remington, Baltimore. We are a food hall, community & event space. We believe in being neighbors, not guests; we see possibilities, not limitations. This is your gathering place, your kitchen table, your office, and your front stoop. We're family-friendly during the day and let our imaginations run wild at night.