About this Event
GET L.I.T. WITH Shaun T IN 2019!
LEARN. INSPIRE. TRANSFORM
Bring in the New Year with Shaun T and his #FitFam to help empower you to LEARN, INSPIRE AND TRANSFORM to own your power and uncover the best version of you in 2019.
Here's the agenda for the day…
8:30am - Check in and registration begins
9:30am - Live Transformation Workout Experience
11:00am - Learn during a Keynote Speech on how to tackle the daily obstacles of food, negativity and climbing out of a rut
11:30am - Inspire Your Mind: Relationship Thrivation Q&A with Shaun T & (husband) Scott Blokker
12:00pm - Meet & Greet and Photo Op with Shaun T
… AND after the party is the after party!
Join Shaun T and his team for a FULL OUT party celebrating the new year with dancing, passed bites, drinks and more! The GET L.I.T. Experience, happening at The Electric Room from 7pm-11 pm, will include a reading of Shaun's soon to be announced new book!
*Tickets are non refundable*
Interested in becoming a sponsor? Email support@shauntfitness.com for information!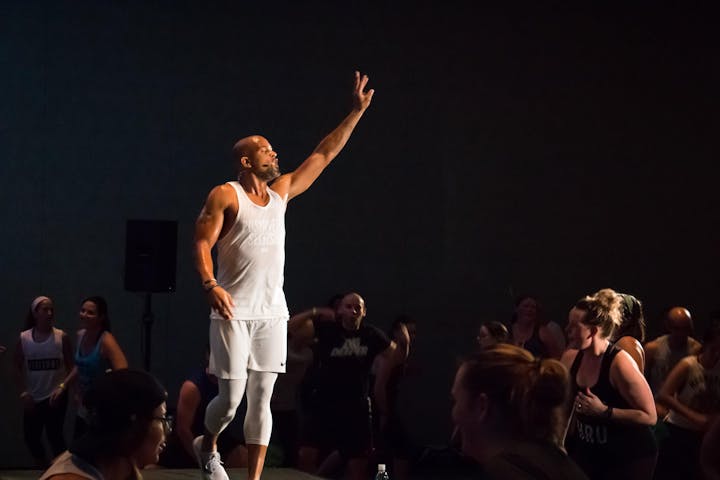 FAQ
When will the doors open? Registration will begin at 8:30am with earlier access available to all of our VIPs (Get L.I.T. Experience and Transformer ticket holders)
What should I bring? Water and a towel for the workout plus a snack if you feel you'll need to recharge. If you are staying for the Q&A and Keynote, you can bring things to freshen up and a change of clothes if you wish!
What is the age requirement? Ages 13 and up for the workout, Q&A and keynote. Ages 18 and up for the after party.
How do I get there? Check out the image directly below this FAQ for easy Subway directions.
What's parking like? There is a parking lot directly across the street:
140 W 18th St Garage
140 W 18th St
New York, NY 10011
Is there a coat check? Yes! Please feel free to check your coats and any other belongings. You will be asked to remove any and all bags on the main floor for the workout. VIP will have their own room to keep their belongings if they wish.
Whats a SWAG bag? Our swag bag will have some of the best from the ST line for our Transformer and Get L.I.T. ticket holders. Includes: Jersey drawstring bag, wristband, lanyard, notebook and tshirt.
Will there be food? No, please feel free to bring snacks along with you.
After party FAQ:
Where is the after party? The after party is at The Electric Room located in The Dream Hotel - 355 W 16th St, New York, NY 10011
Will there be alcohol? Yes, two drink tickets will be provided only to attendees 21 and over for beer and wine. Cash bar is available after the use of the tickets.
Will there be food? Yes! There will be passed bites for 2 hours.
What should I bring? Yourself and a valid form of I.D. Because alcohol is being served we will be checking upon entry.
Is there a coat check? Yes!
How should I dress? This is a FULL OUT NYC PARTY so have fun with it! There will be a ton of fun and dancing so bring your A game!